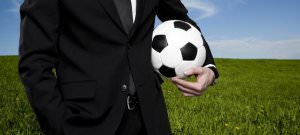 As the number of students requiring financial aid increases, the number of scholarships available for a sports management degree rises as well. Sports management programs teach students how to run sports complexes and facilities, how to create advertising campaigns for businesses and how to manage the athletic careers of others. The scholarships that might be available for you depends on your gender, what you plan to study and where you go to college.
Journalism Scholarships
Do you have an interest in writing and informing others about sports topics and stories? Many sports management students finish a minor in sports journalism or take a handful of journalism classes. They learn how to report the story in a clear way that others can understand and how to get to the heart of a story, but they also learn how to make others open up to them. The Lou and Carole Prato Sports Reporting Scholarship and Gene Seymour Memorial Sports Journalism Scholarship are a few of the scholarships available to those planning to major or minor in sports journalism.
Scholarships for Minority Students
There are a number of scholarships available for a sports management degree for students who fit within a specific minority ethnic or gender group. The Linda Riddle/SGMA Endowed Scholarship is a program available through the Women's Sport Foundation. According to the Women's Sports Foundation, it developed the scholarship as a way to help female athletes attend and afford college. The program awards at least three scholarships each year to an athlete attending a sports program at a college in the country. Students who are Hispanic, Native American, African American or part of another minority group will find other scholarships available to them.
School Specific Programs
If you need a few hundred dollars to pay for textbooks or a large amount to cover your tuition, check with your school about the scholarship programs that it offers. School specific scholarship programs are scholarships that are only available at specific schools. Some schools will give new students a small scholarship or stipend for simply enrolling, and some sports management programs will award higher cash prizes to those who competed in high school. The scholarships will generally not appear as part of your financial aid package, and the school won't automatically give you those funds. You need to research the available packages and apply for those scholarships.
Related Resource: What Does A Sports Nutritionist Do?
Sports Management Scholarships
There are also scholarships available for a sports management degree designed for students who want to run sports businesses and work in sports related fields later. Many of these programs are only available at specific schools. Other programs are open to those who plan to study a specific aspect of sports management. The Chuck McPhilomy Scholarship is only available to those planning to study sports management and education on a full time basis, and the program encourages military service men and women to apply. The Glenn M. Wong Sport Law Scholarship is another specialized scholarship that it only open to applicants planning to study sports law later.
Related Resource: Sports Nutritionist
The size of a scholarship can range from $50 to $100 up to thousands of dollars that pay for a year or more of your education. You can use the scholarships available for a sports management degree, including school specific and minority student scholarships, to pay for everything you need for school.
Related Resource: Do I Need a Degree in Sports Journalism to Become a Sports Journalist?