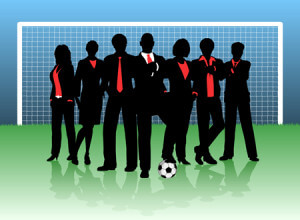 If you would like to become a sports manager in the private professional sector or even a public recreational setting, earning your Master of Science in Sports Management can get you noticed. The sports industry is a highly competitive one, and in order to work in sports management you will need to complete formal training that pertains to the field. While there are several different majors and programs that you can choose from, the most popular choice is the MS in Sports Management because of the curriculum that is covered. If you want to decide which degree to add to your resume, review how this program preps you and compare it to the other options.
What is the Emphasis of an MS Program in Sports Management?
When taking an undergraduate program, there is not a strong emphasis on the field that you are majoring in. Instead, the bachelor's program will help you learn general studies areas and then teach you foundation coursework. It is not until you take a more specific and more focused graduate program that you will take courses with an emphasis that applies to your major. The curriculum will help you learn then intricacies of the sports industry, how to apply research methods and also business skills. When you have your degree in sports management, you will be ready to deal with sports management issues no matter what setting you work in.
Why is Accreditation Important?
The courses that you are required to take are all designed to help you gain knowledge while you develop an expert skill set. What you are prepared for following graduation depends entirely upon the program that you take. Not all curriculum is the same even if you are pursuing the same degree. You will, however, know that you are taking quality courses that will turn you into an expert if you take your courses through a school that is accredited with the specialized Commission on Sports Management Accreditation. By choosing an institution with this credential, you do not have to stress about whether or not you are taking the right classes.
What Types of Courses Will You Take?
In order for a program to earn voluntary accreditation with COSMA, it must have satisfactory graduation requirements and deliver quality content. Some of the courses that you will take when choosing a trusted program include:
Research methods in sports management
Management of Sports Organizations
Sport and Society
Marketing
Global Sports Business
Financial Analysis
Many programs will also require you to complete a six to 12 week internship before graduation. Be sure to familiarize yourself with the admissions guidelines and what you must satisfy to graduate before you enroll in a program.
Related Resource: Sports Nutritionist
Sports managers may be responsible for one or multiple business aspects in an organization. In an industry where there are many hopefuls and not enough positions, it is very important to have an advanced degree if you want to compete and eventually climb your way up the ladder, according to the New York Times. There are dozens and dozens of schools with sports-related degree programs, but not all are created equal. If you want to break into the industry, study quality content and also build quality relationships by enrolling in a reputable Master of Science in Sports Management program with a good institution.
Related Resources: