Individuals interested in pursuing sports management often wonder if it's a business degree or a sports educational degree. The truth is that sports management is a business degree with a sport specific curriculum. Sports management is a field that focuses on the business of sports. It often is offered as a combined degree program with finance, business, law or a related field. Regardless of what career a sports management graduate pursues, business is going to be a large part of it. Here is all the information you need on sport management business degrees and career options.
You may also like: 50 Most Affordable Selective Colleges for Sports Management
What is Sports Management?
Sport management is a field that focuses on:
sports
athletes
the business attributes of sports
People working in the area of sport management deal with different activities within the sports industry including:
organizing
planning
managing
Sports management professionals may also focus on the financial aspects of the industry. Professionals working in sport management aren't the actual athletes but instead work behind the scenes who deal with aspects like:
marketing
coaching
event managing
financial reporting
social media
Sport management is involved in just about every type and level of sports, whether it's high school, college or professional sports.
Sports Management Degree Levels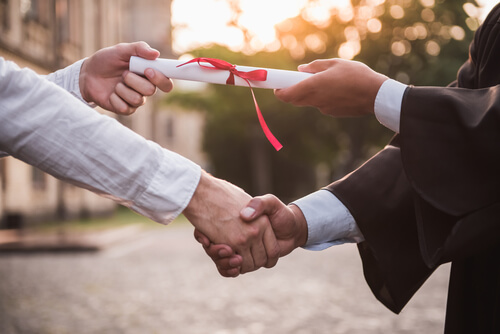 Sports management degrees are offered at the associate, bachelor's and master's degree levels. Sport management positions are available at every educational level.
Associate Degree
Associate degree programs provide students with an introduction to the fundamentals of sport management, including:
physical education
management
business ethics
laws
An associate degree program also includes business courses like finance and accounting. Associate degree programs are two-year programs and may be taken online or on-campus.
Bachelor's Degree
Bachelor's degree programs are the most common degree for business sport management professionals. These four-year programs may be offered as a major or as a specialization within a business program. Some sport business management degree programs offer a concentration in an area like:
sports analytics
public relations
sports marketing
A business sports degree includes a typical business curriculum and include specialized course offerings in areas like:
special event planning
marketing trends
sponsorships
budgeting
facility management
The Bachelor of Business Administration in Sports Management is another undergraduate degree program offered by some schools. The BBA is an applied degree. Students take courses that prepare them for management or entrepreneurial roles. This sports management business degree is designed to develop and strengthen leadership skills and communication. Programs may be offered online or on-campus. Full and part-time program options are usually available. A sports business management degree is a great choice for future sports management professionals who want to begin working in the field right after graduation.
Master's Degree
A business and sports management master's degree programs typically take an additional two years beyond the bachelor's degree. The curriculum usually includes courses in:
research
sports business
communication
management
A sports and business management master's degree allows students to develop an advanced skill set in a specific area of the sport industry. Some students earn a master's degree to move up the corporate ladder into an executive management role. Others sport business degree graduate students are interested in a specialty area like sport analytics or sport marketing.
Can I Earn a Business Sports Management Degree Online?
Absolutely! There are many great sport management degree programs that are offered in an online format. An online degree is a great choice for working students or those who are unable to attend a traditional on-campus program.
Online programs typically offer courses in an asynchronous or synchronous format. Asynchronous courses offer greater flexibility since there are few (if any) scheduled meeting times. Asynchronous courses typically have posted due dates, but students have the flexibility to log in and complete assignments when it is most convenient. Synchronous courses are more like traditional courses but viewed in an online format. Students may have scheduled log-in times to participate in lectures or class activities.
Online programs may also be a great choice for a student on a budget. Since students participate remotely, they save on costs like transportation and parking. Online programs also give students the flexibility to work while they earn their degree, reducing their overall education debt. Online programs may offer their course materials online too, saving additional dollars.
Will I Need to Complete an Internship to Earn a Sports Management Degree?
The answer is that it depends on the program. Some bachelor's degree programs require internships because they help students gain professional experience. Internships are usually completed with the type of organization the student hopes to work in someone. A student interested in a management role within a recreation facility would pursue opportunities at that level. A student focused on working in professional sports would seek an internship with a professional sport organization.
Internships can also help students build a professional network. Working in the industry can connect students with unique professional opportunities. Students not only get to know the industry, but they also get to know key players who can help them on the road to career advancement. Some organizations even make it a priority to hire interns after graduation.
Career Options with a Sports Management Degree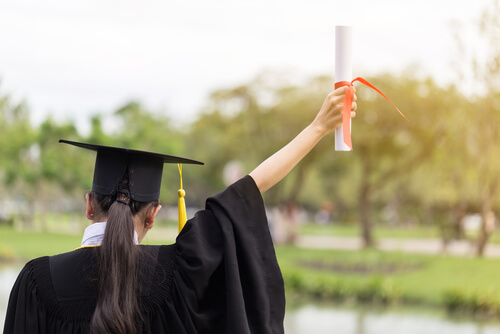 Upon completion of a business sports management degree program, graduates can pursue a variety of career options. The occupation depends a lot on the degree level and work experience in the field. The type of sport that interests the graduate will also play a role in the type of career options the individual will find available. Here are a few popular choices among graduates.
Sports Manager
Sport Scout
Sports Facility Manager
Sports Marketer
Athletic Director
Head Coach
Sporting Agent
Career Outlook for Sports Management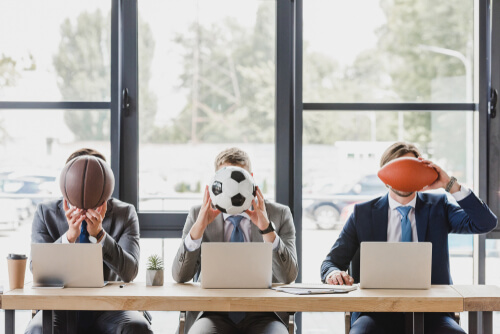 The U.S. Bureau of Labor Statistics (BLS) reports that agents and business managers of artists, performers, and athletes earned an average annual wage of $116,410 as of May 2021. Wages ranged from about $47,370 to $200,000 or more depending on factors like:
experience
training
employer
location
type of sport
In some sport management careers, the wage is also contingent on the earnings of the athlete. Coaches and scouts are expected to see job growth of 26 percent from 2020-2030, according to the BLS, while the bureau states that sports agent/managers and sports marketing manager should see a growth of 7 percent and 10 percent, respectively.
Sport management is a vast field that offers many academic programs and various career options. Because sport management is both an academic and business degree, graduates can pursue several careers without seeking additional degrees.
Related Articles:
What Public Relations Jobs in Sports are Available?
20 Affordable Bachelor's in Sports Communications