This program appears in our ranking of Top 13 Best Sports Management Master's Degree Programs.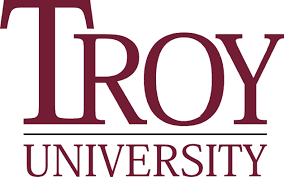 Troy University is a global, research powerhouse for traditional students or working adults to pursue 46 bachelor's, 22 master's, and two doctoral programs. Undergrads can complete the 120-credit B.S. in Hospitality, Sport, and Tourism Management with the Sport Management concentration to prepare for directing professional or recreational athletic clubs. The COSMA-accredited M.S. in Sport and Fitness Management spans 36 credits for Sport Management, Coaching, or Exercise Science concentrations. Troy also has the first Online Ph.D. in Sport Management with 90 credits beyond the bachelor's for teaching/research positions. Students interact with sport management faculty who've published 362 peer-reviewed manuscripts at an engaging 14:1 ratio.
Outside the classroom, Troy Trojans gain experience at state-of-the-art athletic facilities like Veterans Memorial Stadium, Riddle-Pace Field, and Lunsford Tennis Complex. Troy University has 15 varsity teams competing, including the 19-straight championship men's golf team, in the NCAA Division I Sun Belt Conference. Sport management majors benefit from Troy's close proximity to the Alabama Crimson Tide, Huntsville Havoc, Birmingham Barons, and Montgomery Biscuits for internships. Students can stay active in the Fitness Center's 25-yeard pool, join the Sport Management Club, cover sports media for The Tropolitan, and play intramural sports from indoor soccer to billiards. Troy University has placed HSTM alumni at IMG Learfield, Bay High School, Boys & Girls Clubs of America, Princeton University, Greystone Country Club, and more.
About Troy University
Troy University was initially opened in 1887 as the Troy State Normal School under President Joseph Macon Dill to solely grant teaching certificates for over four decades. During World War II, the college expanded its mission with comprehensive degrees at local bases like Fort Rucker. Soon Troy University was born into a public, co-educational multi-site higher learning system that's endowed for $85.53 million. From its 650-acre rural headquarters in Alabama's Pike County along the East Gulf Coastal Plains, Troy operates 60 locations in 17 states and 11 global nations. Troy University educates 18,393 Trojans across seven academic divisions, including the School of Hospitality, Sport, and Tourism Management.
According to the U.S. News & World Report, Troy University is the South's 69th best regional college and 23rd top public school with the 98th best online graduate business education nationally. Forbes magazine crowned Troy the 260th best public college countrywide. Niche ranked Troy as America's 11th "Best Online College," 164th "Top Public University," and 153rd "Best College for Student Athletes." The Princeton Review included Troy within its 139 best southeastern schools. On PayScale, Troy University stood as the United States' 154rd top community college by salary potential. Washington Monthly crowned Troy the 183rd best bang for the buck in the Southeast too.
Troy University Accreditation Details
In 2009, Troy University received 10-year reaffirmation of its regional accreditation from the Southern Association of Colleges and Schools Commission on Colleges (SACSCOC) under Chancellor Dr. Jack Hawkins Jr. This Level V approval without public sanctions certifies Troy's Federal Title IV eligibility from the U.S. Department of Education. Sport and fitness management degrees are accredited by the Commission on Sport Management Accreditation (COSMA). Courses through the Sorrell College of Business align with Accreditation Council for Business Schools and Programs (ACBSP) standards. The College of Health and Human Services is also an accredited member of the American Kinesiology Association (AKA).
Troy University Application Requirements
Don't let the Fall 2015 acceptance rate of 92 percent fool you because Troy University's admission criteria is regarded as "selective." First-year applicants must finish a high school diploma or the GED equivalency with 145 on all test subjects. Unconditional acceptance rides on whether students tackle a 15-unit college-prep curriculum, including 3+ units of English, with a "C" average or better. Conditional admission may be extended if students falling below the 2.0 GPA score at least 1030 on the New SAT or 20 on the ACT. On average, admitted Trojans achieve a 3.19 GPA and 1050 SAT score though.
Undergrads intrigued by Troy's B.S. in Hospitality, Sport, and Tourism Management could transfer with 24+ attempted, non-developmental credits at other accredited schools. Transfers need an overall GPA of 2.0 or higher, but ACT/SAT scores aren't required beyond age 25. Non-native English speakers on I-20 international visas need to score at least 6.0 on the IELTS or 70 on the TOEFL. The College of Health and Human Services only accepts Master of Science applicants with a four-year bachelor's from reputable universities. Unconditional admission requires sport management majors to present a minimum 2.5 GPA and 286 GRE score or 380 GMAT score.
Troy University has rolling admission for bachelor's applicants with a final deadline of August 1st. The Graduate School sets preferred deadlines at May 1st for Fall and September 1st for Spring admission. Prospective students need to create a myTROYu Profile to submit the application and the following materials:
Payment for the $30 non-refundable fee
One transcript for each institution attended
Official test scores, i.e. SAT, GRE, and TOEFL
Three recommendations from teachers/employers
Typed, one-page statement of intent
Professional resume or curriculum vitae (grad only)
Tuition and Financial Aid
Alabama residents taking Troy undergrad courses will pay $316 per credit. Non-resident undergrads are billed $632 per credit. Full-time B.S. students can expect tuition at $8,260 (in-state) and $15,484 (out-of-state) annually. Residing on the Troy campus adds room and board costs for $6,528 each year. Budgeting $1,129 for textbooks, and $3,189 for extra expenses is suggested. Total annual cost of attendance is $20,431 (in-state) and $27,655 (out-of-state). Master's and doctoral students in sport management are billed $417 per credit as Alabama residents. Non-resident graduates will spend $834 per credit. Online graduate-level credits are slightly more expensive at $494 and $988 respectively.
The U.S. News & World Report reports that 62 percent of Troy Trojans earn financial aid for an average amount of $4,628. Sport management majors can receive institutional awards like the Robert M. Paul Memorial Scholarship, Phi Theta Kappa Transfer Scholarship, Dean's Scholarship, Troy Horizon Scholarship, Corporate Achiever Scholarship, and Ruth Elizabeth Lapointe Milner Scholarship. The Military and Family Scholarship pays all tuition expenses above $250 per credit in addition to Yellow Ribbon Program benefits. Students could use their Alabama Prepaid Affordable College Tuition (PACT) Plan. Yellowhammer State residents receive the Alabama Student Assistance Program and Alabama Student Grant. Some could earn the Federal Pell Grant or FSEOG Grant. The FAFSA unlocks low-interest Federal Perkins, Stafford, and Grad PLUS loans. There's also Federal Work-Study employment for 5-13 hours weekly.
Learn more about Troy University at the Sport and Fitness Management program website.
Related Articles: