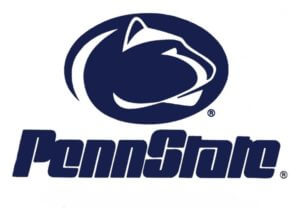 Penn State University is a major NCAA Division I, RU/VH institution offering three sports-related degrees via the College of Health and Human Development. The Recreation, Park, and Tourism Management Bachelor of Science is a four-year, 125-credit undergrad degree that includes three specialized tracks: Outdoor Recreation, Professional Golf Management, or Community and Commercial Recreation Management. Coordinated by Dr. Patricia Kleban, the RPTM major keeps courses like adventure-based programming and sports marketing close with the 16:1 student-faculty ratio. Post-grads could continue into the 30-credit M.S. or 78-credit Ph.D. for Recreation, Park, and Tourism Management. The PSU World Campus also awards a Bachelor of Science in Turgrass Science or Master of Professional Studies in Turfgrass Management for sports facility managers wholly online.
Majoring in RPTM at Penn State University unlocks vast experiential learning opportunities. The Center for the Study of Sports in Society has an Undergraduate Grant Program and Dissertation Fellowship Program. Turgrass students may conduct investigations like synthetic fiber testing in the Center for Sports Surface Research. Nittany Lions access state-of-the-art facilities, including the 106,572-seat Beaver Stadium, Medlar Field, Bryce Jordan Center, and Lasch Building. In Stone Valley Forest, Penn State operates the Shaver's Creek Environmental Center with outdoor work-study jobs. Aspiring sports managers could snag internships with pro teams, such as the Pittsburgh Penguins, Philadelphia Eagles, Harrisburg Senators, York Revolution, and Erie Otters. RPTM students also frequently travel abroad to Australia and New Zealand.
At the University Park campus, Penn State students stay involved in more than 850 registered clubs. Sports enthusiasts might join the Professional Golf Management Society, RPTM Student Society, Figure Skating Club, Nittany Divers, Paintball Association, Trap & Skeet Club, Uplifting Athletes, Philanthropic Fantasy Sports, and Sports Business Club. In February, RPTM majors can help raise millions for childhood cancer at the Annual Dance Marathon. The Special Olympics Pennsylvania Summer Games are held each June with 2,000+ athletes too. PSU competes in the Big Ten Conference for 29 varsity sports that have won 77 national championships total. Studying at Penn State University means following in the footsteps of Ali Krieger, John Cappelletti, Franco Harris, and more.
Related Resource: Top 24 Best Sports Management Degree Programs
About Penn State University
Penn State University was established under the Morrill Land-Grant Act in February 1855 on 200 acres donated by Congressman James Irvin in Centre County. Initially focused on farming, the State College's curricula was broadened in 1882 under George W. Atherton. Since acquiring Penn Tech and the Dickinson School of Law, PSU has become the Keystone State's largest public, doctoral research-intensive institute that's budgeting $3.6 million yearly. From its main 7,958 acres in "Happy Valley," CQ Press' #3 safest metropolitan area, Penn State operates 25 campuses to educate 99,133 Nittany Lions and employ 8,864 faculty combined. Pennsylvania State University's 14 academic divisions report an average four-year graduation rate of 68 percent.
According to the U.S. News and World Report, Penn State is America's 52nd best college, 14th top public university, and 62nd top high school counselor pick with the 36th best management education. On Niche, PSU is recognized for the 24th best college athletics and 27th best student life nationwide. Forbes ranked Penn State University as the 72nd best U.S. research school and 66th best Northeastern college. In Washington Monthly, PSU is the country's 84th best university for civic engagement. Diverse Issues in Higher Education placed PSU 57th for most minority bachelor's degrees. Campus Pride named Penn State within the top 30 most LGBT-friendly campuses. The Center for World University Rankings also honored PSU in the top 0.3 percent as the 58th best global university.
Penn State University Accreditation Details
Continuously since 1921, Penn State University has been institutionally reviewed by the Middle States Commission on Higher Education (MSCHE). Although PSU was placed on the warning list in 2012 after the Jerry Sandusky child molestation scandal, the regional accreditation recognized by the U.S. Department of Education was restored in 2015 under president Eric J. Barron. The Smeal College of Business is specially approved by the Association to Advance Collegiate Schools of Business (AACSB) for management courses. The Recreation, Park, and Tourism Management also features accreditation from the Professional Golfers' Association (PGA).
Penn State University Application Requirements
Attending the Penn State University Park campus means passing the "more selective" admission rate of 56 percent. Freshmen seeking the Recreation, Park, and Tourism Management Bachelor of Science for sports careers must have finished a high school diploma with four units of English, three units of math, and three units of science. The Division of Undergraduate Studies will recognize GED certificates with exam scores over 500. Getting into the PGA Professional Golf Management track requires a verified golf handicap. On average, admitted Nittany Lions present a 3.6 GPA, 1270 SAT score, and 27 ACT mark. Transferring into the RPTM major mandates 18 or more college-level credits from accredited institutions graded at least "C."
Applying to the Penn State Graduate School for the Master of Science in Recreation, Park, and Tourism Management must occur after finishing an accredited bachelor's or foreign equivalent. Non-U.S. citizens on F-1 visas need a minimum TOEFL score of 550 or IELTS score of 6.5. By the January 15th or October 1st deadline, post-grads must send transcripts showing a minimum 3.0 GPA. Graduate Record Exam scores sent via code 2660 should be above 149 (quantitative) and 151 (verbal). The Doctor of Philosophy program pushes the GPA requirement to 3.5. Both expect a detailed industry résumé, written objective statement, and three references before the required phone interview.
Tuition and Financial Aid
The Recreation, Park, and Tourism Management Bachelor of Science currently costs $17,900 for Pennsylvania residents and $32,382 for nonresidents per year. Additional expenses would include $11,230 for room and board, $1,840 for texts, and $4,788 for personal supplies. World Campus students will pay flat-rate tuition of $555 per credit as undergrads. Pursuing the Master of Science in RPTM costs $10,366 in-state and $17,793 out-of-state per full-time semester. The Ph.D. follows the same tuition schedule with an added $2,035 dissertation fee.
The NCES has recorded that 67 percent of full-time PSU Nittany Lions share $192 million in annual financial assistance for average aid of $7,101 apiece. Recreation, Park, and Tourism Management majors might claim institutional funds like the PGA Diversity Scholarship, Mills Family Scholarship, Pamela Nicholson-Dadey Scholarship, Herberta M. Lundegren Scholarship, and Fred M. Coombs Scholarship. Federal funding includes the Pell Grant, SEOG Grant, Perkins, Direct, and PLUS loans. Being from the Quaker State qualifies you for the Pennsylvania State Grant, Chafee Grant, National Guard EAP, and PATH Program. Undergrads could obtain Federal Work-Study (FWS) jobs, while post-grads claim assistantships worth up to $17,660 annually.
Related Resources: