This program appears in our rankings of Top 30 Bachelor's in Sport Management Degree Programs and Top 10 Affordable Sports Management Online Degree (Bachelor's).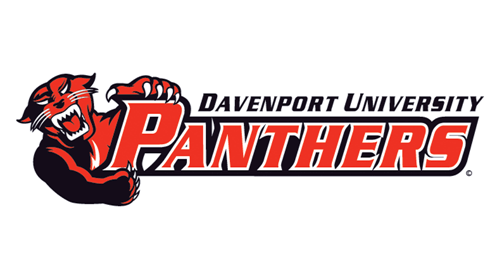 Davenport University offers a Bachelor of Business Administration in Sport Management that awards students with a BBS when they graduate. This program is one of just 24 to have accreditation from the Commission on Sport Management Accreditation. One of the more unique components of the program is that it encourages students to learn more about business and how business affects the sport industry. You'll take business courses that teach you about marketing, finances, economics and accounting. Other courses focus more on research and statistics. Most courses include role playing and other teaching methods that let you see how you can use when you learn in your classes in the real world.
Though sport management students must do an internship, Davenport gives you a lot of choices as to where you work. Some of its current and former students worked for professional sports organizations and teams like the Detroit Pistons or the Detroit Red Wings. Others worked for sports commissions and agencies to see what happens behind the scenes. With your internship, you have the choice between working during one of the semesters when you take classes or during the summer semester. You'll develop the skills necessary to work as a sports agent, sports manager, event coordinator or marketing director. Davenport University encourages students to take courses in other business disciplines like human resource management, finance or marketing too.
About Davenport University
Davenport University is one of a small handful of colleges in Michigan that offers degrees at all levels. Founded by a veteran returning from the Civil War, the school opened in 1866 as the Grand Rapids Business College. Bookkeeping, math, law and business were some of the courses originally offered, which the founder hoped would prepare students for finding jobs. Many of its first students were other veterans who struggled to find work. Michael Davenport, one of the men working for the school, helped it overcome financial issues that almost led to the school closing. His hard work led to the school naming itself after him.
Though the main campus of Davenport University is still in Grand Rapids, the university slowly built and acquired new campuses across the state to meet the needs of students living in various parts of Michigan. Though some students finish their full degrees at one of these campuses, other transfer their credits to the main campus later. Washington Monthly ranked the university as one of the top graduate schools in the United States. Davenport now has a total enrollment of more than 7,700 students, including those in associate's, bachelor's and master's degree programs.
Davenport University Accreditation Details
The institutional accreditation that Davenport University comes from the Higher Learning Commission, which checks the accreditation status of the university at least once every 10 years. Also called the HLC, this organization ensures that students receive the education that they deserve and that they have access to all the resources necessary for successful learning. The Accreditation Commission for Education in Nursing accredited all its nursing programs, which require that students complete a specific number of clinical hours before they can graduate. It also has accreditation from the Accrediting Bureau of Health Education Schools for some of its other programs and from the International Assembly for Collegiate Business Education.
Davenport University Application Requirements
Davenport University recommends that students take a campus tour before applying. This gives you the chance to actually sit in on some of the classes you might want to take, meet with those working in the departments you want to study and chat with other students. Davenport is just one of the colleges that now uses the Common Application, which makes it easier for students to apply to two or more colleges. You can create one basic account that includes information on where you went to school, the activities you did, clubs you joined, any volunteer experiences you had and classes took. The Common Application tells you all the admissions requirements of different colleges to ensure that you submit all the information necessary. There is a $25 application fee that you will need to pay with a card before you can submit your application.
The university asks for an official transcript and an official test score too. You'll need to have your SAT or ACT score mailed directly to the university. Davenport will accept official transcripts online or through the mail. You have the option of sending the transcript in an envelope or requesting that your high school mail the transcript to the university's email address. Once the university receives your application and all the information it needs, it will provide you with a user name and password that lets you go online and check the status of your application. You can immediately go in and apply for financial aid.
Tuition and Financial Aid
The estimated cost of attending Davenport University starts at $697 per credit hour. When you factor in the fees that the school charges, you'll pay between $8,400 and $10,400 a semester as a full-time student. The total cost depends on the total number of credits you decide to take. You'll need to pay for all your books and other supplies, which can cost a few hundred dollars or more per semester, and you're also responsible for covering your own room and board. Davenport University charges $450 per credit hour for Michigan residents who want to take classes online, but nonresidents pay $707 per credit hour for those same classes.
Before you can get financial aid from the university, you need to complete the FAFSA. You then have the chance to meet with a financial aid counselor who will talk with you about your options, help you complete the scholarship application and find out if you qualify for a payment plan or any special assistance. Foundation scholarships are open to any student with a grade point average of at least 2.8, but you'll need to use the online application to apply for one. The university has other scholarships that provide you with a set amount like $500 or $2,000 as well as those that cover the total cost of your tuition. You can go online to apply for any of these scholarships. The FAFSA will determine if you qualify for other aid like loans and grants.
Learn more about Davenport University at the sport management program website.
Related Articles: