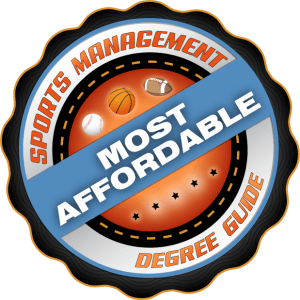 By SMD Staff

The sports and athletics field is an exciting world to begin a career. Whether you want to be on the field or behind the scenes of large-scale sports events, this industry will always have opportunities for enthusiast of all kinds. However, in most cases, it takes more than being a sports fan to get into the job market; the athletics industry is a complex, multi-billion dollar industry that requires its employees to have an education. One promising first step is to attain an online sports marketing degree at a reputable school that fits your distance-learning needs.
The following schools represent the top 10 affordable online bachelor's degrees in sports management. These schools were selected following research based on specific methodology criteria; this criteria encompasses what we consider to be the most valuable features for those pursuing an affordable online bachelor's degree in sports management. In these descriptions you will find a brief overview of the school's background, online flexibility features, and some of the corresponding sports management curriculum you can expect during the program. All of these degrees are 100% online and below $500 per credit-hour; in-state and out-of-state tuition differentials are indicated as relevant.
Ranked on several individual scales, below you will find ten schools that offer a well-rounded curriculum in sports management (1-3 points), tuition value and affordability (1-3 points), recognition and respect from education publications (1-3 points), internship placement and career guidance opportunities (1-2 points), degree of flexibility for distance-learners (1-3 points), and additional point was added for points of distinction that added further value to undergraduates beginning their career in sports management.
For optimum affordability, all of the selected schools are in a pool of programs that cost less than $700.00 per credit-hour. This bachelor's in sports management online ranking is listed in ascending order; in the even of a tie in points, the school with the lower tuition rate is given the higher ranking.  
Related Resource: Can I Earn a Specialized Sports Marketing Degree?
1. American Public University
Online Bachelor of Science Sport Management
Charles Town, West Virginia
Points: 16
A national leader in online education, American Public University is repeatedly counted among the top schools by U.S. News and World Report. All of APU's degrees are attained online through a user-friendly interface with accessible faculty. APU is designed primarily for the working adult, with the average age of APU's student body being 33 years-old. Among the distance-learning programs is an online bachelor of science in sports management, the 6th most popular degree available.
American Public's affordable online BS in sports management incorporates liberal arts, core, and major requirements; this 120-credit degree is structured to provide adaptability in the athletics field. For the sports management major component, bachelor's students take courses in sports communication, sports governance, athletic programs administration, public relations and sports event management. At the conclusion of the program, sports management students are requires to complete a senior capstone class; this final course includes an interactive, challenging creation of a customized graduate portfolio, intended to be a tool in the job market.
American Public University has impressive percentages related to student achievement and satisfaction; 89% of employers report they would hire another APU graduate, 96% of employers feel graduates have field-specific academic skills for their job, and 89% of alumni would recommend to a friend or colleague.
Tuition: $270 per credit-hour
2. California University of Pennsylvania
Online Bachelor of Science – Sport Management Studies
California, Pennsylvania
Program Website
Points: 15
California University of Pennsylvania is a prestigious institution at a surprisingly affordable tuition rate. Although based in a rural area of Pennsylvania, CAL U remains in close connection with trends of lucrative fields in larger cities. This institution has consistently ranked with the best colleges in The Princeton Review, U.S. News and Word Report, among other publications.
Among CAL U's 100% online programs is the bachelor of science in sport management; this 120-credit degree combines core course work with 70 credits of sports major curriculum. This program provides a comprehensive field-relevant course load, some of which includes topics in sports communication, legal aspects of sport, sport marketing, facility and event management governance in sport, and many others that make graduates highly marketable in a sports management career. Outside of the classroom, CAL U's sports management majors have the opportunity to apply their education to exciting internships, the majority of which can lead to roles in long term careers.
California University of Pennsylvania has numerous notable alumni, some of which include Olympic athletes, professional players in the MLS, NFL, and NBA, respected coaches, among others. Graduates of this program most often advance to careers in a wide spectrum of successful careers; among the many careers found include sport promotion, collegiate athletic administration, event management, arena management, and sports media communications.
Tuition: $382 per credit-hour
3. University of Minnesota – Crookston
Online Bachelor of Science in Sport and Recreation Management
Crookston, Minnesota
Points: 14
The University of Minnesota at Crookston is an affordable, highly respected institution. U of M's programs and value have ranked in "best of" lists by publications including U.S. News and World Report, Washington Monthly, Online College Plan, Best Online Colleges in America, among others. This institution has small class sizes, both in campus and online learning.
The online bachelor's in sports management is a popular degree choice at UMC; bachelor's students in sports management often add a minor in coaching, however this option is only available in the on-campus version of the degree. UMC highlights its key features of their online sports management BS; some of these best features include engaged and knowledgable faculty, hands-on experiential opportunities, rigorous course curriculum, and a close-knit academic community. Corresponding curriculum with this affordable online BS in sports management includes liberal arts, managerial finance, sport facility management, sociocultural dimensions in sport, sport marketing, and many others. The sports management is 120 credit-hours, 62 of which are directly related to the major.
Every online student earning their bachelor's degrees are given individualized, mentor-based attention from faculty; UMC's online portal lends to flexible accessibility, offering a broad range of interactive technology. University of Minnesota at Crookston has an impressive 93% job placement rate for graduates in their chosen field, typically within less than six months of graduation.
Tuition: $395 per credit-hour
4. Central Methodist University
Online Bachelor of Science Sport Management
Fayette, Missouri
Points: 13
Founded in 1854, Central Methodist University is a small, private liberal arts school that fosters in ethical leadership and academic excellence. This institution's values are centered in its United Methodist heritage, but is welcoming of all backgrounds, beliefs, and denominations. CMU has well-established distance learning programs, among them being a bachelor's in sports management.
CMU's online bachelor's in sports management is particularly focused on what you need to know behind the scenes in athletics. Students enrolled in the sports management program are taught to become relationship-builders, learning how to establish a leading role in the field. CMU's sports management courses include topics such as sports marketing and events, sport in society, psychology of sport, and many more unique areas in the field. Additionally, sports management students take part in a hands-on learning model; these experiential projects include working at athletic events and numerous types of internship opportunities.
Central Methodist University requires a minimum 124 course hours, 47-50 of which are directly related to the sports management major. More than 90% of CMU's students are employed within six months of graduation, and alumni can continuously connect with employers that seek CMU graduates.
Tuition: $300 per credit hour
5. Southern New Hampshire University
Online Bachelor of Science Sport Management
Manchester, New Hampshire
Points: 13
Southern New Hampshire University is a private nonprofit school that has 3,000 campus students and over online 80,000 students around the globe.  SNHU is known for its affordability, accessibility, and wide spectrum of academic programs. Additionally, SNHU is consistently recognized for its military-friendly education practices, which includes a 30% tuition discount for active service members and their spouses.
SNHU's online bachelor's in sports management is over 25 years-old, making this one of the more seasoned degree options for budding professionals. SNHU provides a well-blended 120-credit degree that incorporates sports, business, and liberal arts courses; this design is intended to give all graduates the best foundation possible going into the field. Among the coursework curriculum for sports management includes global sport business, strategic management, sport marketing, financial accounting, and sport facilities management.
Southern New Hampshire requires all online sports management majors to participate in two out of three experiential learning experiences; these include a practicum in sport management seminar and/or two sport management internships. All of the experiential opportunities are intended to encourage synthesis and application of classroom curriculum. Graduates of this program have advanced to becoming athletic and tournament directors, sales managers, promotion managers, facilities managers, and more.
Tuition: $320 per credit-hour
6. Wilmington University
Online Bachelor of Science in Sports Management
New Castle, Delaware
Points: 12
Since it's humble beginnings as a charter school with 200 students, Wilmington University has grown into large institution with over 13,000 enrolled. Wilmington's degree programs accommodate both traditional and non-traditional adult students; the distance learning offerings include an online bachelor of science in sports management, a degree program that is led by expert faculty in the field.
Wilmington University's online BS in sports management is designed to provide practical skill-building courses that build confidence for the field. Online sports management majors complete theory coursework, internships, and a solid foundation in relevant business principles; some of the related curriculum includes marketing, strategic planning, facilities management, sports analytics, and marketing. Upon earning a sports management bachelor's degree, students are eligible to take courses toward becoming a certified athletic administrator. For students who already have an associates degree in sports management, there is a special set of course requirements to complete the transition from associate's to bachelor's
Graduates of Wilmington's BS in sports management most frequently find employment in fulfilling career settings in professional sports organizations, business, collegiate sports, and non-profit organizations of many kinds.
Tuition: $363 per credit-hour
7. Columbia Southern University
Online Bachelor of Science in Business – Sport Management Concentration
Orange Beach, Alabama
Points: 11
Columbia Southern University is an affordable, top-notch education with programs that exist entirely online. CSU's academic programs span associate's through doctorate degree levels, focusing primarily on the needs of adult learners. Columbia Southern is student-centered and flexible in order to maximize the benefits of distance learning.
Students seeking an online bachelor of science in sports management will find a strong opportunity at CSU. Built into a bachelor of science in business, the coursework for the sports management degree track is especially fitting for those pursuing a future in sports management, intercollegiate coaching, or front office management. The online sports management BS is based in objectives that make its graduates highly marketable in the field of athletics; online sports management graduates learn legal and management principles, history, ethical practices, sports marketing strategy, and other curriculum relevant to leadership roles.
Columbia Southern boasts a 96% satisfaction rate among students whom have recently graduated with an online degree. Additionally, CSU has proven to develop a well-organized career services department that remains available to alumni for years to come.
Tuition: $220 per credit-hour
8. Davenport University
Online Bachelor of Science – Sport Management Studies
Grand Rapids, Michigan
Points: 11
Founded in 1866, Davenport University is a private, non-profit school with a student enrollment of over 7,500. This college is a good choice for those who seek small class sizes and an individualized education experience. Davenport provides on-campus and 100% online degree program, among them an affordable online bachelor of science sports management studies.
Davenport's online sports management bachelor's provides the same quality education as its on-campus counterpart. DU's faculty is top-notch and continuously accessible to online students. Students enrolled in the affordable online BS in sports management take a wide spectrum of curriculum; this curriculum spans 36 credit-hours of liberal arts foundation courses, 32 credit-hours of sport management foundation courses, and 43 credit-hours of courses directly related to the major. Sports management majors graduate well-prepared, having a solid background in sport marketing, professional ethics, sport analytics, athletic leadership, and many other unique field areas.
Davenport University's sports management majors complete 300 hours worth of supervised internship experience, and bachelor's graduates have advanced to internships or careers with the Detroit Lions, USA Football, Minnesota Vikings, and the Western Michigan Sports Commission. Students testimonials from sports management graduates have praised Davenport's relatable class content, and employers of recent DU graduates have reported a high level of industry knowledge
Tuition: $472 per credit-hour
For more information: Davenport University
9. Columbia College of Missouri
Online Bachelor of Arts or Science in Business Administration – Sports Management Concentration
Points: 10
Named a "Best Midwestern University" by the Princeton Review and "Best Online Program" by U.S. News and World Report, Columbia College of Missouri is a respected non-profit liberal arts institution founded in 1851. CC has flourished in the last 150 years, now networked into 36 campuses nationwide. While Columbia College educates over 29,000 students (on-campus and online), the school has maintained committed to a student-centered approach to learning. Columbia College has 59 online degree options, one of which is an affordable online bachelor's in sports management.
CC's online degree in sports management is affiliated with its bachelor of arts or bachelor of science in business administration; students enrolled in either of these departments have the option of selecting a sports management focus in their degree. Once the sports management concentration is selected, students partake in a comprehensive series of courses covering (among others) field-relevant topics in sports finance, sports and events marketing, public relations, fitness, and prevention of athletic injuries. Since the degree is also part of the business administration department, students receive an excellent base in principles that make for a competitive edge in the job market.
Columbia College of Missouri students, regardless of location, have access to continuous academic advising; this department prepare students for a successful academic and post-graduation career.
Tuition: $305 per credit-hour
10. Florida International University
Online Bachelor of Science Sport Management
Miami, Florida
Points: 10
Based in Miami, Florida International University is a top-tier research institution with excellent faculty and a growing list of degree opportunities; many of these opportunities are available in a 100% distance-learning format, among them an online bachelor's in sports management.
FIU's online bachelor's in sports management is a 120-credit program that prepares students for a longterm career. Students enrolled in the sports management degree engage in skill-building courses that span a variety of curriculum; this interdisciplinary coursework include financial accounting for managers, marketing management, principles of sport management, sociology of sport, and more. In addition, sports management majors are required two internships, further developing their knowledge of the current field.
FIU's online technology is dynamic, interactive, and encourages live collaboration. Online students are made to feel they are getting the same attention and feedback as campus sports management students. Every enrolled online student is provided with a personal, 1-1 success coach who is there to be of guidance throughout the program.
Tuition: $620 per credit-hour (out-of-state) $210 per credit-hour (in-state)
Below are frequently asked questions regarding the pursuit of a career in sports management, earning an online bachelor's degree, and what one can expect from this career path. 
How can I tell which online bachelor's in sports management degree is for me?
The above ranking of affordable online bachelor's degrees gives an idea of what sports management-related course work you can select in the program. Before beginning your application process, take some time to consider your goals and interests in the field. At a bachelor's degree level, it is best to keep an open mind to how your career outlook may change in the course of your studies; undergraduate degrees are designed to begin with a more broad range of curriculum to open your mind to possibilities.
In selecting a bachelor's degree online, it is also wise to investigate their online learning technology, accessibility, and if the course scheduling is manageable with your day-to-day life. Some colleges have both synchronous classes (live with other students at determined time), and/or asynchronous classes (logged in entirely on your own time); you many prefer one or a combination of these course deliveries.
What careers can I pursue with an online bachelor's in sports management?
Depending on your specific interests, a degree in sports management can lead to careers in numerous facets of the field. From sales to marketing to athletic coaching, the sports industry is competitive but often lucrative. Depending on which type of career in sports management, you will likely need to build your skills and develop traction as an entry-level candidate. With the right degree choice, your alma mater may play a role in landing a job that suits your talents. N matter what, with the right company, you will be glad to learn the business and work your way up the professional food chain.
Related Resource: What Are the Best Classes for Sports Management Majors?
What is the job outlook for a career in sports management?
The Bureau of Labor statistics report positive job growth projections in most sports management-related fields. However, given the multitude of possible jobs, some sports-related employment has a higher job growth percentage than others.
Below are a few sports-management roles and their job growth projections between 2014 and 2024:
Coaches and Scouts: 6% growth projection
Sports Agents and Managers:  8% growth projection
Sports Marketing Manager: 5% growth projection
What are the typical salaries for careers in sports management?
As with the previous considerations, the athletics industry is a multi-billion dollar industry with evolving diversifying needs; the salaries you can come to expect vary tremendously. To offer reference to this scale, coaches and scouts earned a median annual salary of $30,640, sports agents earned $64,200, and sports marketing managers earned an average of $127,130. There is no all-encompassing salary expectation, but there is clearly plenty of money to be earned. If you have a degree in sports management, your chances of earning a higher salary is greater than those competing with a different background.
The preceding represents the top 10 affordable online bachelor's degrees in sports management.
Related Resources: