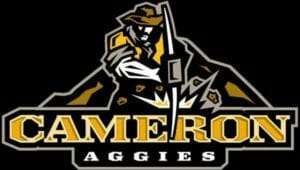 Sports Management Programs at Cameron University
Cameron University appears in our ranking of the 50 Best Bachelor's in Sports Science Degree Programs (Campus).
The Department of Sports and Exercise Science at Cameron University offers a Bachelor of Science in Sports and Exercise Science. Designed to meet the needs of those who want to work in sports management fields, it includes 44 credits of general education courses, including those in health sciences and behavioral sciences. Students will take many lecture classes, including Health, Nutrition and Wellness. Each class requires that students listen to lectures and take quizzes/tests, but they will also do assignments at home and discuss topics in those classes.
Students who take First Aid have the choice of taking this as a standard course or getting their certification. Once they finish the class, they will take a test. This allows them to get a first-aid certificate or certification in different techniques such as CPR. Introduction to Sports and Exercise Science is another required class, which introduces students to the skills they need in this field. Other courses that they can take include Sports Nutrition, Applied Anatomy and Kinesiology, Care and Prevention of Athletic Injuries, Facility Management and Health and Behavior Change.
Those who want to study sports and exercise science but have less time can apply to the university's Associate of Science in Applied Health program. This A.S. program gives students a good background in health sciences and sports management but only takes two years to finish. Many students will then enter the Cameron University bachelor's program. The associate program includes a course called Human Anatomy, which includes a lab that allows students to see what injuries do to the human body. They will also take First Aid, Medical Terminology, Basic Nutrition and Human Lifespan Growth and Development.
To help students better understand sports injuries and athletics, the university encourages them to participate in one of its teams. Cameron University teams compete in the Lone Star Conference under the Aggies name. Men can join one of six teams and play football, basketball and other sports. Women can join seven different teams, including the university's track and field, volleyball and softball teams. There are also intramural teams available that feature students who play against each other in a recreational setting. Cameron University can also help students find internships to gain more sports management or sports and exercise science experience.
About Cameron University
Cameron University is a former agricultural school that now serves as a public university. Founded in 1908, it was one of the first six agricultural schools established after Oklahoma became a state. Residents in Lawton formed the University Improvement Association, which raised funds for the new school and found a location for its campus. It opened for classes in 1909 and named itself after a former reverend from the city. After adding college programs in the 1920s, it became the Cameron State Agricultural College. This also led to the college changing from a junior college curriculum to one that included traditional university classes.
Known as Cameron College for a few years in the early 1970s, it officially became Cameron University in 1974. This change led to the university adding more sports programs and receiving funds that allowed it to introduce more college classes and degree programs. Cameron now has an enrollment of more than 5,500 students.
Cameron University Accreditation Details
Cameron first received regional accreditation from the North Central Association of Colleges and Schools (NCACS). After this organization became part of the Higher Learning Commission (HLC), the university received accreditation from it instead. That accreditation is why Cameron students can transfer from another school and use their credits and why they can use the Free Application for Federal Student Aid (FAFSA). The music, education and business programs at Cameron University also have accreditation.
Cameron University Application Requirements
The Oklahoma State Board of Regents for Higher Education established the admissions requirements that Cameron University uses when choosing new students. Those standards allow students to apply while in high school and take college classes if they have an ACT score of at least 20 or an SAT score of 1020 and are at least a junior. Students applying to the university's associate degree program need to have a high school diploma or a GED and take either the ACT or SAT. They will also need to submit their scores from those exams.
Those applying to the bachelor's program will also need to submit an ACT/SAT score and have a high school diploma or GED. Cameron requires that they have either a minimum 940/20 score on the SAT/ACT, graduate within the top 50% of their classes and have a cumulative grade point average of 2.7. Students must submit transcripts that show they took two years of electives as well as three years of history, math and science courses and four years of English classes. Their science courses should include lab work too. Cameron University asks that students with a high school diploma who apply to the associate program complete the same type of curriculum.
Tuition and Financial Aid
Cameron University offers a cheaper in-state rate for students who live in Oklahoma. Those students pay $215 per credit hour in all lower-division classes taken and $238 per credit hour when they take advanced classes. To qualify for this rate, students must submit proof that they graded from an Oklahoma high school or other proof that shows they lived in Oklahoma for a period of time before they applied. Students who are not from Oklahoma pay one rate for all their classes, which is $529 per credit hour. The university also charges a $35 per semester wellness fee and fees for students taking any lab classes. Students will also pay at least $1,111 per semester for on-campus housing and another $1,515 per semester for a meal plan.
Seven different types of loans and grants are available for sports and exercise science majors attending Cameron who submit the FAFSA. Those programs include grants for veterans, loans for students and their parents and grants for those who will teach in certain areas once they graduate. Oklahoma has several programs available for residents, including the Oklahoma Promise that goes to students from families who make less than $55,000 a year and the Oklahoma College Assistance Program (OCAP). Cameron University offers an online scholarship application that allows sports management students to apply for scholarships also.
Related Articles: