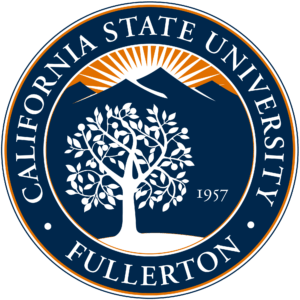 Starting Sports Management Careers at CSUF
California State University Fullerton appears in our ranking of the 50 Best Bachelor's in Sports Science Degree Programs (Campus).
At Health Science Hall, the College of Health & Human Development led by Dr. Laurie Roades grants a B.S. in Kinesiology with eight concentrations, including Sport Studies, for California State University Fullerton Titans learning about human movement in contemporary life. The 120-unit, four-year degree blends courses like Sport Pathologies with Fitness Lab projects, ASEP certification prep, and Active Together events.
Ranked seventh by Diverse Issues in Higher Education, the Mihaylo College of Business has a B.A. in Business Administration with a Sports Marketing Concentration to enter a fast-growing $200 billion field. Chaired by Dr. Sunil Thomas, the 120-unit, AACSB-accredited plan lets undergrads intern at Nike, engage in the Sales Leadership Center, join the AMA Chapter, and enter the Honors Networking Program.
In Summer 2019, the M.S. in Athletic Training will entirely replace the B.S. for Cal State Fullerton post-grads seeking the clinical reasoning skills to treat acute and chronic conditions impacting how individuals perform in sports competition. Directed by Dr. Jason Bennett, the 58-unit, CAATE-accredited curriculum has a 100 percent Board of Certification pass rate after clinical practice with Fullerton's NCAA Division I teams and off-campus preceptors like Western High School. The M.S. in Kinesiology headed by Dr. Kavin Tsang also researches the mechanical aspects of sports and exercise for ACSM credentials. Offering assistantships with $5,300 stipends, this 30-unit, 24-month option involves 500-level courses like Sport Psychology and thesis work in the Motor Behavior Lab.
About California State University Fullerton
California State University Fullerton originated in September 1959 when President William B. Langsdorf welcomed an inaugural class of 452 to Orange County State College. In 1960, the Legislature's 12th chartered college relocated from Sunny Hills High School. The Donahoe Higher Education Act of 1960 added it to a state-wide system. Two years later, it became Orange State College with a 236-acre campus designed by Howard van Heuklyn. In June 1972, the California State University Fullerton name was finally adopted. In 1979, the prolific men's baseball team won the first of four national championships. By 2012, Fullerton had California State University's first Platinum LEED certification for housing. In 2014, the Hispanic-Serving Institution made history by opening a Dreamers Resource Center too.
Generating $2.26 billion yearly, California State University Fullerton now employs 4,100 faculty who teach 39,774 Titans from 79 countries online and in Orange County with 325+ clubs like the Equestrian Team. In 2018, Fullerton won the CSU Silver Award for Technology Supporting Innovation in Teaching and Research. In 2014, the Daily Titan received the Betty Gage Holland Award for Excellence. Since the 1970s, CSUF has earned national championship titles in eight sports, including men's gymnastics. The U.S. News & World Report ranked CSU Fullerton the 221st best university and 79th top health care school. On Niche, CSUF boasts America's 159th most diversity, 236th best student life, and 351st top athletics program. Forbes placed California State University Fullerton 105th for public education. Money Magazine's 84th best value was also named third by the Institute of International Education.
California State University Fullerton Accreditation Details
On June 15, 2012, the Western Association of Schools and Colleges (WASC) Senior College and University Commission took action to extend the Level V accreditation at California State University Fullerton through another Fall 2019 review under its eighth president, Dr. Framroze Virjee, who earned the Human Resources Executive Most Powerful Attorney Award. Located 396 miles north via Interstate 5 in the Bay Area, this elite eight-territory Pacific Coast accreditor is authorized by the U.S. Education Department to ensure quality in CSUF's 109 degrees.
Specifically, the College of Health & Human Development was accredited by the Commission on Accreditation of Athletic Training Education (CAATE) on June 21, 2017. The Steven G. Mihaylo College was also reaffirmed by the Association to Advance Collegiate Schools of Business (AACSB) in February 2019.
California State University Fullerton Application Requirements
Scoring California State University Fullerton spots is classified "moderately difficult" by Peterson's since only 20,943 of the 45,808 Fall 2017 applicants beat the 46 percent odds. First-year Titans seeking the B.S. in Kinesiology for Sport Studies must finish a college-prep high school diploma or GED. Grades of "C" or better are necessary in 14 required core academic subjects. California freshmen need a minimum 3.0 GPA while non-residents require a 3.6. On average, undergrads submit a 507 SAT Reading and 524 SAT Math score. Median ACT marks are 21 English and 22 Math. College transfers must meet the "Golden Four" requirements in 30+ accredited units with GPAs above 2.0. The Kinesiology Department seeks M.S. entrants with related bachelor's majors and minimum 3.2 upper-division GPAs. Graduate Record Exam scores in the 50th percentile or 150 Verbal, 142 Quantitative, and 3.5 Writing are mandated. The M.S. in Athletic Training has several prerequisites, such as Physics, Psychology, Anatomy, and Biology. Cohorts must also verify 100 observation hours with a certified AT.
California State University Fullerton has a freshman filing period of October 1st to December 15th. Undergrad transfers have until April 15th for Fall or November 15th for Spring. The M.S. in Kinesiology enforces a March 1st deadline for Fall cohorts only. Master of Science in Athletic Training entrants file before the November 21st priority or January 15th final date. Accordingly, complete the CSU Application online with $55 by credit card or e-check. Official transcripts are mailed to PO Box 6900 in Fullerton, CA 92834. Electronic test submissions require SAT/GRE code 4589 or ACT code 0355. Program-specific materials include the 500-word purpose statement, two signed recommendations, MSAT questionnaire, résumé or curriculum vitae, clinical observations verification, and residency form. Inquire further by contacting (657) 278-2011 or admissions@fullerton.edu.
Tuition and Financial Aid
For 2019-20, California State University Fullerton is charging in-state B.S. in Kinesiology majors $2,871 each semester. Non-resident undergrad tuition adds $396 per unit. Students pay the $196 success fee, $145 union fee, $80 association fee, $86 health services fee, and $39 activities fee. Residing at the Orange County campus' dorms like Juniper Hall costs $15,898 for yearly room and board. CSUF budgets $2,002 for books, $1,544 for travel, and $1,480 for miscellaneous. Annual bachelor's attendance equals $27,738 in-state and $39,618 out-of-state. The M.S. in Athletic Training is billing Californians $4,162 and non-residents $9,310 each term. Program totals range from $21,292 to $44,260 for 58 units. The M.S. in Kinesiology adds $396 per unit atop the $4,180 semester price for non-Cali graduates.
According to the NCES College Navigator, the Office of Financial Aid at University House Room 146 helps 79 percent of new CSUF Titans win tuition assistance averaging $8,436 each for $26.04 million combined. Sports-related funds include the College of Health & Human Development Scholarship, Robert Rikli Emerging Leader Award, Dr. Leslie & Dick Richards Achievement Scholarship, Julie Max ATP Scholarship, Kinesiology Department Scholarship, Kathleen Taylor Business Scholarship, Michael Ashton Memorial Award, and Friends of International Marketing Scholarship. The Alan Pattee Scholarship waives full tuition at $6,886 for children of deceased public safety officers. The Elevar Scholars Program gifts $2,000 per year for minority post-grad students with minimum 3.0 GPAs. Federal resources, such as the Pell Grant and Direct Loan, require FAFSA forms coded 001137 by March 2nd. The CSU System also offers California programs like the Trustees' Award, Nathaniel & Valerie Dumont Scholarship, Hampton Scholarship, and Dale Schoettler Scholarship.
Learn more about California State University Fullerton at the Department of Kinesiology website.
Related Articles: