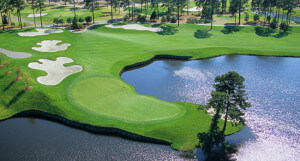 What is golf management? If you love the sport of golf, but aren't interested or qualified enough to become a professional golfer, it's a way to get paid for your passion. By taking golf management courses, you'll gain the knowledge needed to get a job in an industry that attracts more than 25 million players.
Hospitality Management
Before learning the specifics about what golf management is, you should realize that this field of study is a niche and is actually part of the larger field of hospitality management. Basically, the hospitality industry deals with taking care of customers who are taking part in leisure activities. Workers are there to make sure that activities such as golfing, eating out, staying at hotels and exploring various attractions are as enjoyable and stress-free as possible for consumers. According to the Employment and Training Administration of the United States Department of Labor, the hospitality industry is in need of new workers, so you shouldn't have too much trouble finding a job if you take golf management or general hospitality courses in college. To work in any niche in the hospitality field, you need to be able to work hard, have patience and be able to help customers while keeping a smile on your face.
Related Resource: What Can I Do with a Golf Course Management Degree?
Employment Opportunities
When researching about what golf management is, learning about employment opportunities is probably one of the things that you're most interested in. While working in the golf industry may seem limiting to someone who doesn't know much about the sport, you'll have many different career options once you finish school. For instance, you could be employed as a:
Bag boy
Golf operations director
Professional Golfers' Association of America worker
Golf course designer
Grounds superintendent
Golf store manager
Custom golf club designer
Grounds crew worker
Golf equipment sales representative
Retail golf sales associate
Travel agent for golf vacations
Golf cart repair person
Golf course construction worker
Driving range operations manager
Golf course ranger
Courses
After learning what golf management is and which job you would like to have, you can take the appropriate classes to prepare yourself for your new career. While majoring in golf management is possible, you may find yourself in a hospitality degree program while at school. If you become a hospitality management major, you'll want to have a concentration in golf management. Both associate's and bachelor's degree programs are available. If you have a specific career in mind already, research to find out what's considered entry-level education in your future occupation. Various classes that you'll take may focus on:
Golf equipment
Repairing golf clubs
The rules of golf
Maintaining golf courses
The history of golf
Golf club design
Teaching golf
Golf club fitting
Related Resource: MBA in Sports Management
There are many careers that you can have in the golf industry. Once you educate yourself on what golf management is and decide on what golf management courses to take, you'll be well on your way to having an in-demand job that's a lot of fun.