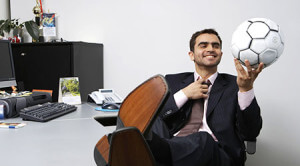 If you have a passion for sports and a strong business acumen, you may be wondering if you can specialize an MBA in Sports Management so that you can pursue the career of your dreams. A Master of Business Administration program is a graduate-level program that teaches students skills in core areas of business so that they can become the best leaders. While there is a generic MBA, more and more programs are offering students the opportunity to select a specialty in a specific discipline or field of business. Students who choose to enroll in programs that concentrate in a specific field will cover the core components of business, but there will be a focus on the concentration in the form of elective courses. Read on, and learn what the focus is on if you choose a concentration in Sports Management.
---
Featured Ranking
---
What Will You Learn in a MBA Program Concentrating on Sports Management?
Sports Management degree programs for MBA students are designed to prepare students to work on the business side of sports. You may work managing events, sports teams, leagues, teams, or even facilities once you enter the field. The first step to getting hired for a position in Sports Management is to earn an advanced degree. The MBA with a concentration in Sports Management is a great choice because you can enroll in the program with any bachelor's degree and learn the business skills in an interdisciplinary format that will help you develop skills that will land you a position.
When you enroll in a Sports Management program, you will complete several different courses in different areas of study. Areas of study that are commonly covered include: Business Law, Marketing, Media Management, Sports Psychology, Organizational Management, Sports and Athletics Management, Finance and Human Resources. Much of the curriculum is focused on sports-related business.
What Can You Do with a Sports Management Specialization?
There are many different career options in the sports arena that do not involve being gifted with physical excellence or superior athletic abilities. If you have always dreamed of working in the sports industry or in sports entertainment, you can become a sports management professional and put your degree to work. With a degree in Sports Management, you will be a great candidate for a wide variety of positions. Some of the titles you can work towards with your MBA specializing in Sports Management include: Sports Agent, Sports Team Manager, Team Director, Ticket Sales Director, Business Manager, Marketing Manager, PR Director, and more. Remember that you do not have to limit yourself to major league positions. You can also land jobs in player associations, colleges, sports arenas, marketing firms, and PR agencies.
You need to decide for yourself if a specialized MBA program is right for you. More and more graduate and business schools are creating new specialized programs in several different concentration areas to compete with schools that have better rankings, according to Business Week. Before you select a program that concentrates on an area of study like Sports Management, check the school's accreditation status and reputation. If you take the time to do this, you can get peace of mind that the school meets high quality standards. In the sports industry, taking the time to specialize an MBA in Sports Management can be all the leverage you need.
Related Articles: