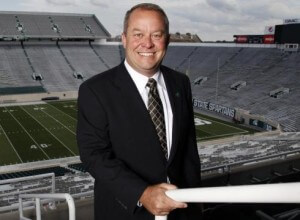 What is a director of sports partnerships and why is that person important for a company? Millions of people around the world watch sporting events on a daily basis. Whether it is an American football game, a Premiere League match or a PGA tournament, there is always something to keep sports fans entertained. Companies that partner with these leagues can garner a lot of awareness for their brands and their products.
Companies Use a Director or Sports Partnerships to Manage These Arrangements
The director of sports partnerships is the liaison between the company and the league that it is doing business with. For example, if Visa had a partnership with the NFL, the director of sports partnerships would be the person who would communicate with a point person for the league.
What Is the Director of Sports Partnerships Responsible For?
The person responsible for overseeing sports partnerships has a wide range or responsibilities. This person is responsible for maintaining current partnerships while striving to create new relationships whenever possible. If a current partnership is no longer working for the company, it is this person's job to cut ties. For example, if a sports league is waning in popularity or doesn't have the type of demographics that the company is pursuing, it is up to the director of sports partnerships to get out of a contract as soon as possible.
Why Is This Position Important?
Most people consider themselves to be sports fans. Although not everyone is a diehard baseball or hockey fan, almost everyone has watched a game on television or is not opposed to watching larger events such as the Super Bowl.
With so many people watching sporting events either live or on television, it provides a great way to get the attention of a captive audience. Therefore, a good director of sports partnerships will be able to get the most lucrative ad placements for the least amount of money.
According to the Sports Business Daily, the sporting industry is one of the largest industries in the United States, with an estimated $213 billion in annual sales That is twice the sales of the US auto industry and seven times the sales of the movie industry.
As sporting events are increasingly shown on mobile devices, it allows companies to reach their target audience on an increasing number of advertising channels. Overall, that leads to more money being made by the company that places the ads.
Related Resource: Sports Marketing Specialist
What Type of Education Does This Person Need?
A director of sports partnerships should have a college degree and a strong background in marketing. Having experience working with professional teams or in a league office could be a plus for anyone looking for such a job. The relationships that are gained during time spent working for a team or interning for a team or league could make it easier for a director to reach out and establish partnerships with local and regional teams.
The director of sports partnerships can be a key player in the quest to grow a company by increasing brand awareness. As more people start to take notice of a certain brand and its products, they will be more likely to buy their products or at least visit their website to find out more about what the company has to offer.
Related Articles: