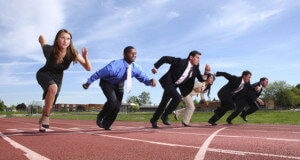 Though many students focus on American sports leagues and related opportunities, there are actually quite a few international jobs in sports management that are also worth pursuing, according to Business Week. In fact, the global marketplace for sports management professionals presents virtually unlimited opportunities for growth in areas like corporate sponsorship, philanthropy, organizational support, and even executive roles within a professional sports organization. Those who are considering sports management as a career, or those who are looking to expand their horizons to include the international sports community as they seek new employment, should consider the versatility of their expertise and the various, exciting jobs available in this industry.
Related Resource: What are the Different Types of Sports Medicine Jobs?
International Sports Philanthropy Jobs
Professional sports began as a way to encourage friendly competition and to celebrate the superior talents of an elite group of athletes. Over time, the organizations that regulate professional sports have grown into multibillion-dollar, global enterprises that also look to give back to the communities and people they serve. That means there's great demand for philanthropically minded managers both her at home and abroad. Particularly overseas, philanthropy is growing at a rapid clip and requires a sports manager who knows how to create relationships with local charities, rally players and fans behind a cause, and financially benefit local communities that support their home team. Those with a background in sports management and philanthropy will find a home with international soccer and rugby teams, as well as with governing bodies like FIFA and the International Rugby Board.
Corporate Sponsorship Roles
Part of the way that today's professional sports teams and regulating authorities make their money is through corporate partnership and sponsorship. There are two sides of this coin, both of which offer opportunities to the sports management professional. The first of these is a corporate liaison for professional teams or regulating bodies like FIFA. In this role, sports managers actively recruit corporate sponsors and offer them placement on jerseys, in stadiums, and on promotional gear sold at each event. The other side of this role is to actually work for a corporation and advise them on how to best invest their money in a partnership with a sports team or organization. In this role, the professional sports manager would do research into logo placement and product placement, and allocate budgetary resources as needed in order to advance the company's interest.
Team Leadership Roles
Though professional sports teams might resemble a gym class ensemble of skilled athletes, the reality of these teams is that they're organized using a corporate structure and they required skilled managers to lead them throughout the year. Applicants with a sports management background can find themselves in leadership roles throughout the organization. This might include scouting for new talent and overseeing the signing of new contracts. It might also include working as a department manager, accountant, analyst, budgetary executive, or board member. All of these roles give sports managers the opportunity to put their expertise to work and grow the organizational organically over time.
Related Resource: Sports Tourism
Exciting Ways to Get Involved with International Sports Management
The world's sports teams provide entertainment, excitement, hope, and even charity to their fans, audiences, and local communities. Those who are seeking a role with an international sport, sports team, governing body, or corporation, will be able to find a large number of international jobs in sports management that leverage their talents and benefit all stakeholders involved.