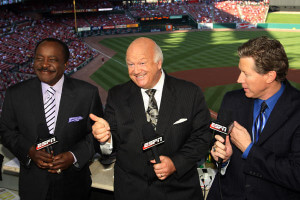 Every sports fan knows the moment: a last-minute three-point shot, a dead heat at the wire, a game-winning goal. There's the roar of the crowd blooming around the court, the track, the field – and above it all, the voice of the broadcast sports announcer. For those who dream of one day being announcers themselves, it may be difficult to figure out how to make the leap from everyday person to successful sportscaster. There's no one way to ensure success, but there are some tips and things to keep in mind that can help improve your chances at becoming a broadcast sports announcer
Experience is Key
Like any skill, calling sports takes practice. You can't expect to instantly be incredible. Practice is key, even if it means creating opportunities for yourself. John Strong, voice of NBC's MLS, said in an interview, that he began a student-run broadcasting program while in high school. This enabled him to gain confidence, shape a style, and become a more engaging broadcaster.
As you gain experience, remember to be patient. Working your way up takes time. Start out small. If you can do local sports broadcasting, do it. You'll sharpen your skills, get some good experience to put on a resume, and have some clips for future job applications. When you feel like you're ready for a new, higher-stakes job, start to send out applications. Rejections happen, but a little bit of resilience goes a very long way.
Tell a Story
Strong stresses the relevance of storytelling to sports broadcasting. When you're working towards becoming a professional sportscaster, it's good to have a strong voice and maybe a catchphrase or two, but crafting a story through your sports calling is what can really help you get ahead. To get an idea of how to weave a story into a sports call, pay special attention as you watch games on TV. Listen to how sportscasters enhance your experience. How do they synthesize information while still outlining what's happening in the event? What do you learn as you watch?
Know the Industry
As with any industry, it's important to have connections when you want to be a sports announcer. There's no single way to get contacts, so be alert and take opportunities when you see them. Sports and entertainment industries can be very difficult to break into, so there are mentoring groups and sportscasting schools that can allow you to work with professionals and make connections to help you find success. Additionally, the best way to emulate success is to know about it and to read the life stories of sportscasters you admire. Find out where they went to school and how they eventually came to work with major broadcasting groups.
Related Resource: Sports Marketing
Like many industries, sports announcing is a difficult field to achieve fame and fortune within. However, many sports announcers make money working at everyday TV stations and other broadcasting venues. If you're committed to your craft, have some skill, and are willing to work hard and be patient, you have a decent shot at finding employment doing something you love.
Related Resource: