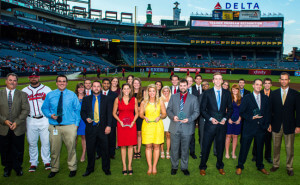 Many of today's students have decided to combine their interests in business with their passion for Major League Baseball (MLB) and other professional sports to land jobs in MLB with a sports management degree. These business professionals are not alone in their devotion to major league sports, and MLB sports enthusiasts ensure that demand for professional athletic programs remains high. Seamless MLB sports programming requires the support of professionals who are skilled in business and knowledgeable of baseball operations; these skills are usually developed through a sports management degree program. For example, specific jobs are available in marketing, compliance, promotions, public relations, health, fitness and human resource management. Here are some key ways that business professionals can obtain jobs in MLB with a sports management degree.
Choose The Right Sports Management Degree Program
Sports managers in the past could rely on generic business administrative degree programs and connections with the right people in the industry to gain entrance into many MLB jobs. Today, those jobs are extremely competitive, and most MLB hiring managers look for sports management degree graduates from well respected schools. Some examples of schools with reputable sports management degree programs include University of Tampa, University of Georgia and University of Texas at Austin. Aspiring sports managers should look for degree programs that are accredited through the North American Society for Sports Management. A university's proximity to MLB teams also makes their sports management degree programs highly attractive to those teams that seek to fill their sports management positions with qualified, local candidates. Besides a rigorous, comprehensive curriculum an exceptional sports management degree program also incorporates networking and experiential learning opportunities.
Obtain A Major League Baseball Internship
Reputable sports management degree programs usually include internships that students must complete to graduate. Prospective sports management students should carefully investigate the types of university sponsored internships that are available to them. Internships are so important to the career development of sports management graduates that students must make sure that the types of internships in which they participate sufficiently match their career goals. For example, a student who wants a marketing position with a MLB team usually would not choose an internships as an office manager with a college team or minor league franchise. This type of student would pursue an internship with the nearest MLB team, and they would ideally negotiate for work in the team's marketing department. While ambitious sports management students can obtain these types of internships through vigorous networking, it is much easier for students who choose to participate in sports management degree programs that are taught and managed by faculty with established professional relationships within MLB.
Cultivate Strong Contacts
Even though great sports management degree programs can place students and recent graduates in the presence of MLB managers and leaders, students and graduates must know how to use those networking opportunities effectively. These future sports managers must draw upon their communication skills as well as the theoretical and practical knowledge that they have gathered through their university learning experiences. Highlighting leadership roles and participation in community service projects also strengthens a candidate's potential to be hired by a MLB team.
Related Resource: Master of Science in Sports Management
Conclusion
The sports industry offers challenging business careers in what many consider to be an enjoyable work environment. The competitive annual salaries of sports managers that start at $50,000 and soar past six figures with the accumulation of more experience, contacts and recognition are often seen as just icing on the proverbial cake for those who can obtain jobs in MLB with a sports management degree. accumulation
Related Articles: