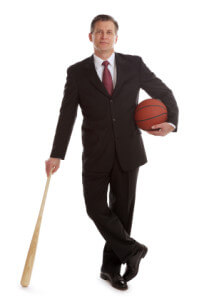 If you have ever considered pursuing sports management as a career, an important question has probably crossed your mind: Can I get a Ph.D in sports management? By reading the information listed below, you can obtain an answer to this question and several others that pertain to the field of sports management.
Sports Management – The Basics
Although broadly defined, sports management is basically the field of education that is concerned with the business component of sports and recreation. Some types of sports managers include college sports managers, sports marketing managers, sports event managers, facility managers, financial managers, recreational sports managers, and the front office system in professional sports.
Can You Get A Ph.D In Sports Management?
Although many people know that they can obtain a Bachelor's or Master's in Sports Management, some individuals don't know whether they can get a Ph.D in the field. The answer is yes. In fact, there are a wide variety of educational institutions that offer a Ph.D in sports management. Some of them include:
1. United States Sports Academy
2. Florida State University
3. Louisiana State University
4. North Central University
5. University of Texas at Austin
Selecting The Right School
Once you realize that there are a variety of learning institutions from which you can obtain a Ph.D in Sports Management, it is important that you select the right one. Many schools offer sports management degrees. There are several factors that you'll want to take into consideration, including the type of coursework you'll be required to complete in order to obtain the degree. Some of the courses you can expect to take include:
• Legal Concepts in Sports Medicine
• Principles of Management in Sports Medicine
• Psychology of Elite Performance
• Contemporary Issues in Health and Fitness
In addition to thinking about the different types of classes you will be required to take based on the educational institution from which you obtain your Ph.D in sports management, you should think about the length of time completing the degree will take. Some educational institutions may have lengthier programs than others, and you should consider the benefits and disadvantages associated with completing a longer sports management program.
After you have thought about the length of time it will take you to complete a Ph.D in sports management, you should consider whether you plan to specialize in a specific subject. Some learning institutions may employ professors or implement programs that will be of great assistance to you in becoming a specialist within a certain sector of the sports management field. Some areas of specialization that may interest you include leadership, marketing, human resource management, and health and fitness.
Related Resource: Sports Facilities Director
Job Opportunities With A Ph.D In Sports Management
Individuals who opt to obtain a Ph.D in sports management will have a plethora of vocational opportunities that they can pursue. Some of them include becoming a college professor of sports management, a private sport entrepreneur, or a high school or college athletic director.
If you are thinking about beginning or advancing your career in sports management, you should know that doing so can generate a variety of personal and professional benefits. By reading the information listed above, you can determine whether opting to obtain a Ph.D in sports management would be appropriate and advantageous for you.
Related Resources: