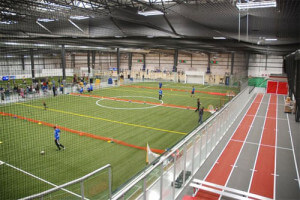 No matter what field or sector you would like to work in, it is very important to research careers before pursuing them to determine if they are a goof fit for you before you commit time or money. For those with a genuine interest in sports and safety, the title of Sports Facilities Director is one that you may want to consider. As a direct within a sports facility, you will work with a diverse team of professionals to develop sports programs in the safest manner possible. You may also be responsible for dealing with emergency situations.
Duties of a Sports Facilities Director
A facilities director may work directly with program members, but it is more common for you to work behind-the-scenes when you hold this upper-level title. If you are a director in sports or recreation, you may work at a sports park for adults or a youth recreational center. Your duties to oversee the daily operations of the facilities will depend entirely on the size of the facility and the type of facility you are directing. No matter what types of playing surfaces and fields that exist, your primary goal will be to ensure the safety of those who enjoy the facilities.
The daily duties of a sports facilities director include: implementation of security systems and procedures; the arrangement of evacuation routes; monitoring sporting equipment; scheduling repairs and maintenance; preparing budgets; ordering new equipment; and setting employee salaries. As a director, you will not only be in charge of coaches and referees, but also managers and trainers.
Related Resource: Sports Management Degree Career Options
How to Become a Sports Facilities Director
If you want to be a director, it is recommended to possess a post-secondary degree in management or sports and recreation. It is also in your best interest to earn your CPR certification and your First Aid certification before you begin applying for positions. By doing this, you can show how dedicated you are to running a safe facility where all participants will be in safe and responsible hands. The qualifications to become a director may be more serious depending on the setting you would like to work in. Government agencies and schools may require more experience than private sports organizations.
There are for-profit and non-profit sports facilities that are looking to keep communities that they serve active and fun. With more and more parents realizing the importance of getting kids off the computer and on the sports field, the demand for sports services in on the rise. This rising demand has led to a growing need for facilities with safe playing surfaces that can be used during any climate, according to the newspaper The Democrat & Chronicle. As more facilities are being designed and built, the need for sports facilities directors will continue to grow.