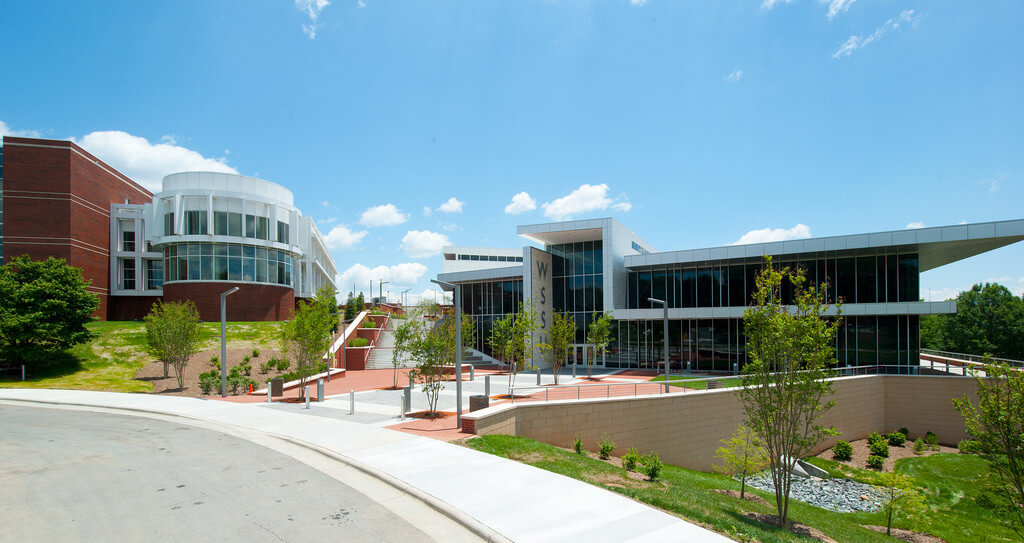 Winston-Salem University is a special kind of university. It has a rich history and a philosophy of inclusiveness, but there is more to it than that. The school is a historically black public university that began in 1892 as a teacher's college. It soon became Winston University and moved from its original location. When the cities of Winston and Salem united, the school became Winston-Salem University. It is located in North Carolina, in an area that has "four seasons." That translates to all-year athletics and recreational activities. The U.S. News and World Report ranks the school as #84 of Regional Universities-South. Winston-Salem University is a member of the Thurgood Marshall College Fund, and its 5,200 students benefit from financial and other incentives of the program. This school was ranked as number one in the UNC system for job placement following graduation. Its student-to-faculty ratio is 18:1. That all adds up to a great place to get a degree, but what makes Winston-Salem University special is its philosophy, related in its motto: "Enter to learn, depart to serve."
Winston-Salem University Accreditation Details
This school is accredited by the Commission on Colleges Southern Association of Colleges and Schools. Some programs and degrees also have special accreditation. For example, in the School of Health Sciences, the physical therapy program is accredited by the Commission on Accreditation in Physical Therapy Education, and the occupational therapy program is accredited by the Accreditation Council for Occupational Therapy Education. The social work programs are accredited by the Council on Social Work Education Commission on Accreditation. Winston-Salem's nursing programs were scheduled for review in late 2015 by the Commission on Collegiate Nursing Education. For accreditation of other programs, you can check the college website.
Winston-Salem University Application Requirements
All students apply through the online form and portal. There is a non-refundable fee of $50 that must be submitted with the application. Freshmen entering the university must also submit their official high school transcript and transcripts from any college where they took college-level courses. They must give the Winston-Salem code to SAT or ACT when they take the tests so that official results will be sent to the university, as well. The minimum GPA accepted for admission is 2.5 with a test score of at least 800 on the SAT or 17 on the ACT. All North Carolina universities require students to take the writing proficiency portion of the tests. This is standard with the SAT but you will have to register for the ACT writing test separately.
If you are transferring to Winston-Salem University, the process is much the same. If you are less than 24 years of age, you must send a high school transcript and a transcript from any college you attended as well as your SAT or ACT scores. If you earned a GED or if you are missing part of the minimum course requirements, you must document that you completed six credits each of college-level English, math, science, social science and foreign language with a letter grade of 2.0 or better. There are several graduate applications and, if you are applying to a graduate program, you must fill out the appropriate form. In addition, you must satisfy the requirements of whichever program you will study.
Tuition and Financial Aid
Estimated undergraduate resident tuition is $3,278 per year. Non-residents pay $13, 056. In addition to this there are fees of $2,469 and a student health insurance premium of $1,727. The total cost of tuition and fees for a year is $7,434.16 for residents and $17,250.16 for non residents. Resident graduate school tuition is $3,758 and out-of-state students are charged $13,314 plus fees. You will need to select a housing option as well. If you elect to live on campus the semester runs between $2,706 and $3,507 and meal plans cost between $574 and $1,620 per semester. Books and course fees must be figured into your budget, too. If you take more than 140 credit hours to complete your degree, there is a 50 percent surcharge for the extra credit hours.
It is expensive to get a college degree and, if you need financial help, you are not alone. The first step in applying for assistance with college costs is filling out the FAFSA form. This free government application uses your financial information, along with your family's income, to calculate how much you can contribute to your education costs. Then that amount is subtracted from the actual cost of going to the school you chose. The resulting figure is your financial need. The FAFSA then automatically awards grants and loans for which you qualify. The most familiar federal grants are the Pell Grant and the Federal Supplemental Educational Opportunity Grant. After receiving your FAFSA results, you should begin to apply for other forms of aid. Winston-Salem offers several needs-based grants and scholarships funded by governmental and private monies. Schools suggest completing your FAFSA form in January so that you can begin applying for competitive scholarships earlier. The next resource is a student loan. This is a low-interest loan with a delayed repayment option so that you can graduate and begin working before payments start. Regular loans can be considered as well, but the higher interest makes them more expensive and you might have to make payments while you are still in school. You should never use credit cards to fund your education because of the exceptionally high interest they charge. If after exhausting all of these resources you need additional help, you might think about a work-study position.
Student Experience
Winston-Salem has an average January low of 27 and a July high temperature of 87. That means that you can explore the outdoors all you want through skiing, whitewater rafting and other outdoor activities. Your school has a wealth of activities for students, too. The most obvious is the dorm environment, with built in friendships and hall activities.
Winston-Salem has a great athletic program in its Ram football, volleyball, cross country and other teams. In fact, one of the most exciting majors at the university is the Bachelor of Sports Management. It is an 83 to 97 hour program that prepares you for a career as a manager of a sports facility, a professional team, or a collegiate sports program or even as a broadcaster. You can specialize your degree with several concentrations like Marketing, Sports Communication and Management. The degree gives you a broad education, including classes in communication and business with a sports focus. The really unique thing about this major is that students are expected to put it to use while they are studying. They are encouraged to interact in the community.
Winston-Salem is an urban area and there are many opportunities to put your studies to practical use. Still, the school is small, a bit like an island of close friendships and competent teachers. It is the best of both worlds. There are more than 100 clubs and organizations for Winston-Salem students. There is an active Greek presence on campus, for those who want to join fraternities or sororities. The new Reaves Student Center is a place for students to get together to study in front of a fireplace or to work out at the fitness center. You can swim in the pool and then eat at the food court where you will find Subway, Burger Studio and even Popeye's Chicken. On the third level you can relax beside a real waterfall. At Winston-Salem University, college life is about the whole student experience.
Related Articles:
What is a Sports Massage Therapist?