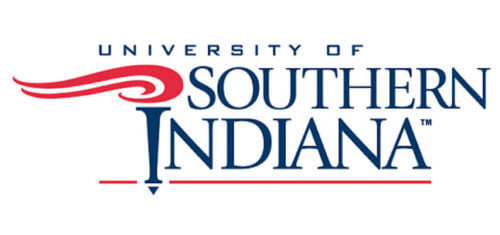 Sports Management Studies at USI
The University of Southern Indiana appears in our ranking of the 50 Best Bachelor's in Sports Science Degree Programs (Campus).
The University of Southern Indiana offers both a Bachelor of Science and a Bachelor of Arts in Sports Management. In addition to general education courses, each program includes 46 credits of classes that are the university's sports management core and six credits of electives. Students will also take 18 credits of courses from the sports management area. The core includes 13 classes and an internship. Each class is worth one to three credits. Students will take Sport Event Management, Principles and Applications of Sports Management, Legal Aspects of Sport and Contemporary Issues in Sport and Exercise.
Students can choose the business electives they take from a list that includes more than 10 courses. Human Resource Management is a class that looks at labor issues, while Introduction to Marketing is a course that helps students understand the best methods of advertising. Other possible electives include Services Marketing, Consumer Behavior, Personal Selling and Survey of Management.
The 18 credits of sports management courses that majors take will come from one of the four concentrations available: intercollegiate athletics, recreation sports, sport communication or sport and business studies. Sport and business studies majors must take nine credits of sports management classes and nine credits of business courses. Depending on the concentrations they choose, students may take courses such as Sport and Social Media, Recreational Sports Administration, Sport Psychology and Principles of Intercollegiate Athletic Administration.
Fieldwork is a major part of each program. The University of Southern Indiana asks students to do at least one internship and allows majors to do practicums also. They can work for the athletic department at the university or work on an offsite location. Students have the choice between doing 20 hours of work a week or doing a total of 150 hours of work over a semester. The university also offers degrees in kinesiology and exercise science.
About the University of Southern Indiana
The University of Southern Indiana is a public and independent university in Indiana. Indiana State University established a new campus in Evansville in 1965 and called is ISU – Evansville. This campus would break away and become a separate university in 1985 called the University of Southern Indiana. Now called USI, it made some changes that helped the campus grow, including adding new courses and programs and creating new buildings. A master plan adopted in 2006 called for further changes that will help the university grow in the future. That plan called for new buildings constructed through donations and more space on the campus. USI owns the New Harmony Theatre, which offers actors and others to work together on major productions that it puts on each year. It also created Historic Southern Indiana (HSI), which helps save and preserve historic buildings across the southern region of the state.
USI appeared several times on the rankings issued by U.S. News and World Report. Those rankings include having one of the best Master of Healthcare Administration (MHA) programs and one of the best online nursing graduate degree programs. Emergency management students can work with the university as it designs new programs and works with its staff to establish regulations relating to emergency situations. USI is one of the largest public colleges in southern Indiana as its enrollment now includes more than 9,000 undergraduate, graduate and post-graduate students.
University of Southern Indiana Accreditation Details
With accreditation from the Higher Learning Commission (HLC), USI can accept credits that students bring with them, though the university will need to evaluate their transcripts first. HLC accreditation also allows USI students to use state/federal financial aid. The dietetics, occupational therapy, nursing, education, art, and design programs at USI all have accreditation too.
University of Southern Indiana Application Requirements
Students applying to any of the USI certificate or degree programs as an undergrad must meet the same requirements. They need to submit the USI application and pay a $40 application fee. The university looks for students who either completed the Indiana college prep curriculum or the same curriculum in another state. This includes four English and at least three math, science and social science classes. Students who attended high school in Indiana should complete the Indiana 40 curriculum. USI also requires that students have a high school GPA of at least 2.5 and an ACT/SAT score of 17/900.
Anyone applying to the university who is at least 21 can apply without providing a test score or a transcript. USI will also accept a GED score rather than a transcript. Those applying with a transcript must submit one that shows both their grade point averages and the dates that they completed their diplomas. USI offers two programs for those who want to transfer credits too. It can do a transcript evaluation and determine which, if any, credits transfer. There is also a credit by exam program that lets students take exams to get their credits. Students can opt for either program after applying to the university.
Tuition and Financial Aid
Indiana residents attending USI pay $259 per credit hour. Most nonresidents pay $629 per credit hour except those who live in Kentucky. Due to the university's campus being so close to the border between the two states, it allows Kentucky residents to take classes for the same rate that Indiana students pay. Students also pay fees of $10 to $30 per semester. The university charges fees based on the total number of credits a student takes in that semester. USI housing starts at $2,403 per semester for freshmen and increases to a maximum of $5,322 per semester for older students. They'll also pay at least $1,268 each semester for a meal plan.
When a student submits an application, he or she can also apply for financial aid. USI uses the FAFSA to see the total need a student has after taking into an account the individual's family contribution. A merit scholarship provides students with a GPA of 3.0 and an ACT score of 20 with $500. This scholarship increases to $5,000 for students with a higher GPA and score. USI will also accept an SAT score. Scholarships also go to valedictorians and salutatorians and those coming from another state. Though certificate students usually do not qualify for scholarships, they can use other types of aid. The University of Southern Indiana also awards students with grants and loans based on the FAFSA when they apply to one of its degree programs relating to emergency management.
Related Resource: What Are the Best Classes for Sports Management Majors?