This program appears in our ranking of 50 Most Affordable Selective Colleges for Sports Management.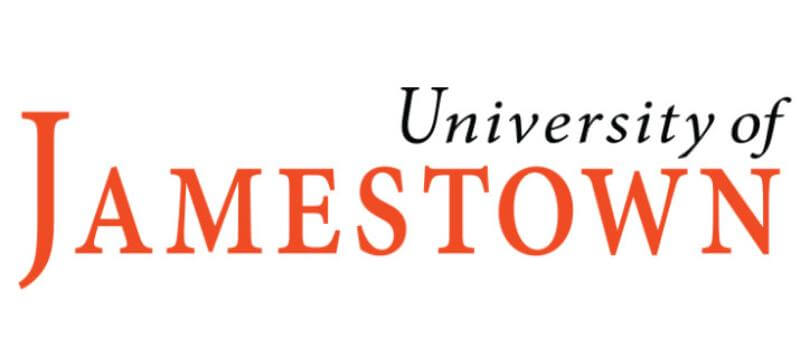 Since Fall 2008, the Kinesiology Department at the University of Jamestown has utilized its 12,500-square-foot Foss Wellness Center to deliver a B.A. in Health and Fitness Administration. Chaired by Prof. Chris Mahoney, the four-year, interdisciplinary program blends business with health and sports science to prepare managers for today's recreation field. The 49-credit major requires courses like Biomechanics, Aerobics, Microeconomics, and Public Relations with a low 13:1 student-faculty ratio. Please note there's also a B.S. in Exercise Science to qualify for the Health Fitness Specialist Exam. Classes take a hands-on approach with access to Dartfish, Monarck, Medgraphics, and other software in Larson Sports Lab. Nearby internship sites also include the James River YMCA, Bismarck Bucks, Fargo Force, Minot Minotauros, Bobcats Hockey, Jamestown Medical Center, and Tennova Healthcare.
B.A. in Health and Fitness Administration students at Jamestown boast 96 percent job placement and ETS Major Field Test scores in the 98th percentile. Perhaps because real-world practice is provided with 19 varsity teams competing in the North Star Athletic Association. The Jimmies maintain cutting-edge facilities, such as the $15 million Harold Newman Arena, Taylor Stadium, Rollie Greeno Field, Hansen Center, and John L. Wilson Arena. The NAIA Champion of Character has several conference titles in football, women's golf, and men's basketball. Undergrads get involved in 30+ organizations like the Exercise Science Club, Relay for Life, Fellowship of Athletes in Christ, and Swing Dance Club. Other opportunities include attending the Phi Beta Lambda Leadership Conference, declaring Honors, adding a Physical Education Minor, and serving at Kenya's Chogoria Hospital.
About the University of Jamestown
The University of Jamestown was established in 1883 by Presbyterian Reverend C.B. Stevens six years before the North Dakota Territory was admitted to the Union. Closed during the Panic of 1893, Jamestown relocated from Samuel McGinnis' farm to a 110-acre Stutsman County campus halfway between Fargo and Missoula. Endowed for $36.1 million, Jamestown now stands as a private, coed APCU liberal arts school rooted in Protestant values. Known for its "Journey to Success" initiative, the University of Jamestown enrolls 1,136 Knights from 17 nations, including Health and Fitness Administration majors. Home to one Elie Wiesel Prize in Ethics winner, Jamestown has trained sports greats like Kyle Schweigert, J.J. Syvrud, and Raquel Pa'aluhi.
The U.S. News & World Report ranked Jamestown as the 27th best Midwestern college and 27th top regional value with 71 percent retention. On Niche, the University of Jamestown is America's 127th best kinesiology school, 153rd best free application college, and 156th top Christian educator. The Princeton Review featured Jamestown among its 157 "Best in the Midwest" schools. In Washington Monthly, Jamestown was placed 19th for PhD completion, 59th for research expenditures, and 64th for Peace Corps work among bachelor's institutions. Graded "B" financially by Forbes, Jamestown was crowned the country's 125th best buy, 24th best Presbyterian school, and 58th most focused physical education program on College Factual.
University of Jamestown Accreditation Details
In February 2011, the University of Jamestown had its Level V accreditation from the Higher Learning Commission of the North Central Association (HLC-NCA) renewed for another decade under president Robert S. Badal. This regional body in Chicago is recognized by the U.S. Department of Education to extend Federal Title-IV eligibility to Jamestown's 43 baccalaureate, three master's, and one doctoral majors. The liberal arts school is authorized by the North Dakota Education Standards and Practices Board. Some sports administration courses at Jamestown are also accredited by the International Accreditation Council for Business Education (IACBE).
University of Jamestown Application Requirements
The Fall 2016 acceptance rate of 57 signals that admission into the B.A. in Health and Fitness Administration at the University of Jamestown will be competitive. First-year Knights need a high school diploma or GED equivalency test scored at least 580. Curriculum prerequisites necessitate four years of language arts, three years of math, and three years of science. Freshmen must graduate with a cumulative GPA above 2.5 in grades 9-12, but the average is 3.46. The minimum cutoff is currently 19 for the ACT or 980 on the SAT. Undergrad transfers should hold 18 semester or 27 quarter credits or more from accredited colleges with overall 2.0 GPAs. Transfer articulation agreements exist with schools like Turtle Mountain Community College, Williston State College, and Lake Region State College. Non-U.S. citizens can prove English competency with 70 TOEFL iBT or 6.0 IELTS scores.
The University of Jamestown offers rolling admission to apply anytime until two weeks before semester starts. International students should leave 60 days for application processing. Hopeful B.A. in Health and Fitness Administration majors download the Online Application for free. If needed, extra materials could be emailed to admission@uj.edu or sent to 6081 College Lane in Jamestown, ND 58405. Slam dunk the candidate review process by submitting these:
Official high school/college transcripts
College entrance exam reports
One transfer recommendation form
FAFSA application via code 002990
Tuition and Financial Aid
Full-time University of Jamestown undergrads earning the B.A. in Health and Fitness Administration pay $10,598 per semester or $21,196 yearly. Part-time study presently bills $435 per credit. Eight-week summer courses are discounted to $393 per credit. Budgets should include the $250 enrollment fee, $100 ISEP fee, $690 comprehensive fee, and $90 broadband fee. Living at Jamestown's dorms like Kroeze or Seibold Hall adds $3,466 for room and $4,000 for board annually. Textbooks cost roughly $650 per term. Total annual cost of attendance is $33,008 for residents and $25,658 for commuters. Jamestown's entire B.A. price spans from $102,632 to $132,032 before financial aid.
According to the NCES College Navigator, 94 percent of full-time Jamestown Knights share $14.67 million in average assistance packages worth $12,720. Health and Fitness Administration B.A. tuition could be lowered with institutional funds, such as the Wilson Scholarship, Mel Arnold Scholarship, Athletic Award, eSports Scholarship, Cheer/Dance Scholarship, Phi Theta Kappa Scholarship, and Canada Connect Scholarship. Ninety days of military service after 9/11/01 qualifies for GI Bill tuition benefits. Roughrider State natives collect the North Dakota State Grant, North Dakota Indian Scholarship, and North Dakota Scholars Award. Financially needy undergrads might claim Federal Pell and SEOG Grant money. The Liechty Center lists Federal Work-Study jobs for at least $8.25/hour. University of Jamestown students also aggregate up to $7,500 from low-interest Perkins and Direct loans yearly.
Learn more about the University of Jamestown at the Department of Kinesiology website.
Related Articles: