This program appears in our ranking of 25 Most Affordable Top-Ranked Schools for Online Master's in Sports Management Degree Programs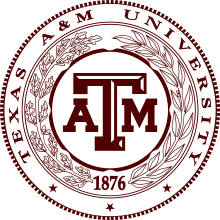 Texas A&M offers both undergraduate and graduate degrees in Sports Management. The Bachelor of Science in Sports Management is for students who wish to enter the business side of the sporting industry. After completing coursework, students are provided a 13-week internship that gives them hands-on experience, allowing them to apply what they learned in the classroom to actual real-world problems. Students also have the option of entering a non-internship program if they intend to pursue careers as administrators and managers. Some of the courses required for the undergraduate Sports Management degree include:
Diversity in Sport Organization
Financing Sport Operations
International Sport Business
Legal Aspects of Sport
Marketing Aspect of Sports
Olympic Studies
Practical Skills for Sports Professionals
Sociology of Sport
Sport Communication
Sport Governance
Sport Management
Sports Facility Planning
Sports Psychology, Management and Practice
Texas A&M also offers a Master of Science in Sports Management which is designed to help students gain a leadership perspective in the field. Students can choose either a non-thesis or thesis option. The program is available either online or in a traditional on-campus format. The program provides students with the skill set to become leaders of organizations related to sports. Some of the courses required include:
Administration of Health and Kinesiology
Administration of Sport and Fitness Organizations
Diversity in Sport Organizations
Personnel Management in Sport
Reading Research Publications in Sport
Recreation and Sports Law
Revenue Generation in Sport
Sport Law
Sport Marketing
Theory of Research in Discipline
Students who choose the non-thesis option must complete an internship in sports management to complete the program.
Students are also able to gain hands-on experience by joining one of the many organizations related to sports management. Students may join the Aggie Exercise Physiology Club, Freshman Leaders in Education and Human Development or the Nutrition and Dietetic Association. Texas A&M also offers an Occupational Therapy Society, Pre-Chiropractic Society and Sport Management Society. There is also a Greek organization, Phi Epsilon Kappa, a group that helps students develop professionalism in kinesiology by focusing on research as well as assisting others.
About Texas A&M
In 1862, Congress passed the Morrill Act which provided public land donations to states in order to fund higher education. The institutes of higher learning were to focus on military tactics, agriculture and mechanical arts although the schools were not to exclude other scientific or classical studies. Texas agreed to create such a college in 1866, but the school was not officially started until the Agricultural and Mechanical College of Texas was created by legislation in 1871. The campus was located on over 2,400 acres of donated land in Brazos County and admission was limited to white males. All students, as required under the Morrill Act, had to participate in military drills, a requirement that remained until the 1960s.
Under the tenure of General James Earl Rudder in the 1960s, the school underwent many changes. African-Americans were admitted for the first time and the school formally began accepting women. Participation in the Corps of Cadets changed from mandatory to voluntary. In 1963, the school was officially named Texas A&M University with the A and M symbolically representing the school's past, although it no longer stood for Agricultural and Mechanical.
Today, Texas A&M is one of the nation's premier research institutes and is one of only three Tier 1 universities in the state. The school has been designated as a sea-grant and space-grant institution, among the first four universities to hold the distinction. Currently, there are over 68,000 students attending Texas A&M.
Texas A&M Accreditation Details
Texas A&M is accredited by the Southern Association of Colleges and Schools Commission on Colleges. Accreditation indicates that the school agrees to periodic review to confirm that programs offered meet or exceed criteria set forth by the Association that indicates excellence in education. In addition, the University agrees to address any areas that the Association identifies as needing improvement during the review. The review also confirms that the school has the resources to meet its goals and objectives. Programs at the University are also accredited by the following industry-specific agencies, organizations and associations:
Accreditation Board for Engineering and Technology
Accreditation Council for Pharmacy Education
American Bar Association
American Chemical Society
American Council for Construction Education
American Psychological Association
American Society for Biochemistry and Molecular Biology
American Society of Agricultural and Biological Engineers
American Veterinary Medical Association Council on Education
Association to Advance Collegiate Schools of Business
Commission on Accreditation for Athletic Training Education
Commission on Accreditation for Dietetics Education
Commission on Accreditation of Healthcare Management Education
Commission on Collegiate Nursing Education
Commission on Dental Accreditation
Computing Accreditation Commission of ABET
Council on Education for Public Health
Engineering Accreditation Commission of ABET
Engineering Technology Accreditation of ABET
Forensic Science Education Programs Accreditation Commission
Institute of Food Technologists
Landscape Architectural Accreditation Board
Liaison Committee on Medical Education
National Architectural Accrediting Board
National Recreation and Park Association
Network of Schools of Public Policy, Affairs and Administration
Planning Accreditation Board
Society for Range Management
Society of American Foresters
Texas A&M Application Requirements
Students who have not completed college courses after high school graduation are considered freshmen at Texas A&M. Students may apply via the Apply Texas or Coalition Application. Students must include an essay and official high school transcripts. The transcript must display the numeric class rank and graduation plan. Students must also provide official ACT or SAT scores. Letters of recommendation and resumes are optional.
Transfer students are those who have earned college credit after high school graduation. Students may apply using either the Apply Texas or Coalition application. Students must provide an essay and official transcripts from all colleges and universities attended.
Graduate students must complete an online application through Apply Texas and provide official transcripts from all colleges or universities attended. One transcript must display the conferring of a bachelor's degree or higher. Students must provide official GRE or GMAT scores as well.
The in-residence Master of Science in Sport Management only admits students in the fall and applications must be completed by February 1. Students must provide a current resume and three letters of recommendation. Two letters must be from faculty members who can attest to the students' readiness for graduate work and one from someone who can confirm the student's ability to succeed. Students must also provide a statement of purpose. The online program accepts students throughout the year but admissions are competitive as there are limited number of spaces in the program each semester. Students should have a GPA of 3.0 or higher and at least four years' experience in the sports industry. Online students are not required to submit official GRE scores although they may enhance acceptance.
Texas A&M Tuition and Financial Aid
Full-time tuition for Texas residents is $5,126 per semester and non-resident tuition is $18,221. Full-time graduate tuition is $5,048 for residents and $10,724 for non-residents.
Financial aid is available. Undergraduates are eligible for scholarships, grants, loans and work-study programs. Graduate students may be eligible for grants, loans and assistantships. In order to qualify for any financial aid, students must complete the Free Application for Federal Student Aid (FAFSA).
Texas A&M has been providing outstanding education for over 100 years. The flexible program formats at Texas A&M allow working adults and those with social, family or work obligations to achieve their higher education goals.
Learn more about Texas A&M University at the Department of Health and Kinesiology website.
Related Resources: 
What is an Exercise Physiologist?
Do I Need a Degree in Sports Journalism to Become a Sports Journalist?