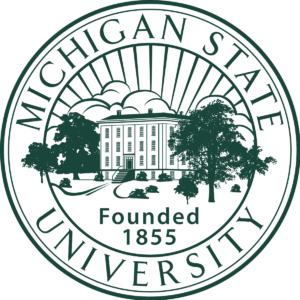 Sports Management Programs Offered at Michigan State University
Michigan State University appears in our ranking of the Top 30 Bachelor's in Sport Management Degree Programs.
Michigan State University offers sports management degree programs through the Department of Physiology and the Department of Kinesiology, which is part of the College of Education. A Bachelor of Science (BS) in Physiology allows students to look at how the human body works and how injuries can impact the body. It requires that students take two semesters of biology, chemistry and physics classes and that they do a physiology capstone. Students can choose a minor in sports management and take classes such as Sports Business Management, Ethical Issues in Athletics, Diversity in the Workplace and College Sports in the United States.
The Master of Science (MS) in Physiology awards students up to 15 credits for their thesis work. In the research training track of the program, students work with an advisor to select a thesis topic that applies to the program and get help doing their research. A joint BS/MS in Physiology is also available from the university. Students take 30 credits of graduate courses while they're still in the undergraduate program and can finish their degrees in around five years. Their courses include Molecular Biology and Protein Structure, Cellular and Integrative Physiology and Cellular and Molecular Physiology.
A kinesiology undergraduate program helps students learn about the human body and its functions. It offers a fast track option through Central Michigan University that lets students transfer from that campus and get through the program faster. Majors take a minimum of 56 credits of kinesiology courses and must maintain a grade point average of at least 2.0 in those classes. They'll take Foundations of Kinesiology, Principles of Human Movement, Physical Growth and Motor Behavior and an internship course that is worth three credits.
Also available is a Master's in Kinesiology that asks students to focus on either athletic training or sport coaching and leadership. Graduate students take 30 credits of classes that include Research Methods in Kinesiology and Project in Kinesiology. Students can do an internship and take a comprehensive exam or take an advanced research class and do a thesis project/paper. The courses they need to take will depend on the kinesiology classes they took in college and if they have a kinesiology degree. A concentration in sports administration is also offered for graduate students. It includes Administration of Intramural Sports, Ethics in Athletics in Higher Education, Athletic Administration in Higher Education and Facility Planning and Construction.
About Michigan State University
Michigan State University is a public university known as both Michigan State and MSU. Established in 1962 as the Agricultural College of the State of Michigan, it quickly grew from an agricultural college to a full university and now ranks as one of the largest campuses in the Midwest. Sports administration and kinesiology/physiology majors have opportunities to work for the university's teams that compete in the Big 10 Conference. U.S. News and World Report ranks MSU 38th on its list of the best business graduate schools in the nation and as one of the top 101 colleges in the United States and the world. MSU also appeared on the world's and nation's best colleges lists issued by Washington Monthly, Forbes and ARWU. More than 50,000 students attend MSU every year, including more than 39,000 undergrads.
Michigan State University Accreditation Details
The nursing, English language, library science, psychology, and medical programs are just some of those at MSU that have accreditation. Through the North Central Association of Colleges and Schools (NCACS) of the Higher Learning Commission (HLC), the university has regional accreditation. Any student who needs financial aid can use that accreditation to get grants and other awards through the Free Application for Federal Student Aid (FAFSA).
Michigan State University Application Requirements
Michigan State accepts roughly 65 percent of the applications it receives every year from prospective undergrads. Those accepted typically have a grade point average of 3.5 or higher and scored a minimum of 23 on the ACT or 1130 on the SAT. It has a nonbinding early action deadline of November first and a priority deadline of February first. The university has a rolling admissions policy after the final deadline. Students receive their decision letters by January 15 or the end of March depending on when they applied. They need to submit an ACT or SAT score and a high school transcript in addition to the MSU application.
Both the university's kinesiology and physiology graduate programs require that students apply to the graduate program that interests them and fill out the questionnaire offered by either department. The questionnaire asks them to write 500 words about their research experience and up to 250 words on the area of the field that interests them. MSU asks for two letters of recommendation with one coming from a professional familiar with the student's research work, an official college transcript, and a GRE score. Students also need to pick a faculty member they want to guide them through the research and thesis process. Michigan State requires an undergrad GPA of 3.0 or higher and asks students to apply by the June first deadline.
Tuition and Financial Aid
Michigan residents attending MSU as an undergrad pay $14,524 each semester in tuition and fees. They can take 12 to 18 credits of classes and pay the same rate. Undergrads from outside of Michigan pay $39,830 for their tuition and fees. Undergrads pay an average of $10,522 for room and board, which comes with a meal plan and gives them a shared dorm room. Graduate students pay $755.50 per credit hour in their degree programs.
Both undergrads and graduate students should use the MSU code on the FAFSA and submit this document before they enroll in the university. Undergrads qualify for subsidized loans that let them avoid interest rates on their student loans. They can also get a Pell grant and other grants from the state and federal governments as well as scholarships from MSU. Graduate students usually receive student loans from the government and university scholarships that they can use with jobs on the MSU campus. Michigan State hires graduate students as research and teaching assistants and has jobs for undergrads too. Students who want to study sports management and related fields at Michigan State University can get help with the FAFSA if they need it.
Related Articles: