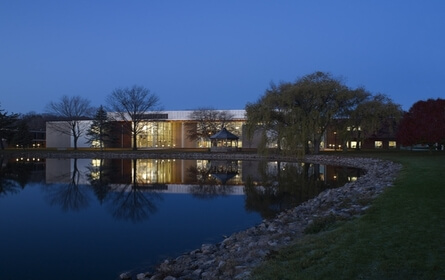 Madonna University is one of the largest private colleges in Michigan. The Felican Sisters, a group of Catholic nuns, decided to open a college in Livonia. The Presentation of the Blessed Virgin Mary College opened in 1937 and immediately began meeting the needs of local students. Though the Felican Sisters are still responsible for the college today, it now goes by the name of Madonna University and remains devoted to the memory of the Virgin Mother. Madonna University is one of the few schools in the region that offers both Associate and Bachelor degrees, but it now has advanced programs for students earning a Master's degree or Doctoral degree. There are more than 130 programs at all degree levels on campus.
The university also operates several satellite and regional campuses across the state for students living outside of Livonia. Students can take classes in cities like Orchard Lake and Detroit. They have the option of completing their degrees through those campuses or transferring to the flagship campus. Madonna University also offers a number of religious classes and has a Roman Catholic church on campus, but it does not require that students attend religious services or come from the Catholic faith. U.S. News & World Report called its graduate program one of the top 100 graduate schools in the Midwest.
Madonna University Accreditation Details
Madonna University holds accreditation from six different organizations. The most important type of accreditation that students should look at is regional accreditation, which should come from an organization that has ties to a nationally known agency or organization. Madonna University has its regional accreditation from the North Central Association of Colleges and Schools. This type of accreditation allows students to apply for financial aid through the federal government. Students may also want to look at whether the university has program accreditation, which it does. The Academy of Nutrition and Dietetics gave Madonna University accreditation for its program in dietetics. Other accreditation that the university has comes from five other organizations:
Accreditation Commission for Education in Nursing, Inc.
Council on Social Work Education Office of Social work Accreditation
National Council for Accreditation of Teacher Education
Commission on Collegiate Nursing Education
Two of these organizations specifically granted the university's nursing program with accreditation. The Madonna University nursing program is one of the top in the state, and the university is one of the only colleges in the Midwest that offers a Doctoral degree in nursing.
Madonna University Application Requirements
The requirements for applying to Madonna University are similar to the requirements at other colleges. The first step that students must take is a look at the online application. This application is available on the university's website and asks some simple questions, which gives the school more information about the student. Madonna University does not charge an application fee but does ask that students submit the application prior to its deadline. The application also includes a short essay that students must write on the prompt given.
All students will also need to send several documents directly to the university. Those documents include an official score from a test like the SAT or ACT and an official high school transcript. Students who attended college in the past will also need to mail an official transcript from that college. Any student who wants course credit for AP courses they took in high school will also need to make sure that the university receives their AP information. If the student wants to apply for scholarships through the university, they will need to submit applications for each one. Merit scholarships offered through Madonna University require that students write an essay when applying.
Tuition and Financial Aid
Prior to applying, all interested students should look at tuition costs and miscellaneous fees. Madonna University charges a flat tuition rate of $9,300 for students taking 15 credit hours each semester, which makes them full-time students. Part-time students pay $575 per credit hour for each class they take through the university. Though Madonna University does charge a $70 registration fee, it does not charge fees for parking on campus, using campus technology services or for other things. Students should also look at the cost of living on campus, which is around $5,000 a year. Full-time students who live on campus can expect to pay around $28,000 a year.
More than 80 percent of all new and current students receive a financial aid package from the university. Madonna asks that all students file the FAFSA several months before enrolling. Students can also apply for various scholarships. Some of these are endowed scholarships that are open to those enrolled in certain programs and those who meet specific requirements. There are also merit scholarships for students who have a high grade point average. Madonna University typically awards financial aid packages that combine both loans and grants. Those who need more assistance may apply to work on campus through one of the work-study programs.
Student Experience
The College of Education at Madonna University is responsible for its sports management degree program. Also known as its SM program, it awards students a Bachelor of Science. Specifically designed for those who want to work in recreation and sports fields, this degree program incorporates real life experience into its curriculum. Students learn how to handle tasks associated with major events like the Super Bowl and March Madness tournaments, but they also learn the basics of managing and operating a sport facility. This program is unique because the university brings in professionals to give lectures to students.
During their senior year, Madonna University requires that sports management students do an internship and gain some practical experience. Though the university can help students find an internship, students can also seek out opportunities on their own. Former students worked for organizations and companies like Michigan Sports Enterprises, Hype Athletics, Livonia YMCA and Soccer Plus. Some accept internships working for local television or radio stations, and some work for major sports organizations like the Detroit Tigers or Detroit Lions. Students may also work in one of the sports complexes on campus to assist with the training of athletes. The Madonna University sports management program features elements of classroom learning and practical experience, and professors working for the university can help students apply for internships and jobs.
Related Articles:
What is a Sports Massage Therapist?