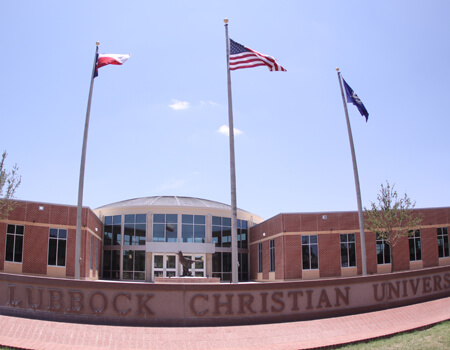 Lubbock Christian College first branched off from the Lubbock Christian School in 1956 as a junior college under President F.W. Mattox's leadership. After earning regional accreditation in 1972, Lubbock Christian gained university status in 1988. LCU now stands as a private, nonprofit liberal arts institution affiliated with the Churches of Christ. Lubbock Christian University enrolls around 2,000 Chaparrals in 55 bachelor's majors and 14 master's degrees, including some for sport management. Occupying 155 urban acres, LCU is located in Lubbock, Texas, on the Llano Estacado just 47 miles south of Plainview. Notable Lubbock Christian alumni include Detroit Tigers coach Matt Martin and MLB player Randy Velarde.
According to the U.S. News, Lubbock Christian University is the West's 76th best regional school with a 70 percent freshman retention rate. On Niche, LCU was named the 189th best Christian college in America with Texas' 19th best college athletics. Washington Monthly placed LCU as the 554th best master's-level institution for "contribution to the public good." College Factual ranked Lubbock Christian University in the top 15 percent nationally for parks, recreation, and fitness studies. AccreditedSchoolsOnline.org crowned LCU the fourth best online learning provider in Texas. The Chronicle of Higher Education also listed LCU within its "Great Colleges to Work For" ranking.
Lubbock Christian University Accreditation Details
At Level III, Lubbock Christian University is accredited without sanctions by the Southern Association of Colleges and Schools Commission on Colleges (SACSCOC). Reaffirmed in 2008, this regional agency will be recognized by the U.S. Department of Education for 10 years. Lubbock Christian also has specialized approval from the Commission on Accrediting of the Association of Theological Schools (ATS). Management courses are accredited by the Accreditation Council of Business Schools and Programs (ACBSP).
Lubbock Christian University Application Requirements
Even with a 96 percent acceptance rate in Fall 2015, Lubbock Christian University's admission process is classified as "selective." First-year applicants interested in sport management must finish a high school diploma or pass the GED with an average score of 45 or better. Taking a college-prep curriculum with four units of English and math each and Advanced Placement courses is preferred. LCU uses an unconditional admission index that must be higher than 44. Therefore, freshmen should have a secondary GPA of 2.5 or better. Minimum composite scores of 15 on the ACT and 860 on the New SAT are also required.
Students at other regionally accredited colleges wishing to "Be Blue" at Lubbock Christian can transfer with 16+ credits. Annually, around 300 transfer Chaps are welcomed to finish their bachelor's degree if a minimum 2.0 GPA is upheld. Non-remedial transfer credits must be graded "C" or higher to qualify. Transfer agreements exist for associate degree holders in area schools like South Plains College, Amarillo College, and McLennan Community College. Those interested in the Honors Program need an overall GPA of 3.5 or better. International scholars at LCU certify their English skills with a minimum TOEFL iBT score of 71.
Prospective students for the B.S. in Sport Management program at Lubbock Christian University should apply before the Early Decision deadline on December 1st or Regular Decision deadline on February 1st. Transfers can apply until the Provisional Decision deadline on June 15th. Don't forget to submit the following:
• Completed online application for admission
• Payment for the non-refundable $25 fee
• Official transcripts from each school
• Standardized testing score reports
• Verification of English language fluency
• Signed statement of purpose
• Two professional recommendations
Tuition and Financial Aid
Regardless of Texas residency, full-time undergrads at Lubbock Christian University will be charged $10,897 per semester or $21,794 annually. This flat-rate tuition price includes the $100 health services fee each term. Part-time scholars will pay $588 per credit taken up to nine credits. Undergraduate housing in shared rooms adds $1,425 per semester. All-Access meal plans cost $1,725 each semester too. With $1,100 budgeted for textbooks, the annual cost of attendance is roughly $34,184 for residential students and $26,696 for commuters. Finishing the B.S. in Sport Management program in four years would equal $136,736 total before aid.
The NCES reports that 99 percent of beginning, full-time LCU undergrads are assisted. The average financial aid package is worth $9,680. Institutional awards like the Honors Scholarship, Home School Graduate Scholarship, Christian School Graduate Scholarship, Student Success Scholarship, and Best Friends Scholarship are numerous. The Foreign Missionary Discount cuts 50% of tuition for the children of Christian missionaries. Athletic Office workers could earn the $2,500 Trainer Scholarship yearly. Financially needy undergrads qualify for the Pell Grant and FSEOG Grant. "Longhorn State" residents may obtain the Texas Tuition Equalization Grant or Texas Armed Services Scholarship. Federal Work-Study (FWS) listings are available at the Fitness Center and Rip Griffin Center. Extra need could be fulfilled with Direct, Stafford, or PLUS loans.
Student Experience
Lubbock Christian University offers a character-building, liberal arts curriculum grounded in Biblical values across 12 divisions, including the Department of Exercise and Sports Sciences. Undergrads could pursue the B.S. in Sport Management, B.S. in Exercise Science for Athletic Training, B.S. in Sport and Exercise Psychology, or B.S. in Physical Education. Developing a career in the sports arena could benefit from the Pre-Physical Therapy track too. Courses for a 126-credit bachelor's degree will range from strength and conditioning to sports marketing and biomechanics. With the 13:1 student-faculty ratio, LCU's high-quality, PhD-level professors are very accessible.
Sport management majors at LCU expand their resumes with a junior internship and senior research project. Past internship sites have included Freedom Fitness, Premier Sportsplex, Healthy Lubbock Initiative, Sports & Industrial Rehab, and YWCA. Several work with the Lubbock Christian Athletics Department in state-of-the-art facilities like City Bank Clubhouse and Plainscapital Park. Ties also exist with the Texas Tech Red Raiders. Through MissionLink, students can conduct fieldwork abroad from Kenya to Nicaragua and Thailand. In fact, the LCU Semester in Avila, Spain, was launched in 2016 for several courses, such as human physiology.
Approximately 34 percent of LCU students live on-site, so campus life is lively. Sport management majors could enjoy joining the Christliche Damen, ENACTUS, Minority Student Alliance, Fellowship of Christian Athletes, and more. Each year, undergrads get engaged with the Get Busy Bash, Pancake Supper, and Spiritual Renewal Week. There are 15 intramural sports teams, ranging from dodgeball to futsal and Quidditch. Varsity athletes also compete for the Chaparrals on 11 teams in the NCAA Division II Heartland Conference. Lubbock Christian University won their first national championship for women's basketball in 2016.
Related Articles: