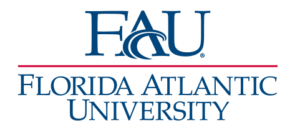 Sport Management at Florida Atlantic University
Florida Atlantic University appears in our ranking of the 20 Best Online Masters in Kinesiology and Exercise Science.
Students who are interested in studying sports management at Florida Atlantic University will enroll in the MBA program with a specialization in sport management from the Department of Management Programs. Students have the choice of enrolling in a fully online MBA program or attending classes on campus in a traditional program. The program was first introduced in 2000, and graduates have enjoyed excellent placement in sports and entertainment industry positions since that time.
Students who choose the on-campus program may begin their degree in the fall or spring semester. Classes are offered in Boca Raton on Tuesday and Thursday nights. Meanwhile, students who choose the online program may begin their studies in the summer, spring, or fall semester. Overall, students should expect to take 23 months to complete their degrees. The program requires 40 to 46 credits.
Students will take 28 credits in business classes and 12 credits in sport management courses. Business classes required in the program include Financial Accounting Concepts, Communication Skills for Business Professionals, Global Environment of Management, Advanced Financial Management, and Leadership & Executive Forum.
For the degree's sport management courses, students will take Managing the Sport Enterprise, Sport Marketing, and Sport Business Analytics. The program also requires Financial Aspects of Sport Management, and Sport Law. Students will choose one of two electives that include Management and Administration of Intercollegiate Athletics or Management of Sport, Entertainment, & Convention Venues.
Graduate programs at Florida Atlantic University sometimes have application requirements that are specific to each program. For the MBA in Sport Management, application materials required include a personal essay and a current resume. Students who are accepted will receive a letter from the university's admissions coordinator with information on the next steps required for completion of the application process.
Students who want to know more about the sport management program at Florida Atlantic University may attend a regularly scheduled information session, which explains the unique program features of the degree, the curriculum, and admissions requirements. Students who are unable to attend an information session may schedule an appointment with the department for a one-on-one phone session with an advisor.
About Florida Atlantic University
Florida Atlantic University is located in Boca Raton, Florida, and is part of the state's university system. The nearly 31,000 students enrolled at the university may pursue more than 170 programs that are housed within ten different colleges. The school was established in 1961 and began offering classes in 1964 to students in South Florida. At first, the university only offered upper-division classes.
The university's main campus covers more than 850 acres, and there are also six satellite campuses operated by the university. The school has 19 varsity teams playing in NCAA Division I games as the Owls. The official mascot is named Owlsley, the Owl, and the official colors are blue and red. In its history, the university has awarded more than 110,000 degrees, and it recently established a College of Medicine in 2010.
Florida Atlantic University Accreditation Details
Florida Atlantic University is accredited by the regional accreditation agency for Florida and other states across the South. Approval from the Southern Association of Colleges and Schools Commission on Colleges (SACSCOC) allows the university to award college degrees at the associate, bachelor's, master's, doctoral, and specialist levels. The university most recently reaffirmed its accreditation in 2013 and will undertake the accreditation process again in 2023.
There are several organizations that also accredit various programs offered by Florida Atlantic University. These organizations are often recognized by the U.S. Department of Education or the Council for Higher Education Accreditation. Approvals have been granted by the National Association of Schools of Music, the Association to Advance Collegiate Schools of Business, and the Council for Accreditation of Counseling and Related Educational Programs.
Florida Atlantic University Application Requirements
The average first-year college student admitted to Florida Atlantic University has a GPA of 3.80 to 4.48, an SAT score between 1120 and 1260, and an ACT score of 22 to 27. To qualify for admission, students must take specific courses in high school that are required by the university. Those classes include two units of a foreign language, three units of social science, two units of natural science, four units of math, and four units of English.
Students who want to apply to graduate school will need to identify the graduate program to which they want to apply to see what admission documents are required. Details and documents required by most programs include a $30 application fee, official test scores for the GRE or GMAT, and official transcripts from college. Students who have earned a degree in another country must submit their credentials for evaluation.
Tuition and Financial Aid
Undergraduate tuition and fees at Florida Atlantic University for Florida residents come to $5,488 per year. Out-of-state students will pay $19,488 for tuition each year. The university estimates that books and supplies will cost $1,232, housing will cost $8,650 for on-campus housing, and a dining plan will cost $4,222. With personal expenses added to the total, the overall cost of attendance for Florida residents is $26,210, and the total cost for non-residents is $39,368.
For graduate students attending Florida Atlantic University, the rate of tuition and fees for Florida residents is $7,440, and the rate for non-residents is $20,536. When other costs like books, supplies, housing, a dining plan, and miscellaneous expenses are added, the estimated cost for Florida residents is $27,320 for graduate school, and the estimated cost for non-residents is $40,416.
Florida Atlantic University has multiple financial aid offices on each of its campuses, and students are invited to walk in at any time if they have questions about applying for financial aid. Students will apply for financial aid each year they enroll in college and will need to reach certain educational benchmarks each year to maintain their financial aid awards that may include loans, scholarships, and grants.
The university recommends that students apply early if they want a chance at one or more of the scholarships offered by the school since some scholarships have deadlines, and others are offered on a first-come, first-served basis. All scholarships offered at Florida Atlantic University require a separate application, so students should read the eligibility requirements for each before submitting an application.
Related Resource: