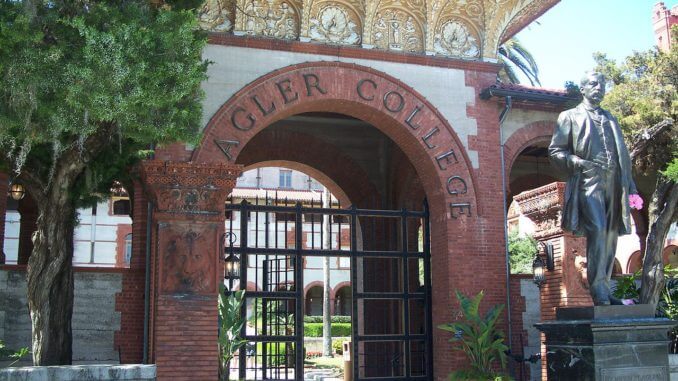 Flagler College of St. Augustine was first opened in 1968 in the luxury Ponce de León Hotel erected for Henry Morrison Flagler, the industrialist who founded Standard Oil. In the vision of Lawrence Lewis, Jr., Flagler developed into a private, nonsectarian residential liberal arts institution for baccalaureate study. Occupying 19 acres of northeastern Florida's Jacksonville Metro four miles from the Atlantic, Flagler College is listed on the National Register of Historic Places. With its $60 million endowment, Flagler has 2,500 Saints from 52 countries each year. Buildings like Lewis Hall and Cedar Hall have hosted notable alumni, including NASCAR driver Scott Lagasse, Jr. and PHC Zebras footballer Marco Warren.
According to the U.S. News, Flagler College of St. Augustine is the South's second best college and 12th top regional value. The Princeton Review included Flagler among the "Best 381 Colleges" 2017 guide. On Niche, Flagler was declared America's 244th hardest college to get into with the 126th best college location. Washington Monthlyplaced Flagler as the 154th best bang for the buck in its Southeast rankings. The publication also ranked Flagler College of St. Augustine as the country's 130th top baccalaureate institution. Buzzfeed featured Flagler as the #2 most beautiful campus worldwide. Best College Reviews ranked Flagler among the "50 Best Colleges By the Sea" too.
Flagler College of St. Augustine Accreditation Details
Continuously since 1973, Flagler College of St. Augustine has held accreditation at Level III without public sanctions from the Southern Association of Colleges and Schools Commission on Colleges (SACSCOC). This regional agency is recognized by the Council for Higher Education Accreditation (CHEA) to review Flagler's Bachelor of Arts, Bachelor of Fine Arts, and Master of Fine Arts programs for the U.S. Department of Education.
Flagler College of St. Augustine Application Requirements
Classified as "selective," Flagler College had a Fall 2015 acceptance rate at its St. Augustine campus. Being among the lucky one-half of applicants requires graduating from a licensed high school or finishing the GED. Homeschooled students with detailed transcripts from grades 9-12 are also accepted. Flagler expects taking at least 13 college-prep units with superior grades. On average, admitted freshmen have a secondary GPA of 3.43 overall. Students who've scored 3 or higher on Advanced Placement exams are granted transfer credit. First-year applicants need to submit a minimum SAT CR+M score of 1010 or ACT composite score of 21.
Switching to Flagler's Sport Management Major from another regionally accredited college will require at least 15 transfer credits. Having completed at least one full-time semester after high school graduation for introductory courses like English composition or pre-calculus is preferred. To transfer, courses must be graded "C" or higher. The maximum amount transferred is 64 from community colleges and 75 from four-year universities. Flagler applicants holding an A.A. degree automatically transfer to junior standing. Transfers generally need a 2.5 cumulative GPA or better to compete. International scholars have an extra step to certify English fluency with a minimum TOEFL pBT score of 500.
Flagler College of St. Augustine upholds an Early Decision deadline of November 1st and Regular Decision deadline of March 1st for freshmen. Transfers have until June 1st for Fall and November 1st for Spring admission. Either the Flagler Application or Common Application is accepted with the following attachments:
• $50 non-refundable fee by credit card
• Transcript requests for each school attended
• Official SAT and/or ACT score reports
• Typed, original essay of at least 250 words
• At least one academic recommendation
Tuition and Financial Aid
Full-time Flagler Saints will be charged $9,100 per semester or $18,200 each undergraduate year regardless of Florida residency. Studying sport management part-time will cost $620 per credit. Returning Flagler alumni receive a break for $380 per credit though. Residential undergrads need to budget $5,350 and $5,330 annually for room and board respectively. Textbooks and supplies are expected to add $1,000 per year too. Total annual cost of attendance is roughly $32,220 for on-campus and $22,100 for commuting students.
The NCES shows that 89 percent of Flagler freshmen receive financial aid for an average amount of $7,428. Sport management students could qualify for institutional awards like the Palmetto Scholarship, Ponce de Leon Scholarship, Castillo Scholarship, Presidential Merit Scholarship, and Athletic Scholarship. Federal aid sources, including the Pell Grant, FSEOG Grant, Iraq and Afghanistan Service Grant, and Subsidized/Unsubsidized Loans, are opened with the FAFSA. Sunshine State residents may earn the Florida Resident Access Grant, Bright Futures Scholarship, and Florida Student Assistance Grant. Federal Work-Study jobs provide a standard award of $700 per semester. There's also a monthly payment plan with a $35 enrollment fee.
Student Experience
Flagler College of St. Augustine is a selective, liberal arts community where undergrads choose from 29 majors, such as Sport Management or Hospitality and Tourism Management. After the First-Year Experience, the 59-credit SPMA major develops the administrative skills for the multibillion-dollar sports industry with diverse courses from facility management to sport governance. Undergrads may declare minors like Finance, Media Studies, Advertising, and Sociology for specialization. Sport management students in the top 15 percent of their class can also add rigor with the Honors Program. With the 16:1 student-faculty ratio, courses will stimulate active discussion and close professor mentoring.
Seventy-one percent of Flagler graduates have received experiential learning. Past majors have interned with the Amateur Athletic Union, Sports Illustrated, World Golf Hall of Fame, Streetball Partners, Inc. and United States Surfing Federation. Apprenticeships are often available with Florida's professional teams like the Jacksonville Jaguars, Miami Heat, Tampa Bay Devil Rays, and Orlando Magic. Some SPMA majors volunteer for the Daytona 500 NASCAR race or PGA Players Championship. Students could dive deeper into sports or exercise science with the Office of Undergraduate Research. Sport management faculty have also led study abroad trips to Cuba, Panama, Germany, and more.
From the Ringhaven Student Center, undergrads can get involved in campus life through 60+ clubs and organizations. In addition to the Sport Management Club, students could join ENACTUS, Sigma Beta Delta, Club Hockey, Quidditch Club, Dive Club, the InterVarsity Christian Fellowship, and more. Events like the Hugh Shaw Memorial Surf Contest, Flagler Creates! Festival, and New Year's Eve Gala offer annual fun. Sport management majors also gain experience with the Saints' 14 varsity teams in the NCAA Division II Peach Belt Conference. Flagler College of St. Augustine has pristine sports facilities, including the W.W. Gay Fitness Center and Drysdale Field.
Related Articles: