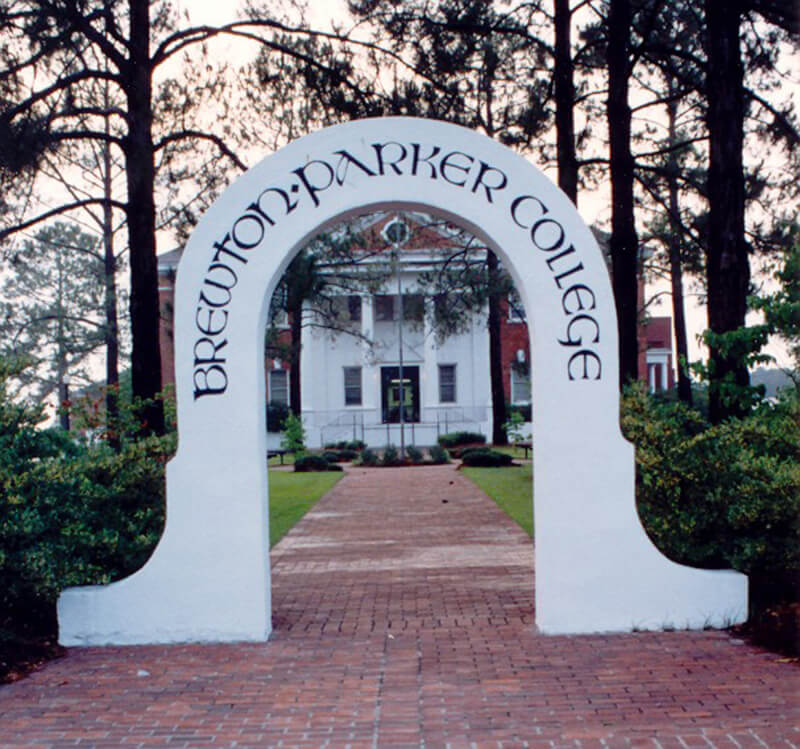 Brewton-Parker College is a small college in Georgia that has a total enrollment of right around 1,000 students. When the college first opened, it served as a small boarding school for younger students, but it later added a high school program. It was one of the only high schools in the region and one of the only that prepared students for college. This school later became the Union Bible Institute, which opened in the early 1900s. That school was one of the only coed colleges in the area and one of the only junior colleges in the region too. After dropping its other programs, it officially became Brewton-Parker College.
The Brewton-Parker College campus now sits in Mount Vernon, Georgia and offers more than 270 acres of land for students. It has seven departments that offer 19 majors. Many of those programs offer fieldwork experiences that let students gain course credit for work they do in the field. Students can also participate in dozens of different activities and join one of several sports teams too. BPC has one of the lowest ratios of professors to students with right around six students for each instructor. Its low class sizes are just one of the reasons students pick BPC. Though it has an affiliation with the Southern Baptist Convention, students of all faiths and denominations can apply.
Related Resource: 50 Most Affordable Small Southern Colleges for a Sports Management Degree 2016 (Bachelor's)
Brewton-Parker College Accreditation Details
The Southern Association of Colleges and Schools (SACS) originally granted Brewton-Parker College regional accreditation on the basis that the college apply for a renewal of that accreditation within the next decade. The college experienced some problems in 2012 that led to the organization stripping it of its accreditation two years later and removing the college from its list of members. BPC then brought together faculty and professionals to look at why it lost accreditation and what it needed to do to gain it back. This led to the Southern Association of Colleges and Schools Commission on Colleges taking the college off probation and giving it back full accreditation at the end of 2014.
Brewton-Parker College Application Requirements
Before you apply to Brewton-Parker College, you should look at the admission requirements. This college requires that students take courses in high school or vocational school that prepare them for college. As part of the application process, you must submit a transcript that validates any information you put on the official application. You will need to send your transcript to an education valuation service professional and ask for an evaluation of your work. You'll then mail a copy of that report to the college. The college uses that information to determine if you took the courses required for college or if you need to take more courses before enrolling full-time in college.
The college also asks for an official ACT or SAT test score for all applicants who attended high school in the United States. You must also supply proof that you can pay for your college education. If you plan on filing the FAFSA and taking out student loans, you can skip this step. You will also need to use the online application to apply for a spot in the new freshmen class. After BPC receives your application and verifying documents, it will email you a decision or mail the decision letter to the home address it has on file.
Tuition and Financial Aid
Brewton-Parker College estimates its tuition rates at around $14,100 a year, which is below the national average for a private college. Though many schools charge separate rates for students who are residents of the state and those who live in other states, BPC charges the same rate for all students. When you factor in the cost of school supplies, room and board on campus and miscellaneous fees, the total amount you pay will come out to around $18,000 a year. BPC also has its own online calculator that lets you see the costs you'll face based on the program you want to study.
Once you fill out the FAFSA, you can request an account with the college's virtual financial aid office. This account lets you log in and find out if the college needs more information from you and view the total financial aid package you'll receive. You will also need to use this account to verify that you applied for aid and that all answers you supplied are valid. Federal aid includes grants and loans for both students and their parents or guardians. You may qualify for financial aid from the state, including grants and scholarships. BPC will contact you about any scholarships you might qualify for and provide you with information on how you can apply for each one.
Student Experience
Brewton-Parker College ranks as one of the most affordable choices for sport management majors, but the program that this college offers is fairly different than those found on other campuses. Instead of studying business management, you'll earn a degree in health and wellness management through its Division of Business with an emphasis or concentration in sport management. All students taking classes from this division must complete the business core. This consists of 45 credit hours of fundamental business courses like business marketing, business ethics and business law. You will also take a minimum of 50 general education requirements that give you a better understanding of topics in math, humanities, English, life sciences and social sciences. You only need to take 18 credit hours of sport management classes, but you can take up to nine hours of electives within that subject too.
The great thing about BPC is that it offers both varsity sports and intramural sports. Some of the intramural sports you can play or participate in include volleyball, tennis, softball, basketball and ultimate Frisbee. The varsity teams are the Barons and are members of the National Association of Intercollegiate Athletics (NAIA). Those teams are members of the Southern States Athletic Conference. Male teams include basketball, cross country, golf, basketball and baseball, while female teams include volleyball, soccer, track and field and basketball. Brewton-Parker College recommends that students participate in at least one sport while taking sport management classes and can help them apply for internships working for professional sports organizations and in athletic facilities near campus and across the country.
Related Articles: