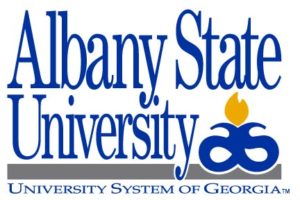 Preparing for Sports Science Careers at Albany State
Albany State University appears in our ranking of the 50 Best Bachelor's in Sports Science Degree Programs (Campus).
At the West Campus, the Darden College of Health Professions grants a B.S. in Health & Human Performance for Albany State University Golden Rams to further their understanding of how people effectively train for physical wellness and sports success. Chaired by Dr. Timothy W. Hughley, the 123-credit, NSCA-approved curriculum is designed to fulfill the American College of Sports Medicine's Certified Exercise Physiologist requirements. Expect eight semesters of 17-week Albany courses like Athletic Injury Care, Kinesiology, Recreation Management, and Coaching Theory with a 15:1 student-teacher ratio. Upperclassmen must secure at least one 200-hour internship, such as the Atlanta Falcons, Georgia Swarm, Rome Braves, Macon Mayhem, Planet Fitness, or Dougherty County Schools. Undergrads might also gain NCAA Division II experience, conduct Fitness Center research, semester abroad from Spain to Belize, join Rock Climbing Club, and continue for a Master of Business Administration.
About Albany State University
Albany State University originated in 1903 when Joseph Winthrop Holley started the Albany Bible & Manual Training Institute to improve the South's African American education during the Jim Crow Era. In 1917, the General Assembly chartered it as the Georgia Normal & Agricultural College. In 1932, it was welcomed into today's 28-member University System of Georgia. One decade later, the Albany State University name was selected to signify new bachelor's degrees. In 1961, ASU notably formed the Student Nonviolent Coordinating Committee for Civil Rights Movement protests. In 1972, Albany State University organized its first graduate program. In 1989, Albany State launched the Center for the African American Male. In 1994, Governor Zell Miller invested $153 million to make ASU "unsinkable" after Flint River flooding. In 2010, Diverse Issues in Higher Education featured ASU in the top 10 for Black undergrads.
Endowed for $2.1 million, Albany State University now employs 188 faculty in 15 academic departments teaching 3,041 Golden Rams from 11 countries for 37,714 credit hours total online or at the 231-acre Dougherty County campus with 60+ clubs like the Black Alliance. In 2018, ASU was chosen for the Thurgood Marshall College Fund's Center for Advancing Opportunity Grant. In 2017, Albany State earned a $305,160 NSF Research Initiation Award. Albany State University boasted a 2010 NCAA Division II Football Player of the Year candidate too. The U.S. News & World Report ranked Albany the 40th best HBCU and 253rd top public affairs school. On Niche, ASU has America's 36th best Greek life, 193rd most liberal students, and 459th best dining experience. College Factual placed Albany State 92nd for health professions programs. Washington Monthly named ASU the 142nd top master's institution.
Albany State University Accreditation Details
On January 1, 2016, the Southern Association of Colleges and Schools Commission on Colleges (SACSCOC) Board of Trustees voted favorably to give Albany State University initial Level VI accreditation status that's valid through Spring 2020 under President Marion Ross Fedrick, who received the University System of Georgia Board of Regents Governor's Cup. Located 185 miles up Interstate 75 in Decatur, this big 11-state Blue Ridge Region accreditor is authorized by the U.S. Education Department to continually review ASU's 14 associate, 29 bachelor's, 11 master's, and one specialist offerings. Further, the Department of Health & Human Performance is approved by the National Strength and Conditioning Association (NSCA). Albany State was also reaffirmed by the Accreditation Council for Business Schools and Programs (ACBSP) in 2014.
Albany State University Application Requirements
Enrolling at Albany State University is classified "minimally difficult" by Peterson's though only 1,448 of the 2,915 Fall 2017 applicants were victorious for competitive 49.6 percent acceptance. First-year Golden Rams seeking the B.S. in Health & Human Performance must meet the University System of Georgia's college preparatory curriculum requirements. This includes four units each of English, Math, and Natural Science subjects. Freshmen need a minimum overall GPA of 2.0 in grades 9-12. The Class of 2021 submitted an average GPA of 2.94. Undergrads need at least 17 ACT or 440 SAT Reading and 430 SAT Math scores. The Access Pathway is one exception accepting SAT composite scores as low as 640. Honors Program cohorts must verify a minimum 3.5 GPA, 22 ACT, or 1000 SAT mark. Qualified transfers will hold 30+ non-remedial college credits graded "C" or greater for 2.0 GPAs. Foreign learners without U.S. credits must achieve 69 internet, 193 computer, and 523 paper TOEFL scores or better.
Albany State University has set domestic undergrad deadlines of June 1st for Fall, November 1st for Spring, and April 1st for Summer starts. International B.S. in Health & Human Performance students must file by May 1st, October 1st, and March 1st respectively. Financial aid forms and housing deposits must arrive by July 1st. Fee payment is due August 2nd, January 2nd, and May 10th. Hopeful Golden Rams easily submit the GA Futures or Common Application online for $25. Official transcripts are forwarded to 2400 Gillionville Road in Albany, GA 31707. Electronic testing reports require SAT/TOEFL code 5004 or ACT code 0782. Additional materials like recommendations, essays, and resumes are optional yet suggested. Contact (229) 500-4638 or admissions@asurams.edu with any questions.
Tuition and Financial Aid
For 2018-19, Albany State University charged full-time Georgia undergrads $2,478 each term or $4,956 annually. Non-resident B.S. in Health & Human Performance tuition was $9,016 by semester or $18,032 yearly. Studying in Albany part-time incurred $165 to $601 per credit. Bachelor's students paid the $145 athletic fee, $225 Board of Regents fee, $40 health fee, and $85 activities fee. Living at the Dougherty Campus' dorms like West Commons added $8,878 for room and board. ASU budgeted $1,250 for books and $3,270 for miscellaneous expenses. Traditional annual undergrad attendance equaled $19,133 in-state and $29,594 out-of-state. Online-only courses billed everyone $188 per credit with a $65 flat-rate technology fee.
According to the NCES College Navigator, the Office of Financial Aid in Building C connects 92 percent of new ASU Golden Rams to tuition assistance packages averaging $6,110 each for $3.81 million combined. University funds include the Herbert Murray Sr. Scholarship, Annie & Willie Foundation Scholarship, Geraldine Hill Koonce Scholarship, James Barnett Memorial Scholarship, Ben Hampton Memorial Scholarship, Helen Eagle Hill Scholarship, Ebuka Obiekwe Memorial Scholarship, Billy Black Scholarship, Eddie Ray Alexander Memorial Scholarship, Muriel Donalson Edwards Scholarship, and Jo Neal Freeman Memorial Scholarship. The Alice Coachman Scholarship gifts $1,500 annually to female track and field athletes who maintain minimum 2.75 GPAs. The $500 Ruby Faye Butler Scholarship has an August 15th deadline for Army Reserve Officers' Training Corps undergrads holding GPAs above 3.25. FAFSA forms coded 001544 determine federal program, including Pell Grant and Direct Loan, eligibility. The Helping Outstanding Pupils Educationally (HOPE) Grant also supports Georgia families making $100,000 or less.
Find out more about Albany State University at the Department of Health & Human Performance website.
Related Resource: What is an Exercise Physiologist?