Competitive swimmers, recreational swimmers and spectators each have somewhat different views on what makes a particular pool great. When it comes to U.S. universities, high-tech timing systems, warm-up pools and diving wells are among the most-wanted features for swim and dive team members. For those who enjoy recreational swimming, a variety of water features and luxury amenities are likely to earn top marks.
5. Georgia Tech's Herb McAuley Aquatic Center, Atlanta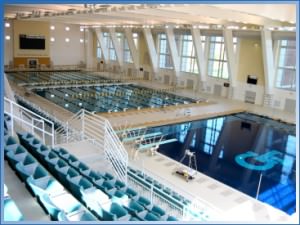 This indoor pool complex, named for a former swim coach, is nearly 20 years old but still an amazing example of the ultimate competition swimming arena. Built for the 1996 Summer Olympics, Georgia Tech's pool is known as one of the fastest swimming venues worldwide. The water depth, gutter depth and extra-wide lanes all work together to reduce the wake that slows swimmers down. Seating for nearly 2000 radiates around the 10-lane, 50-meter pool. The complex also features a group-sized hot tub and a smaller recreational pool complete with a water slide.
4. University of Minnesota's University Aquatic Center, Minneapolis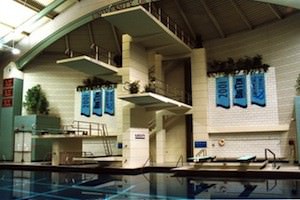 The University Aquatic Center at the University of Minnesota is a state of the art aquatic complex that spans almost two acres of the college campus. The centerpiece is an 8-lane, 50-meter competition swimming pool. The facility also boasts a separate 25-yard by 55-foot diving well with four platform levels, the tallest of which is 10 meters. Olympian diver Greg Louganis has praised the facility for its comfort and quality. Seating for thousands of spectators borders the pool but sits well above the splash zone, and skylights in the vaulted ceiling provide natural lighting.
3. Stanford's Avery Aquatic Center, Palo Alto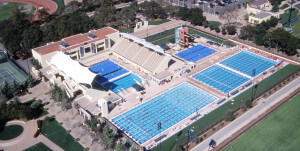 This outdoor pool complex in Southern California is one of Stanford's many claims to fame. Avery Aquatic Center encompasses four pools – the competition pool, the Maas Diving Center, the Belardi Pool and the Baker Pool. The University states that many consider its 37-meter by 20-meter competition pool to be among the fastest in the U.S. The stadium has seats for 2,530 fans of the university's fiercely competitive swim teams and U. S. Masters Swimming events. The outdoor diving facility features a multi-level tower plus four springboards while the Belardi and Baker training pools each offer 50-meter lap lanes.
2. University of Missouri Mizzou Aquatic Center, Columbia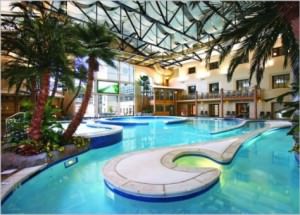 Mizzou Aquatic Center is impressive in its scope and level of luxury. The contemporary complex includes a 50-meter competition pool, a diving well, a recreational area known as Tiger Grotto and a seasonal outdoor bathing area called Truman's Pond. The diving well offers a choice of four springboards and a 10-meter dive platform. Tiger Grotto is a relaxing, spa-like section that houses a hot tub, sauna, steam room, and a zero-entry recreational pool. It features high-speed and lazy currents, and a spectacular waterfall. The adjacent outdoor pool, Truman's Pond, opens mid-April for student use.
1. University of Texas-Pan American Wellness & Recreational Sports Facility, Edinburg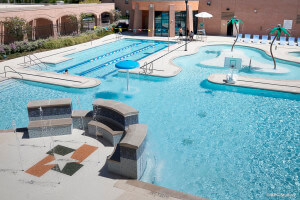 Offering swimming options indoors and out, the UTPA aquatic center is multi-functional as well as aesthetically appealing. The free form, interconnected outdoor section consists of a 25-meter, 3-lane lap pool, a leisure pool, a simulated river for floating and a fabulous fountain spa. Located in the university's field house, the 8-lane indoor swimming pool ranges from 3 feet to 12 feet in depth. It includes a springboard diving area. The UTPA Wellness & Recreational Sports Facility won the NIRSA award for excellence in 2009.
Conclusion
Top university aquatic centers typically go hand-in-hand with top ranking swim programs. The five mentioned here are among the best for merging competitive snd recreational uses so that all students can enjoy the world-class facilities.
Related: