Fitness can do more for college students than ward off the dreaded freshman 15 weight gain. As Medical Daily reports, a recent study out of Michigan State University suggests a link between educational success and exercise. Researchers discovered that participants with gym memberships earned higher cumulative GPAs and were less likely to drop out of school than those without membership. With evidence like that, it's no wonder that universities are creating fabulous fitness centers on their campuses. How cool are these centers? Here are five university fitness centers that you'll have to see to believe.
Auburn University's Recreation and Wellness Center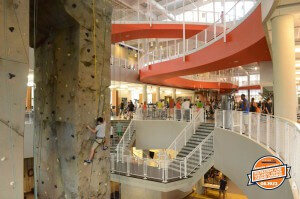 A visit to the Recreation and Wellness Center at Alabama's Auburn University can be a truly mind-blowing experience. The facility includes an impressive hot tub that seats 45, a leisure pool, a 20-foot aqua climb wet wall, multiple 50-foot-high rock-climbing towers, and a 1/3-mile indoor track that changes elevation and corkscrews around as it winds throughout the center. There's also an abundant supply of cardio machines, strength training machines and free weights, a well-stocked game room, and a golf simulator. Students can exercise independently, join one of the many fitness classes or participate in various club sports.
Colorado State University's Student Recreation Center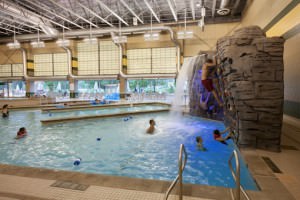 With gigantic windows that look out over the Rocky Mountain foothills, Colorado State University's Student Recreation Center is arguably the fitness center with the best views in the country. It also offers two gyms, five fitness centers that provide a wide array of classes, an indoor track, and plenty of room for cardio and weight training. This award-winning center has three climbing areas and an aquatic center that includes 25-yard lap lanes, a current channel, a sauna, a spa and a steam room. In addition, students who want to enjoy the Colorado sunshine while they exercise can work up a sweat on the acres of outdoor recreation spaces that surround the center.
Ohio State University's New Balance Student Recreation Center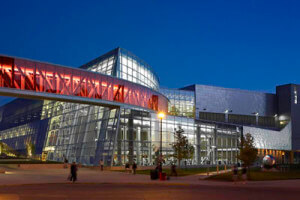 The New Balance Student Recreation Center isn't the only reason that Ohio State University snagged the third spot on The Active Times' 2015 list of the Fifty Fittest Colleges, but it's definitely a major factor. Inside this 569,000-square-foot facility, students can take advantage of a top-notch fitness center, an indoor track, a golf station, a sports shop and two pools. For students who need to refuel before or after their workouts, the center also boasts a cafe that serves up a variety of healthy options.
University of Maine's New Balance Student Recreation Center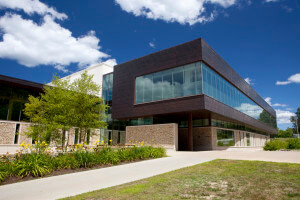 Completed in 2012, the University of Maine's New Balance Student Recreation Center is an 87,000-square-foot gymnasium that makes it easy for students to maintain their fitness routines even when the temperatures outside are regularly dipping below the freezing mark during the winter months. A state-of-the-art facility, it offers a rock-climbing wall and nearly 150 pieces of cardio and strength training equipment. For those who enjoy diving into exercise, the center's indoor aquatic complex offers a lap pool, a hot tub that seats nearly two dozen people and a co-ed sauna. Students eager to make the most of the 70 inches of snow the area sees annually can also rent cross-country skis and snow shoes for adventures on the groomed trails in nearby DeMerritt Forest.
University of Missouri's Rec Complex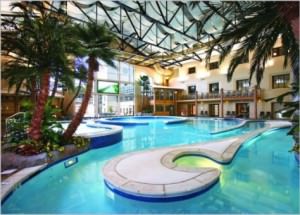 Fitness runs wild at the University of Missouri's award-winning Rec Complex. Filled with playful references to the school's tiger mascot, this $40 million facility could easily be mistaken for a high-end resort. Students can work up a sweat in the "Jungle Gym" or make a splash in the "Tiger Grotto," which features waterfalls, a diving well, a lazy river, a 50-meter pool and an indoor beach. Other amenities include climbing and bouldering walls, a boxing gym, indoor and outdoor tracks, weight rooms, fitness studios, and various courts and fields.
While a fantastic fitness center isn't absolutely necessary for a great workout, it definitely makes exercising more exciting, which can make maintain an active lifestyle easier and more attractive. When they aren't hitting the books, the students at these schools can certainly enjoy hitting the gym.
Related Resource: What Can I Do with a Golf Course Management Degree?