A person who enjoys sports and is interested in media or journalism may want to know what sports communications is. The Bureau of Labor Statistics considers this to be a sub-type of media and communications work, and it takes place in a sports setting or involves a sports topic. Understanding what this type of communications includes, its techniques and its effects on athletes, teams and the public could help a person with their choice of a college major.
Interpersonal Communications Between Players and Coaches of a Sport
A big aspect of sports communications is the interpersonal messages sent between athletes and cohttps://www.sports-management-degrees.com/what-is-sports-communications/aches. This also covers the messages between players or coaches and referees, governing bodies, trainers, team physicians and team managers. The messages might consist of questions, such as whether or not a player will be eligible after an injury. The messages could also include opinions about a questionable call from a referee.
Communications Between Athletes or Teams and Fans
Sports communications also encompass the communications sent between athletes or teams and their fans. Some of the communications professionals might handle the social media accounts for a team. Others might work in public relations on behalf of a team. Some sports journalists may conduct interviews of teams or athletes and publish them on news websites, sports blogs, team websites, YouTube, social media platforms, newscasts or in printed materials, such as sports magazines and local or national newspapers.
Communications Between Teams or Athletes and the Media
Another aspect of sports communications is the messages sent from teams or athletes to the media and the questions from the media to athletes, coaches or teams. For example, after a college football game, a local news station sports journalist may be in the press room to ask the coach about particular play or their thoughts on the players' performance. Teams or individual athletes may announce their availability for an interview, such as on the day when college athletes sign contracts to play with professional sports teams. This allows communications and media specialists the chance to get first-hand information and answers to their questions.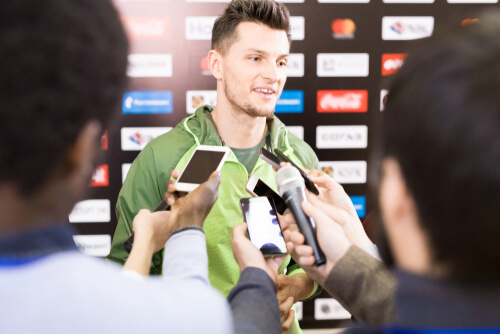 Announcements of News or Live Coverage of Events to the Public
According to the Bureau of Labor Statistics, another part of sports communications is announcing sports news. This might involve a sports segment on morning or evening newscasts. This type of communication may also include the live coverage of sports events. The sports announcers at the game as well as those on the radio or network or cable television news report the plays as they happen. The announcements could also include coordination of parties, parades and championship celebrations for sports teams or athletes.
Related Resource: 20 Affordable Bachelor's in Sports Communications
Working in sports communications allows a person to be on live or recorded television, at a wide range of sports events and near some of the nation's or world's best athletes. This profession also gives a person the chance to make a name for themselves by authoring books, interviewing athletes or coaches or delivering hopeful and inspirational messages to the public. These communications take place at all levels of sports, from toddler or preschool to professional sports leagues. Understanding the answer to, "What is sports communications?" could facilitate a person's choice of a career path within the media and communications industry.
Related Resource: Do I Need a Degree in Sports Journalism to Become a Sports Journalist?