Many coaches who are considering working in the NCAA wonder if a graduate degree is necessary. After all, the salaries for most of the positions within this field are extremely high. Thus, it comes as no surprise that prospective candidates wonder if they need to showcase a high level of education. While most of them are clear on the fact that they will not need a doctorate, which is universally understood since sporting ventures and Ph.D. diplomas seldom mix, a master's degree falls in the "gray" area. So, will graduate studies indeed be mandatory?
The Answer is No
To simply answer the aforementioned question – no. One is not going to need a master's degree to become a collegiate coach. They may not need any degrees. Even though the eligibility criteria varies, educational background tends to carry very little weight. Most schools have their guidelines and there is no clear-cut rule for what types of credentials one must have to be a coach. Of course, since every program gets to decide who they want to hire, a few schools may have minimum educational requirements. In the vast majority of cases, however, a master's degree or lack thereof will not destroy someone's chance of landing a job.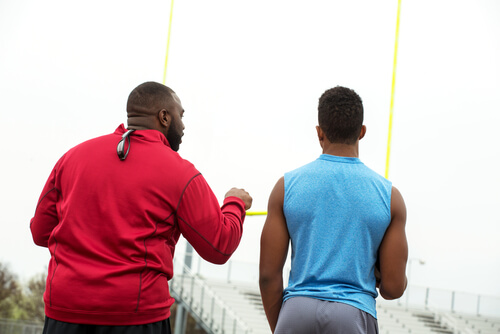 Prioritizing Experience
Instead of focusing on the academic background of the candidate, most schools simply look at their experience. For instance, according to USA Today, football college coaches earn no less than $390,000 annually. Very similar compensation packages and incentives tend to apply to many other sports. This translates to a mind-boggling cost for the school who does not want to invest an extremely large sum of money in a person that has not proven themselves. Hence why the experience is so significant.
Two Types of Experience
While a master's may play a role in getting hired, the school will first look at two types of experience. The first one relates to their college careers as players. Coaching candidates who used to play the sport themselves are always in high demand as they understand the game and have expertise in navigating the collegiate scene. The second type of experience boils down to someone's current record in the NCAA. For example, if a person has spent the last decade working as a sports program coordinator or director somewhere, the odds of becoming a coach are immediately amplified.
Having a Master's
Since it is not necessary, will a master's degree have any impact on someone's odds of becoming a college coach? Very likely. While it is not a mandatory requirement, a master's degree in this field is viewed as extremely favorably. It showcases that the person is capable of meeting the educational requirements and overcoming college-level adversity. That often makes them much more likely to lead the athletes effectively as they use their own experience to help them battle with challenges.
Related Resource: 20 Best Online Master's in Sports Coaching
As much as a graduate degree requirement for collegiate coaching positions would make sense, such a rule has yet to be implemented. The NCAA prefers to give the schools their freedom and not get involved with the hiring process. Hence why a master's degree is not necessary to coach collegiate sports.
Related Resources: