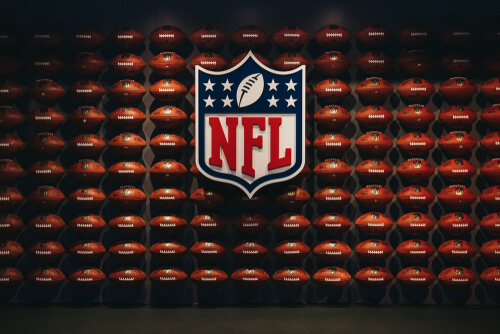 You don't have to be a professional athlete to work in the sports industry. If you are interested in a career in professional sports, an NFL internship might be a great career move! For those seeking an internship in the NFL, the process to secure that role is fairly straightforward. If you follow the steps outlined by the league and can abide by the requirements, you have a great chance at scoring an internship. For more on the exact outlines of the process, read on.
What is the NFL Summer Internship Program?
The NFL Summer Internship Program is a paid internship experience for:
undergraduate seniors
MBA candidates
law students
Those interning with this professional football organization are set to:
score some invaluable experience
gain exciting access
see how things work from the inside out
NFL summer internships include question-and-answer sessions with top executives and exclusive tours. Interns can gain access to materials and one-on-one time with industry leaders for their very own projects.
The NFL Summer Internship Program lasts for 10 to 12 weeks. Interns are expected to work in their position for five days a week with an approximate total of 40 hours worked weekly. Interns are also paid a monthly salary. NFL internships 2023 salary is around $3,549/month. Interns are also eligible for a $500 stipend to offset the cost of housing and transportation.
NFL internships are generally provided in one of two areas: league internships and team internships. In a league internship, the intern works for the National Football League performing a league role and duties. In a team internship, the intern is employed as an intern for a specific team handling their specific needs as a team.
The Application Process
To find and apply for an internship in the NFL, one must utilize the league's representative job listing site, Teamwork Online. Here, the league and its various teams post job and internship openings, their details, and application instructions. The main NFL website does not typically provide these listings.
Once you have applied, Internship Coordinators keep prospective candidates updated throughout the recruitment process.
Important Qualifications
While the rewards are many and the NFL is openly committed to 100 percent inclusion and diversity, there are still several qualifiers applicants must satisfy to advance through the application process. According to the National Football League, these requirements include the following:
All prospective interns must be currently enrolled undergraduates entering their senior year at the time of submission. Prospective NFL legal internship candidates must be law students currently enrolled at and returning to school.
Only undergraduate students with an overall GPA of at least 3.0 and law students in the top half of their class will be considered.
Applicants must be legally permitted to work in the United States and international students must have all visas and employment authorizations before the start of the internship. Completion of this application assumes eligibility to work in the United States.
Academic transcripts (official or unofficial) will be requested.
A completed application constitutes the completion and submission of all relevant fields in the profile, including the program-specific questions and résumé.
Related Resource: Top 10 PhD Programs in Sports Management
Other Internship Opportunities within the NFL
Didn't make the cut for the Summer Internship Program or are you looking for a different internship opportunity? The NFL offers a variety of different internships for up-and-coming professionals. Some of these include:
The NFL FILMS Internship Program
The Junior Rotational Program
The NFL offers other internships that can be found on Teamwork Online. Exciting opportunities are available in areas like:
digital marketing
ticket sales
merchandising
legal and business affairs
The rewards for scoring an internship with the NFL are priceless. Not only does the intern gain valuable experience and access, but they also have a chance at becoming a full-time, non-intern employee for the league or a team therein. For all interested in applying, these are the basics about pursuing an internship in the NFL.
Related Articles: