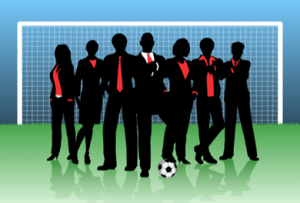 An individual who wants to work on the business side of sports may want to look into how someone can combine a market research analyst with a sports management degree. Someone with this background could be an invaluable employee working in the administrative or promotions department of a professional sports team. Take a look at what someone with a sports management degree and market research analysis skills can do in the field of sports.
Work in the Public Relations Office of a Professional Sports Team
Most sports teams have a public relations department. This department works to nurture a good relationship between the team and its fans. Not surprisingly, a team with a good relationship with its fans is able to sell a lot of tickets to its games. A person with both a sports management degree and who specializes in market research analysis can be valuable in a publicity department, according to the Bureau of Labor Statistics. For instance, this professional can advise the team on the types of promotions that would appeal to fans. The data gathered by a market research analyst reveals what fans want to see and what entices them to attend games throughout the season. With this type of information, a professional working in the publicity department can tailor team promotions so they appeal to the majority of fans who follow the team.
Work For an Agent that Represents Sports Stars
An agent who represents a sports star needs to know what is on the minds of his or her fans. A market research analyst with a sports management degree can provide this information to a sports agent. For instance, the analyst can tell the agent what types of products the sports star should endorse. This would be based on data and statistics collected from fans of the star. Maybe the fans would like to see the star endorse a particular drink or perhaps some sports equipment that he or she uses. Having data can help a sports agent give solid advice to a client on how to build a good reputation with his or her fans.
Work For a Company That Sells Sports Apparel and Equipment
Someone with a sports management degree as well as market research analysis skills can work for a sports equipment and apparel company. The data collected by this professional would help the owner learn what types of sports equipment that customers want to buy and what they are willing to pay. Also, a market researcher's work can reveal what types of apparel to carry in stores. What team jerseys would sell the best? Which player jerseys do customers want to wear? All of this information is useful to an owner of a sports apparel and equipment store. He or she is able to stock stores with merchandise that has a good chance of selling based on legitimate data.
Related Resource: Athletic Director
Finally, someone with a sports management degree and knowledge of market research analysis should have a love of sports as well as the ability to collect and accurately interpret data. Many people who combine a market research analyst with a sports management degree are making themselves more valuable in the eyes of potential employers.
Related Resources: