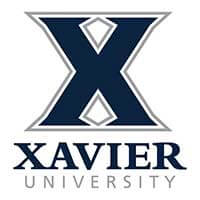 Sports Management Programs at Xavier University
Xavier University appears in our ranking of the 20 Best Online Masters in Sports Coaching.
Xavier University is home to multiple teams that compete in the Big East Conference at the NCAA Division 1 level. Those teams use the Musketeers' name and compete in sports such as football, basketball, swimming, and softball. Sports management majors attending the university can play on those teams and on the teams that play cub sports. They also have the option of working in the Cintas Center and other sports complexes on the university's campus.
The top program available for students with an interest in sports is the university's sports management major. It includes internship opportunities with the Cincinnati Reds and with some of the local sports clubs. Students can take field trips to watch the Bengals play and volunteer to work during the Flying Pig Marathon in which people march and race through the streets of Cincinnati. The university encourages students to take sports management classes in their first semesters. They'll take History of American Sports, Sociology of Sport, Legal and Ethical Issues in Sports and Facility and Event Management.
In the exercise science program, students have the choice of enrolling in a 3 + 2 track that includes three years of intensive undergraduate work and two years of graduate work that prepares them to work as athletic trainers. Majors take Introduction to Exercise Science, Kinesiology, Fitness Assessment and Design, and Human Anatomy and Physiology. In the final semester of the program, students will take two electives and do a practicum that is worth six credits. Those in the 3 + 2 version of the program will do a second practicum when they reach the graduate level.
The Department of Sport Studies at Xavier University is part of the College of Professional Sciences. This department offers degrees in both sports marketing and sports administration. The sports administration program includes either a research project or an internship requirement based on how much experience the student has in the sports industry. They can earn up to six credits for the internships that they do with professional or amateur teams. The sports marketing program looks at how athletes, team owners and managers, and others use marketing techniques and promotions to gain the attention of fans. It includes classes such as Introduction to Sports Management, Sports Ethics, Principles of Marketing, Introduction to Sports Management and Facility and Event Management.
About Xavier University
Xavier University is a private university in Cincinnati, Ohio that is affiliated with the Roman Catholic Church and the Jesuits. Established in 1831 as Anthenaum, it opened as a college for men. The Society of Jesuits took control of the college a few years later and changed its name to St. Xavier College both in recognition of the local church and to honor St. Francis Xavier. It used this name from 1840 to 1930 before it became Xavier University. Xavier ranks as one of the oldest Jesuit universities and one of the oldest Catholic universities in the United States. US News and World Report ranked Xavier as the eighth-best college in the Midwest. The university also ranked on the Forbes list of the best American universities and one of the most affordable colleges by Kiplinger's Personal Finance.
Xavier University Accreditation Details
The Higher Learning Commission (HLC) awarded accreditation to Xavier University through the North Central Association of Colleges and Schools (NCACS). As this is regional accreditation, students in need of financial aid can use it to apply for scholarships and other support through the Free Application for Federal Student Aid (FAFSA). Sports management majors may take classes that have accreditation from the Teacher Education Accreditation Council (TEAC) or the American Occupational Therapy Association (AOTA).
Xavier University Application Requirements
Ranked as one of the most selective schools in Ohio, Xavier accepts less than 70 percent of the applications sent in by students every year. Accepted students have an average grade point average of 3.11 to 3.92 and scored between 1110 and 1280 on the SAT or 22 and 27 on the ACT. The application goes live on October first each year and has a priority deadline of December first. Students who apply by that deadline automatically get considered for some of the university's scholarships. As long as students apply by February first, Xavier will consider them for its merit scholarships and similar financial aid programs.
The admissions process begins when students apply, which they can do with the Common Application or the Xavier Application. As the university has a test-optional policy, students do not need to submit a standardized test score. Xavier allows students to self-report their scores and submit an official score later if they believe that it will help their applications. They must also provide a high school transcript that shows the applicant took two years of one foreign language, three years of math, social science and life/health science and four years of English classes. Xavier asks for a letter of recommendation written by a teacher or guidance counselor. Students applying to a sports management program can submit a letter of recommendation from a coach.
Tuition and Financial Aid
Xavier undergrads pay $20,110 per semester for full-time enrollment. They can take as few as 12 credits or as many as 18 credits each semester before they face any additional fees. On-campus residents pay an average of $6,655 for room and board, which includes a double room shared with one other student and a basic meal plan. That brings their total to $26,765 per year before the university applies its financial aid. The estimated cost of attendance is $41,220 not factoring in the room and board costs. Any student who shows need on the FAFSA can get a financial aid package from Xavier.
When the university receives a completed application and the FAFSA, it will look at whether students qualify for any merit scholarships. Students only qualify for scholarships if they apply by the beginning of December. Academic scholarships grant students up to $20,000 a year. Xavier has scholarships for alumni, students who are in ROTC and those who meet other requirements. They can combine the money that they get with other financial aid, including grants, work-study, and loans. Students in the sports management programs at Xavier University can use their financial aid packages to cover their indirect costs such as textbooks and living expenses too.
Related Articles:
10 Most Affordable Bachelor's Exercise Science Degree Online Programs
25 Best Online Master's in Sports Management Degree Programs