This program appears in our ranking of Top 30 Bachelor's in Sport Management Degree Programs.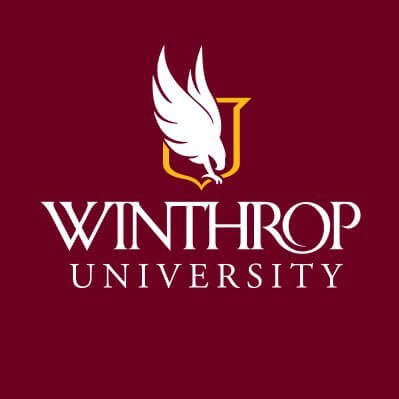 In West Center, the Richard W. Riley College of Education grants a Bachelor of Science in Sport Management accredited by COSMA in 2012 for Winthrop University undergrads entering the growing $410 billion athletics sector. Chaired by Dr. Kristi Schoepfer, a Charles W. Mentkowski Sport Law Award winner, the 120-credit program builds a breadth of recreational and business knowledge for wide-ranging careers. Traditional Rock Hill courses like Event Management, Sports Writing, Ethics & Governance, and Risk Management maintain a low 14:1 learner-faculty ratio. Graduates are equipped to enter Winthrop's Master of Science in Sport and Fitness Administration, a 36-credit degree advancing managerial capacity. Satisfying CSM certification, the two-year hybrid curriculum directed by Dr. Dan Drane covers courses from Health Promotion to Theory of Coaching before the thesis or research project.
Ideally located 26 miles south of Forbes' 21st fastest-growing city, Winthrop University helps network with 120 field practicum hours before the mandatory 480-hour internship. Past placements include the Charlotte Knights, Carolina Panthers, Greenville Drive, Family Circle Cup, Myrtle Beach Pelicans, Charleston RiverDogs, and Charlotte Hornets. Right on campus, Sport Management majors work with 17 NCAA Division I teams in the Big South Conference. Their state-of-the-art facilities, including Winthrop Coliseum, Eagle Field, Irwin Belk Complex, and Peabody Gymnasium, build experience. In fact, the U.S. Disc Golf Championship has been held here since 1999. Choose from 170+ active organizations, such as the Outdoor Adventure Club, Competitive Gaming Club, Phi Epsilon Kappa, Fencing Club, Rock Climbers, and Sport Management Association. Students could also attend the Julia H. Post Lecture, publish X-PEM Press, run the Bobb/Taylor Golf Tournament, visit Australia, and volunteer with EagleImpact.
About Winthrop University
Winthrop University was opened in 1886 at Columbia's Little Chapel with an inaugural female class of 21 after the Peabody Education Board donated $1,500 to founder David Bancroft Johnson. Chartered by the South Carolina General Assembly in 1887, it initially had one instructor, Mary Hall Leonard, for teacher training. By 1895, Winthrop had started four-year degrees and relocated to the current 425-acre Rock Hill campus. First accredited in 1923, Winthrop transitioned from America's second-largest women's school to coed education in 1974. Adopting its present name in 1992, Winthrop University proceeded to win 13 Big South men's basketball conference titles since. Endowed for $51.4 million, Winthrop now enrolls 6,170 Eagles, including B.S. in Sport Management majors, from 37 nations. Linked to 29,000 LinkedIn alumni, Winthrop University has trained athletes Chris Leroux, Craig Bradshaw, Lucile Godbold, Henry Kalungi, and more.
The U.S. News & World Report ranked Winthrop the 25th best Southern college, 15th best undergrad school, 55th top value, and 17th most veteran-friendly campus. On Niche, Winthrop boasts America's 44th best kinesiology classes, 158th top education college, 266th best athletics, and 391st highest quality academics. Times Higher Education placed Winthrop University in its top 800 overall. Money magazine crowned Winthrop the 696th best buy with an $81,000 PayScale average salary. WalletHub picked Winthrop 123rd for student experience and 286th for financing. Campus Activities magazine even deemed Winthrop #1 for engagement in 2013. College Factual noted Winthrop University for the country's 176th most popular fitness studies and 305th best physical education value. The Bill & Melinda Gates Foundation recognized Winthrop in the top 32 schools for "beating the odds."
Winthrop University Accreditation Details
In March 2017, Winthrop University compliantly submitted the Fifth-Year Interim Report to the Southern Association of Colleges and Schools Commission on Colleges (SACSCOC) to keep Level IV accreditation current without sanctions until 2022. This respected 11-state Lower Atlantic accreditor is recognized by the Council on Higher Education Accreditation (CHEA) to certify the authority of Winthrop's 41 baccalaureate, 29 master's, and two specialist degrees. The Richard W. Riley College of Education is approved by the National Council on Accreditation of Teacher Education (NCATE) overall. Specifically, the B.S. in Sport Management curriculum was accredited by the Commission on Sport Management Accreditation (COSMA) through June 2019.
Winthrop University Application Requirements
Getting into Winthrop University is classified "moderately difficult" on Peterson's because just 3,356 of the 4,573 Fall 2017 applicants defeated the selective 73 percent acceptance rate. First-year Eagles entering the Bachelor of Science in Sport Management must hold a high school diploma or GED credential. The South Carolina Commission on Higher Education sees four years each of English and Math as prerequisite. Freshmen rank in the upper third of graduating classes with a median 3.98 GPA. On average, undergrads present a 1087 SAT (excluding writing) and 22 ACT score. College of Education transfers must have completed at least one full-time semester at accredited institutions with GPAs over 2.0. The M.S. in Sport and Fitness Administration mandates bachelor's completion at a minimum "B" average. GRE scores greater than 151 on Verbal Reasoning and 153 on Quantitative sections are preferred.
Winthrop University posted priority deadlines of May 1st for freshmen and July 1st for transfers, but admission is rolling. International students meeting the 520 TOEFL requirement apply until April 15th for Fall and September 15th for Spring only. The Graduate School considers M.S. in Sport and Fitness Administration entrants until July 15th, December 1st, and May 15th. Download Adobe Acrobat Reader to view and submit the PDF application online. Checklist items include the South Carolina residency form, $50 non-refundable fee, test scores, sports-related résumé, two recommendations, and 500-word background essay. High school/college transcripts are generally mailed to Joynes Hall at 701 Oakland Avenue in Rock Hill, SC 29733. More information is available by contacting (803) 323-2191 or admissions@winthrop.edu.
Tuition and Financial Aid
For 2018-19, Winthrop University is charging full-time B.S. in Sport Management majors from South Carolina $7,615 by term or $15,230 annually. Non-resident undergrads pay $14,743 each semester full-time or $29,486 every year. Budget for the $70 library fee, $180 health fee, and $55 environmental safety fee. Living at the York County campus' dorms like Thomson Hall adds $9,312 for room and board. Winthrop estimates $1,200 for books, $1,530 for transport, and $1,530 for personal supplies. Annual bachelor's attendance equals $29,648 in-state and $43,952 out-of-state. The Master of Science in Sport and Fitness Administration bills South Carolinians $635 and non-residents $1,222 per credit. Note available online courses have a $930 per credit price for everyone.
According to the NCES College Navigator, the Office of Financial Aid at Sykes House helps 80 percent of full-time Winthrop Eagles score $10,758 on average for $43.88 million total. Institutional funds include the Gold Scholarship, Garnet Scholarship, Valedictorian Scholarship, Transfer Bridge Scholarship, Springs Close Scholarship, Scot Heavner Scholarship, Georgie Inabinet Adams Lefvendahl Scholarship, Robert Ward Scholarship, and Kate Wofford Scholarship. The Athletics Department awards up to full-tuition scholarships by NCAA eligibility. The COE Graduate Scholarship has a March 28th deadline for M.S. in Sport and Fitness Administration majors. Undergrads submit FAFSA applications coded 003456 to calculate Federal Pell or FSEOG Grant amounts. Some receive Federal Work-Study jobs worth at least $7.25/hour. Similarly, 20-hour graduate assistantships pay $3,500 stipends each term. The Charlotte Regional Partnership lowers tuition to in-state levels in 12 eligible counties. Winthrop University also suggests South Carolina programs like the Need-Based Grant, Lottery Tuition Assistance, and HOPE Scholarship.
Learn more about Winthrop University at the Sport Management Program website.
Related Resource: