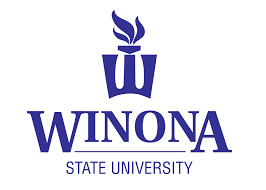 The College of Education at Winona State University houses an M.S. in Sport Management conjointly with the Leadership Education Program to develop administrative skills for the athletic arena. Chaired by Dr. Barbara Holmes in Gildemeister Hall, the 33-credit, non-thesis curriculum has a hybrid online format for interactive courses with a 18:1 student-faculty ratio. Topics addressed span from systems thinking to facility planning and sport sales before the capstone writing project and comprehensive exam. Internships could be added with nearby teams like the Minnesota Vikings, St. Paul Saints, Minnesota Timberwolves, Twin Cities Northern Lights, and Minnesota Twins. Other Winona degree options include the M.S. in Recreation Leadership and the M.S. in Athletic Training.
On-campus, sport management majors access Winona State's state-of-the-art facilities, including Loughrey Field, Bridges Golf Course, and McCown Gymnasium. Students get involved with the 14 Warrior varsity teams competing in the NCAA Division II Northern Sun Intercollegiate Conference. The men's basketball team has won two national championship in 2006 and 2008. Four regional titles have been won in men's golf, women's softball, and men's baseball since 2006 too. Winona State University keeps campus life hopping with nearly 100 student organizations, such as Bad Monaz Ultimate Frisbee, Rugby Club, Dance Society, Sports Club Council, Physical Education Club, and League of Legends. Eighteen aspiring sport managers take the Team Leadership Trip to New Zealand each February.
Related Resource: 10 Most Affordable Top-Ranked Schools for Online Master's in Sports Management Degree Programs
About Winona State University
Winona State University was established in 1858 on Dakota tribal land by the Minnesota State Legislature as America's first tax-funded teachers college west of the Mississippi. Authorized for bachelor's degrees in 1921, Winona expanded beyond historic Phelps Hall to encompass a 125-acre campus near Sugar Loaf and Saint Mary's University. Budgeting $160 million yearly, WSU delivers public education to 7,669 undergrads and 471 post-grads in a "Community of Learners Improving Our World." Known for its e-Warrior Digital Life initiative with tablets or laptops for all, Winona State University has five colleges awarding 90+ majors with 77 percent retention. Linked to 32,011 LinkedIn alumni, WSU has produced notable sports figures like Brian Wrobel, J.D. Barnett, and Logan Clark.
The U.S. News & World Report ranked Winona State the Midwest's 64th best college, 61st top value, 12th best public university, and 39th most vet-friendly campus. On Niche, WSU is recognized for America's 217th top public education, 306th best location, and 310th best college dorms. Money magazine labeled Winona the 384th best value with average student debt of $18,000. According to Washington Monthly, Winona State University has the 174th highest service participation and 210th best PhD completion rate. The Princeton Review featured Winona within its "Guide to 375 Green Colleges." Business Insider placed WSU as the 546th smartest university nationwide. For 2018, College Factual also ranked Winona State as the 16th best management value with the 245th highest paid grads.
Winona State University Accreditation Details
In 2012, Winona State University had its regional accreditation from the Higher Learning Commission of the North Central Association (HLC-NCA) reaffirmed under president Scott R. Olsen. This CHEA-recognized body certifies the quality of all 72 bachelor's, 19 master's, and six doctoral degrees from Rochester to La Crescent for the U.S. Department of Education. The Physical Education & Sport Science Department is specifically accredited by the Council on Accreditation of Educator Preparation (CAEP). Approval is extended from the Commission on Accreditation of Athletic Training Education (CAATE). Management courses in the College of Business meet the Association to Advance Collegiate Schools of Business (AACSB) standards.
Winona State University Application Requirements
Getting into Winona State University for the M.S. in Sport Management isn't easy because the "selective" admission process had just 60 percent acceptance in Fall 2016. The Physical Education & Sport Science Department only admits master's entrants with four-year baccalaureate diplomas from regionally accredited colleges. An overall coursework GPA of 2.75 is expected, but GPAs above 2.6 could be considered for probationary status. Although K-12 teacher certification isn't necessary, at least one year of professional work experience is. On average, accepted WSU Warriors present a 158 GRE score. Non-native English-speaking graduates must score at least 90 on the Internet-based TOEFL or 6.5 on the IELTS exam.
At Winona State, the School of Graduate Studies has varying deadlines for submitting the departmental application online and mailing extra materials to P.O. Box 5838 in Winona, MN 55987. The sport management master's program has rolling admission with documents due three weeks before semester starts. However, the athletic training master's program only considers applications from June 1st to November 1st annually. Future sports administrators should attach the following:
One-time, non-refundable $20 application fee
Official college transcripts for proof of degree
Graduate GRE or GMAT exam scores (optional)
Two signed letters of recommendation
Current résumé of sports-related experience
Two- to five-page leadership interest statement
Winona State University Tuition and Financial Aid
Pursuing the M.S. in Sport Management at Winona State will cost in-state residents $388.17 per credit. Wisconsin, North Dakota, and South Dakota students have reciprocity for $388.17 per credit. Outside the Upper Midwest, the non-resident graduate tuition charges $585.65 per credit. Mandatory fees are currently just $39.03, but the optional e-Warrior Digital Life fee costs $485. On average, WSU graduates pay $6,720 in-state and $10,120 out-of-state yearly. Finishing the 33-credit Master of Science would bill $12,804 for Minnesotans and $19,305 for out-of-staters total. Please note that living on-campus adds roughly $7,290 for housing and $2,856 for meal plans each year.
According to the NCES, 55 percent of full-time WSU Warriors share $21.24 million in annual financial aid for an average package worth $4,819. Located in Maxwell Hall, the Financial Aid Services Office requests FAFSA forms via code 002394 before May 1st. Physical Education & Sports Science Department programs might qualify for federal funding like the Pell Grant, SEOG Grant, Direct Unsubsidized Loan, or PLUS Loan. There's the Winona State Short-Term Loan for up to $300. Living in the "Land of 10,000 Lakes" unlocks the Minnesota State Grant and Minnesota Child Care Grant. Graduate assistantship positions, such as Men's Basketball GA and Fitness Center GA, involve working 320 hours per semester. Internal awards like the Doc Howard Daniels Scholarship, Ralph Spencer Scholarship, Geraldine Ann Ryberg Scholarship, James Twes Scholarship, Bertha & Karl Koehler Scholarship, and Wilbur Winblad Athletic Scholarship also help Winona State University learners.
Learn more about Winona State University on the Physical Education & Sport Science Department website.
Related Resource: What Can I Do with a Golf Course Management Degree?