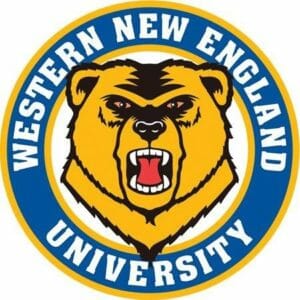 Sports Management Career Prep at WNEU
Western New England University appears in our ranking of the Top 30 Bachelor's in Sport Management Degree Programs.
The Sport Management department at Western New England University is part of the College of Business which offers both a bachelor's and a master's program in the field. Undergraduate students work toward their Bachelor of Science in Business Administration and Sports Management degree by completing 44 hours of general university core courses, as well as 39 credit hours of business foundations. These include classes like Introduction to Accounting, Principles of Marketing, and Business Strategy so that students have a solid background in all areas of business administration. Students also take 14 sports-related classes including Labor Management Relations in Sport, Managing Sport Organizations, and Sport Marketing. As Western New England University emphasizes hands-on learning in all of its programs, one of the final requirements before graduation is a semester-long, full-time internship at a professional sports organization.
Graduate students pursue a more advanced curriculum and must complete 30 credit hours following one of two tracks, either Athletic Coaching or Athletic Administration. The program is geared especially toward working professionals and can be completed almost entirely online. All students are required to come to campus for two one-week summer sessions. This all culminates in the Master of Science in Sport Leadership and Coaching degree, and graduates are prepared to work in a variety of roles including scouting and coaching for professional teams, producing sports programming, or sports-related data analytics positions.
Many members of the sport management faculty have previously worked professionally in the industry, and they use this experience to help students better understand how the knowledge and theories they learn directly apply to their future careers. These individuals also assist graduates to network with other professionals as they start their job search. In addition, there are many opportunities to get involved and gain practical experience on campus by assisting with intramural programming, participating in recreational sports leagues, and working on fitness outreach programs.
About Western New England University
Western New England University is a private university located in Springfield, Massachusetts, that began in 1919 as a small institution focused on continuing education courses for adults in the areas of accounting and law. Since then, the school has expanded to offer bachelor's, master's, and doctoral degrees but remains committed to its small size and personalized education. WNEU offers about 50 different degrees divided into five colleges, Business, Engineering, Arts and Sciences, Law, and Pharmacy. Enrollment totals almost 4000 students per semester, and the university has a student-faculty ratio of 12 to 1.
Faculty at Western New England University focus not only on providing a quality education but also on personal development and graduating professionals who understand that they have a responsibility to their communities. As such, students are encouraged to get involved in community service activities both on campus and off. Professors also help develop critical thinking skills and innovation by providing opportunities to participate in and analyze research.
Western New England University Accreditation Details
Western New England University is accredited by the New England Commission on Higher Education (NECHE) division of the New England Association of Schools and Colleges. This is the organization responsible for evaluating all schools and universities in the United States' six northeastern states. Schools are evaluated in terms of the curriculum and teaching methods, as well as the institution's business practices and resource utilization. WNEU received its last renewal in 2012 and is due for its next review in 2022.
In addition to university-wide accreditation, certain industries have professional organizations that certify individual programs or departments. For example, the Association to Advance Collegiate Schools of Business (AACSB) focuses specifically on business programs to ensure that universities are teaching relevant and thorough curricula. The College of Business at WNEU has received AACSB accreditation for all degree programs, a designation held by less than 5% of business schools worldwide. The sport management programs at WNEU are also accredited by the Commission on Sport Management Accreditation (COSMA).
Western New England University Application Requirements
Prospective undergraduate sport administration students must gain admission to the Western New England University College of Business. Prior high school coursework requirements include nine courses, four English, three math, and one each of U.S. History and laboratory science. In order to apply, students can either use the Common Application or WNE's admission portal and must submit official transcripts and either ACT or SAT scores. There is also the option to include a letter of recommendation from a teacher or guidance counselor as a supplement.
The main requirement for graduate admission is a completed bachelor's degree, preferably in a business-related field. In addition to their application, students need to send completed transcripts, resume outlining professional experience, and scores from the GMAT or GRE exams. Licensed athletic trainers have the option of obtaining a waiver for the standardized test requirement. Both graduate and undergraduate applications are evaluated on a rolling basis which means that most students will receive an admissions decision within a few weeks from submitting their completed applications.
Western New England University Tuition and Financial Aid
Undergraduate students in WNEU's College of Business can expect to pay approximately $35,000 per year for full-time study, and most students finish their degree in four years. Graduate school rates for the M.S. in Sport Leadership and Coaching degree costs about $850 per credit hour, or $25,470 for the entire program. The university offers a variety of undergraduate scholarships based on academic achievements, community involvement, and leadership experience. Students automatically apply for these awards when they submit their application. In addition, all students are encouraged to submit a FAFSA to determine eligibility for federal financial aid in the form of grants and loans, and staff at the financial aid office are available to explain this information and help students find ways to fund their education. Since many graduate students continue to work while taking courses, many of them take advantage of tuition assistance programs offered through their employer, especially if they currently work in a sports-related field. While almost all of the student body receives some type of scholarship aid, Western New England University also offers payment plans so that students and their families can make their remaining payments throughout the semester without missing deadlines and accruing late fees.
Related Articles: