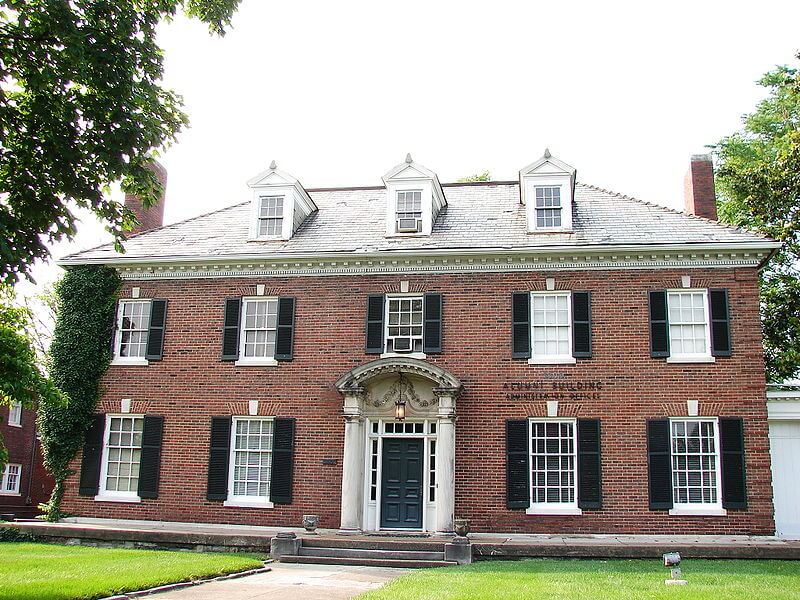 Welch College was established in 1942 and is located in Nashville, Tennessee. The tiny 9 acre urban campus serves just 300 students. Welch College is currently transitioning to a 66 acre campus located in Gallatin. Welch College, which was formerly known as the Free Will Baptist Bible College, is a private college that offers associate, bachelor and master degrees. The college also offers a variety of unique three-year associate degree programs. Welch College offers over forty majors, half of which are in biblical and theological studies as well as church vocational degrees. The college has a strong music department that trains vocalists and musicians. The teacher education program serves local teachers and the business department local professionals and entrepreneurs. They recently added an adult distance learning program. The five varsity athletic teams compete in the National Christian College Athletic Association (NCCAA). The student to faculty ratio is 10 to one. Welch College is a member of the National Association of Free Will Baptists' learning association.
When it comes to campus life, Welch College has much to offer. Dorm students are assigned to SpirituaLife support groups that meet every week. The peer-mentoring program assigns older students to incoming freshman with the goal of meeting weekly to provide emotional support and help with academics, studying, wellness and student resources. The city of Nashville has a booming music scene and growing fine arts culture science. Nashville boasts a world renowned music and recording industry. Students can easily visit the Tennessee Performing Arts Center and other notable locations to enjoy a wide variety of art, music and drama. The college strives to provide enriching and wholesome formal and informal social activities. Informal activities include outing, casual dating and student center activities. Formal activities include concerts, banquets, artist series and dramatic presentations. Every semester, there is a college family picnic that includes games, parades and entertainment.
Resource: 50 Most Affordable Urban Schools for Sports Management 2015
Welch College Accreditation Details
Welch College is accredited by the Southern Association of Colleges and Schools Commission on Colleges.
Welch College is an accredited member of the Council for Higher Education Accreditation (CHEA).
Welch College is accredited by the Commission on Accreditation of the Association for Biblical Higher Education.
Welch College Application Requirements
The application process is quite simple. Students must submit an online application for admission that includes their high school transcript, a pastoral reference and two non-family personal references. Applicants must also take the SAT or ACT and have the scores sent to Welch College. Students who score low in certain areas, such as math and English, will be required to take remedial classes.
Tuition and Financial Aid
Students who live in the dorms and take 18 credit hours will pay approximately $12,590. Those who take 12 credit hours will pay $8,960 and students who take up to 11 hours will pay $612 per semester hour. Online and adult degree students, who are age 23 and older, will pay $348 per semester hour. Approximately 90 percent of students received some form of financial aid.
There are scholarships that range from $200 to $10,000. Merit-based scholarships include the Presidential Honors Scholarship, which awards students with an ACT score of 31 to 36 or an SAT score above 2050 can qualify for up to $10,000. The Provost's Honors scholarship awards students with a 28 to 30 ACT or SAT score of 1830 to 2049 up to $8,000. Students who have an ACT score of 25 to 27 or an SAT score of 1660 to 1829 will qualify for up to $4,000 through the Academic Honors scholarship. The Leadership Award of $2,500 is for students with 21 to 24 ACT or 1420 to 1659 SAT scores. There are also transfer scholarships that awards up to $6,000 per year for students with a 3.6 minimal GPA score and $4,000 per year for students with a GPA ranging from 3.1 to 3.59.
Student Experience
The Bachelor's degree in Exercise Science is a unique program that offers four specializations: human performance, recreation leadership, physical education and sports management. The sports management program is the perfect degree for students who want to work in the world of semi-professional athletics. Graduates go on to become the next generation of exercise science professionals who become leaders in fitness and sports. The program provides students with the skills and abilities to work in the fields of coaching, recreation and personal training. All students receive classroom instruction in conjunction with internships, laboratory work and practical experiences. The goal of the program is to help students understand the principles of management and they apply to the sports environment. Students are exposed to the commercial and entrepreneurial side of sport business.
Students study the history and development of professional sports in the U.S. in order to understand labor-management relationships in professional sports. Students are able to identify the primary factors that contribute to the globalization of sport, such as corporations and international sports leagues. They are trained in sport finance, so they know how to financially manage sport venues. The program also introduces students to sport marketing and the industry forces that affect advertising strategies. The program strives to train students in ethical decision making and its application in the world of competitive sports. The program includes legal coursework that introduces students to the basic legal principles they must know in order to protect their clients and organizations. Other topics include media, publications and crisis management.
One of the basic classes that students take is a course in prevention and care of athletic injuries. Students learn about the practical methods used to prevent and care for injuries that occur in physical education and athletic programs. This course introduces students to taping, treatment and rehabilitation. Students also are given instruction in how to teach individual sports. Students learn about the history, safety precautions, teaching progressions and skill development required to competently perform sports like golf, tennis, bowling and fitness activities. Equally important, students learn about how to teach and analyze team sports. Students will study soccer, softball, volleyball, basketball and football.
Welch College is a very small institution that offers intimate and interactive learning experiences.
Related Resource: What Can I Do with a Golf Course Management Degree?