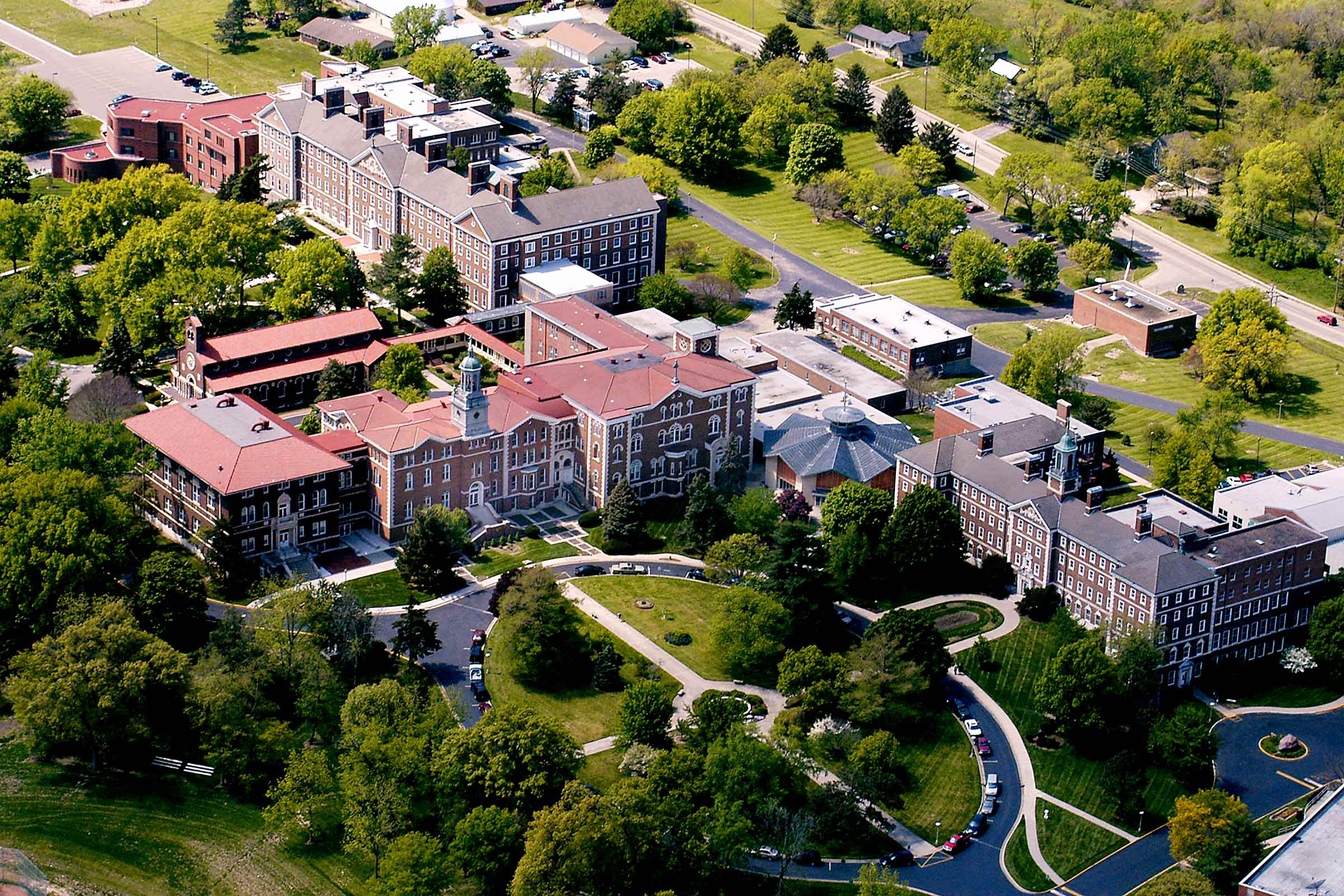 The University of Saint Mary was privately chartered as the coeducational St. Mary's Institute in 1858 under territorial Governor James W. Denver by the Sisters of Charity. Named for the Blessed Mother of Jesus, USM officially became a private, four-year Catholic liberal arts institution in 1923. Following the motto "Virtus Et Scientia," Saint Mary now assists 837 undergrad Spires from 33 states with realizing their God-given calling in diverse degrees, including the B.S. in Sport Management. Beyond its main 200-acre, rolling hills campus in Leavenworth, Kansas, near the Missouri River, USM has classes in Overland Park, Shawnee, Providence Medical Center, and online.
Endowed for $11.9 million, the University of Saint Mary is ranked America's 234th safest college, 422nd hardest college to get into, and 485th most conservative school on Niche. With a financial aid rating of 74, USM landed within The Princeton Review's "Best Midwestern Colleges." The Economist ranked USM for the 274th most value-added education nationally. In Washington Monthly, Saint Mary was positioned as the 643rd best master's university and 310th best Midwestern value. According to G.I. Jobs Magazine, the University of Saint Mary stands among the top 15 percent of military-friendly institutions. The USM Spires were also given the Leavenworth Times'2016 Team of the Year Award.
University of Saint Mary Accreditation Details
Reaffirmed in 2011 under President Diane Steele, the University of Saint Mary features seven-year regional accreditation from the Higher Learning Commission of the North Central Association of Colleges and Schools (HLC-NCA). This institutional approval guarantees that all 32 bachelor's and nine master's programs are recognized by the U.S. Department of Education for Title IV funds. In particular, management courses adhere to the International Assembly for Collegiate Business Education's (IACBE) quality standards.
University of Saint Mary Application Requirements
Classified as "selective," the University of Saint Mary has a 49 percent admission rate sports management majors must pass. First-year applicants must have finished a high school diploma, preferably the Kansas Scholars Curriculum or out-of-state equivalents. This involves four years of English, four years of math, three years of science, three years of history, and two years of foreign language, including ASL. Passing each GED section with a minimum 145 score would also qualify. Freshmen are expected to present a high school GPA of 2.5 or better, though the average is 3.31. USM admission staff also prioritize ACT scores above 18.
If you've completed college credits beyond AP classes, transferring to the University of Saint Mary for the B.S. in Sport Management is possible. Incoming transfers should have completed at least one full-time semester at colleges with CHEA-recognized accreditation. Expedited admission is available for Kansans and Missourians with associate degrees. For instance, there's been a 64-credit transfer articulation agreement with Kansas City Kansas Community College since 2014. Undergrad transfers must show a 2.25 GPA or greater in attempted non-remedial courses. Non-U.S. citizens transferring to USM should send TOEFL iBT scores over 80 via the Educational Testing Service.
The University of Saint Mary has rolling undergrad admission, but there's a priority deadline of February 1st and final SAT/ACT score deadline of September 1st. Online forms are submitted via the Application Center, while extra materials can be mailed to 4100 South 4th St. in Leavenworth, KS 66048. Sport management applicants should file the following:
• $25 non-refundable application fee
• Official high school/college transcripts
• Standardized tests from the College Board
• FAFSA financial aid papers via code 001943
• One or two letters of recommendation
• Personal statement of 250-650 words
Tuition and Financial Aid
Full-time B.S. in Sport Management students are charged USM tuition at $13,470 per semester. Credits taken beyond the 18-hour limit are billed $600 apiece. Part-time daytime tuition is $875 per credit though. Living on the Leavenworth campus currently costs $2,195 for meal plans and $2,275 for double-occupancy rooms each semester. Undergrads can expect paying the $275 general fee, $115 student activity fee, $750 book voucher fee, and $50 facility fee. Annual cost of full-time attendance is roughly $39,043 on-campus and $31,103 for commuters.
According to the NCES, 63 percent of full-time undergrads at the University of Saint Mary receive financial assistance at $16,356 on average. Sport management majors might obtain institutional awards like the Jubilee Scholarship, Presidential Scholarship, Blue & Gold Award, Catholic High School Scholarship, Mother Mary Berchmans Scholarship, and Sister Mary Kevin Hollow Award. The USM Opportunity Grant extends up to $5,000 yearly. Through the federal government, students can receive the Pell Grant or FSEOG Grant. The Kansas Board of Regents delivers the Comprehensive Grant and Ethnic Minority Scholarship in-state. Working in the athletics department could qualify for Federal Work-Study funding. Undergrads also cautiously borrow Perkins, Stafford, PLUS, and private bank loans.
Student Experience
The University of Saint Mary offers a Christ-centered, liberal arts curriculum for students to enter the $500 billion sports industry with the Sport Management Major. Conferring a B.S., the 128-credit degree emphasizes the business knowledge needed to effectively run winning athletic franchises. Chaired by Richard Gunter, MBA, the eight-term program lets undergrads select from two concentrations: Management or Marketing. After the First-Year Experience (FYE), engaging courses like sport psychology, public relations, and macroeconomics have an 11:1 student-faculty ratio for close interaction. Sport management students with a minimum 3.7 GPA could also obtain Honors Status for greater leadership development.
Studying at USM places undergrads in the heart of Kansas' sports scene. Whether taking classes in Leavenworth or Overland Park, sport management majors must take a three-credit senior internship. Past students have earned VIP passes via placements with the Wichita Thunder, Kansas Stars, Kansas City Royals, Garden City Wind, Salina Liberty, and Kansas City Brigade. Some have travelled further to intern at USA Soccer, The PGA Tour, Fox Sports, and more. The University of Saint Mary partners with Benedictine College's Florence campus for studying abroad, and perhaps working with the Fiorentina Football Club too.
Since Saint Mary requires B.S. students live on-campus until age 19, there are 30+ clubs to keep you busy. Sport management majors might join the Campus Activities Board, Rotaract, Association of Student Physical Therapists, Dragon Ping Pong Club, Black Student Union, and others. Intramural leagues exist for unique sports like sand volleyball and corn hole. Student-athletes could also compete in the NAIA Kansas Collegiate Athletic Conference with 16 varsity teams. The Spires boast state-of-the-art sports facilities, including the 1,500-seat Ryan Sports Center and Kehoe Memorial Baseball Field. The University of Saint Mary has had several award-winning football coaches like Scott Frear, Lance Hinson, and Jay Osborne.
Related Resource: