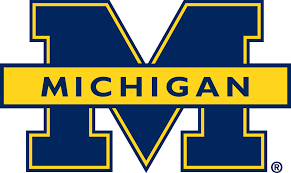 The University of Michigan at Ann Arbor offers one of the best sports management programs in the country for students who want to dedicate their careers to professional sports.
Graduates are prepared for careers in the national and global sports industries. The curriculum focuses on the social, business and cultural aspects of sports through hands-on activities and real-world case studies. Sports management students are encouraged to actively engage the faculty, academic advisors and alumni mentors who have successful sports management careers. Sports management students regularly run campus-based student groups, such as the Sport Business Association and the Michigan Sport Business Conference. The sport management alumni are made up of the largest body of graduates in the U.S. They provide support and guidance through networking, mentoring, internships and exclusive career opportunities. This includes undergraduate research opportunities and membership in professional clubs. Most graduates go on to careers in professional sport organizations and corporate businesses.
The sport management program strives to promote a strong commitment to diversity, innovative undergraduate programs and high levels of engagement with sport industry. The sport management programs boast a business-centered curriculum that touches on topics such as finance, economics, marketing, brand strategy, race relations, human resources and organization behaviors and management. Students who are pursuing a Bachelor of Arts in Sport Management will take business and liberal arts prerequisite courses during their freshmen and sophomore years. Students must apply for acceptance into the upper-level program at the end of their sophomore years. Admittance to this program is very selective because it is based on the students' performance and their demonstrated commitment to sport industry careers. All courses are taught by faculty who have personal experience in the global sports industry.
One of the most basic classes is called introduction to sport management, which provides students with overviews of the business structures and organizational methods of the sport industry. Sports marketing teaches students about basic marketing concepts, such as advertising and consumer behaviors, and internal concepts, such as strategic planning and sport consumer services. HR sports management trains students to effectively manage personnel in highly competitive environments. Students are exposed to core human resource research, theories and practices within the framework of sport management. The psychology of sports examines how athletics impacts people's social, cognitive and physical needs. This course touches on motivation, the athletic personality and social processes in physical activities. Research methodologies in sport management develop the skills needed to critically evaluate data and conduct assessments of real-world problems. Legal issues in professional sports touches on torts, contracts, anti-trust exemptions and coaching conflicts of interest.
Resources:
50 Most Affordable Urban Schools for Sports Management 
Top 24 Best Sports Management Degree Programs
About The University of Michigan
The University of Michigan at Ann Arbor, which is only 45 minutes from Detroit, is a public higher learning institution that was founded in 1817. The University of Michigan is considered to be one of the best colleges in the country. The urban university serves approximately 28,000 to 29,000 undergraduate students every year. The campus of 3,200 acres hosts a wide range of schools that teach art, law, nursing, business, education, engineering and athletics.
Almost one-fifth of the undergraduate student body is associated with the 60 Greek fraternity and sorority groups. The iconic Michigan Wolverines are one of the most recognized college football teams in the U.S. The University of Michigan's mission is to promote the arts, athletics and academic sciences. The University of Michigan at Ann Arbor has produced a wide range of notable actors, athletes, business people, Nobel laureates and cultural icons.
University of Michigan at Ann Arbor Accreditation Details
The University of Michigan is accredited by the Higher Learning Commission (HLC) and the North Central Association of Colleges and Schools (NCA).
University of Michigan at Ann Arbor Application Requirements
All incoming freshmen must complete and submit The Common Application and the University of Michigan Questions forms. The latter refers to supplemental essay questions regarding community diversity, academic goals or curriculum interests. The application includes a school report, teacher evaluation, high school transcript, college transcripts and SAT or ACT exam scores with writing grade. Counselor recommendations are encouraged and TOEFL or IELTS scores are required for non-native speakers. In 2014, the University of Michigan at Ann Arbor received over 51,000 undergraduate applications, but only 13,600 were granted admission and less than 1,000 students transferred. Applicants must have a strong GPA and SAT or ACT scores because incoming freshman in 2015 averaged a 3.85 GPA with an ACT score of 30 and SAT score of 2040.
Tuition and Financial Aid
In 2015, the estimated fees and tuition for freshman or sophomore residents was $13,856, but $43,476 for non-residents. The estimated fees and tuition for junior or senior residents is $15,602, but $46,528 for non-residents. Room and board cost $10,554 for both residents and non-residents. Books and supplies will cost approximately $1,000. In order to qualify for financial aid, students must complete the Free Application for Federal Student Aid (FAFSA). University of Michigan at Ann Arbor offers the fee-based College Scholarship Service for non-federal financial aid awards. The Office of Financial Aid offers over 100 unique scholarships that offer benefits for residents, international students and those who demonstrate financial need.
The School of Kinesiology offers a small number of scholarships to incoming freshmen based on merit or financial need. When kinesiology students complete an admission application and the Free Application for Federal Student Aid (FAFSA), their information is automatically sent to the scholarship programs. Most of these are renewable for four years. The School of Kinesiology offers many internal scholarships. Financial aid starts out at $1,000 and caps at $40,000 every year for up to four years. The Applied Fitness Solutions scholarship is for students with a GPA of 3.5 or higher. The Stephen & Jeannine Galetti scholarship is reserved for freshman sport management. The Jeanne C. Galley Fund is exclusively awarded to female undergraduates and the Shelly Kovacs Scholarship is for academically impressive School of Kinesiology candidates.
Related Resource: What Are the Best Classes for Sports Management Majors?