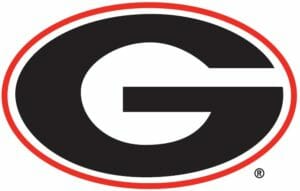 The University of Georgia is not just one of the oldest colleges in Georgia, but it's also one of the oldest colleges in the country. Founded in 1785, construction began on the campus in the following decade after its board selected a large tract of land with more than 600 acres. Though the university slowly increased in size, the Civil War left the university without many professors and with limited students, which led to the college shutting down for several years. When it reopened, it quickly set about bringing in new teachers and introducing new programs that led to it growing even faster than before.
UGA, which the students call it, received recognition from a number of organizations. ARWU, Washington Monthly, Forbes and U.S. News & World Report ranked UGA as one of the nation's top schools, but it also ranks as one of the best global schools on reports issued by ARWU, Times and QS. The landscape architect program at the university ranks as the top in the country, and its graduate program in landscape architecture ranks as one of the top as well. Other programs that rank among the top in the nation include its business, law and engineering programs. Princeton Review listed UGA on its list of the best cafeteria foods, and it ranks as one of the most affordable colleges as well.
University of Georgia Accreditation Details
Accreditation is essentially a stamp of approval given to a school based on a series of requirements and criteria. Regional accreditation, which is the most important type, ensures that students learn the proper skills and that they take courses necessary for working in specific fields. UGA has regional accreditation from the Southern Association of Colleges and Schools (SACS). Colleges with SACS accreditation can officially seek financial aid on behalf of its students from the federal government. UGA also has program or specialized accreditation as well. For example, the American Psychological Association gave UGA accreditation for its doctoral level programs in clinical, counseling and school psychology. Some of the other accreditation that UGA has comes from organizations that include:
Accrediting Council on Education in Journalism and Mass Communications
American Association of Family and Consumer Sciences
Council on Social Work Education Office of Social work Accreditation
Accreditation Council for Pharmacy Education
Council for Accreditation of Counseling and Related Educational Programs
National Recreation and Park Association
American Association for Marriage and Family Therapy
University of Georgia Application Requirements
UGA accepts students who have both high test scores and high grades in combination with extracurricular activities. Those who have a lower GPA may still receive an acceptance letter after scoring highly on the SAT or ACT. Students can either apply for early acceptance or traditional acceptance. The only difference is that those applying for early acceptance will need to have their applications completed by the beginning or middle of December the year before they start. All high school students and first time students must go through the same series of steps.
They must complete the application, which consists of two separate steps, and pay the $60 application fee. Students will also need to submit other documents either through the mail or online. UGA requires a high school transcript that shows the classes the student took and grades the student received from freshman year to junior year. They also need to submit an evaluation form that a guidance counselor fills out and an official standardized test score. This test score must include the score the student received on the writing portion of the test. The last step is a letter of recommendation from a teacher who worked with the student. All paperwork must be in by the end of January or sooner for regular admission.
Tuition and Financial Aid
The University of Georgia charges two tuition rates based on whether the student is a Georgia resident or a resident of another state before beginning classes. Students will typically need to prove that they are a resident to get in-state tuition. This is around $11,600 a year. Residents from outside of Georgia pay nearly $30,000 for their tuition. A room on campus and a meal plan can add $9,000 or more to this cost, and students usually spend at least $1,000 a year on books and other expenses.
UGA offers more than 20 different scholarships for students who need help paying for their costs and expenses. Some of these are merit scholarships that only go to students who have a history of doing well in school. Others are need scholarships that go to students who demonstrate a high amount of financial need and help. Those interested in applying for scholarships can visit the UGA website to find out about the requirements for each one and how they can apply. UGA can also award financial aid packages that feature loans, grants and other types of aid. Students will need to fill out the FAFSA online and list UGA as they school they will attend. UGA also has work-study jobs on campus for qualifying students.
Student Experience
The sports management program at the University of Georgia is unique because it awards students a Bachelor of Science in Elementary Education instead of a more traditional sports management degree. This type of program is perfect for students who want to teach younger students or work as athletic directors or teaching in elementary schools. Students take a minimum of 39 credit hours of courses in the sports management field, which include courses on economics, marketing, event operations and finances. They also take 12 credit hours of electives within the management program and three hours of practicum work. A practicum is a course that sends students to local schools to work while in college. The remaining courses that sports management students take include the general education courses like science, communications and math.
All sports management students have the opportunity to work at the Ramsey Center. The Ramsey Center is a large sports complex that houses training facilities and sports fields. Students can gain additional knowledge after joining the business club. This club hosts events, brings in guest lecturers and offers meet and greets between students nearly every week. The University of Georgia offers a number of opportunities for students interested in studying the field of sports management.
Related Resources: