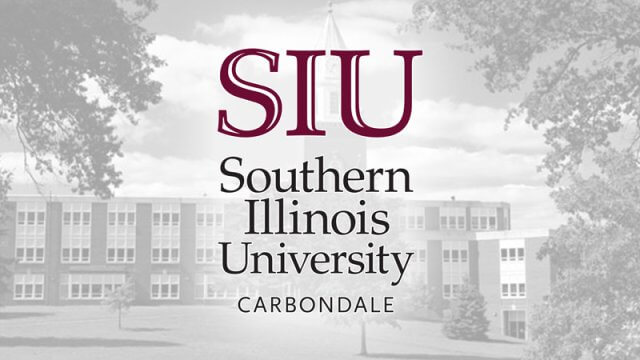 Southern Illinois University – Carbondale is the flagship university in the SIU School System and the oldest branch of that school. Founded in 1869, it was one of the first normal or teaching schools that opened in the state. Students originally received diplomas or certificates after completing one of its programs, but it officially became a college and then a university after switching to degrees instead of certificates. The university established a second branch in Edwardsville to meet the needs of students living in that community, and the Edwardsville campus later became a standalone college within the SIU system.
As of 2015, enrollment at SIU – Carbondale topped more than 17,000 students. This includes more than 13,000 undergrads. The university is home to one of the largest sports programs in the Midwest. Former players on its teams later played for professional sports organizations in the National Football League, National Hockey League and the NBA. Some of its graduates later went on to work in politics, writing and other major professions as well. The university received recognition for its research programs and for its requirement that students gain strong foundations in research and writing. U.S. News and World Report ranked SIU – Carbondale at number 153 when compiling a list of the best American colleges.
Resource: 50 Most Affordable Urban Schools for Sports Management 2015
Southern Illinois University – Carbondale Accreditation Details
If you want to enroll in college and need help paying for school, you must make sure that the college has regional accreditation. The U.S. Department of Education prohibits students from attending colleges without this type of accreditation from taking out student loans and getting other forms of federal aid. Southern Illinois University – Carbondale has regional accreditation from one of the main organizations in the nation, the North Central Association of Colleges and Schools. To ensure that the university deserves to maintain its accreditation, the NCACS mandates that the university renew its accreditation at least once every 10 years.
The accreditation that the university has also applies to programs like its engineering programs. All of those programs have specialty accreditation from the Accreditation Board for Engineering & Technology (ABET). It also has accreditation from the Academy of Dietetics and Nutrition for its internships and degree programs in dietetics. Other accreditation comes from the American Bar Association, American Dental Association, American Physical Therapy Association and American Board of Funeral Service Education. SIU – Carbondale degree programs in psychology, interior design, social work, music, business and other subjects have specialty accreditation as well.
Southern Illinois University – Carbondale Application Requirements
Southern Illinois – Carbondale recommends that incoming freshmen submit a completed application packet by December 1 of the year before they start. Though the university will review applications received after the deadline, the university will only accept students as long as there are spots available in the upcoming freshmen class. You can apply online or with the paper application. Those who use the paper application will need to download a copy and print off the copy before filling it out and mailing it back to the school. Online applicants can pay the $40 application fee with a credit card or debit card, but those mailing in an application will need to mail in the payment as well. If your family income falls below the poverty line or you meet other requirements, the university will waive this fee.
You must also submit a transcript that your high school printed within the last 30 calendar days. Transcripts must have the seal of your school on the paper and come sealed inside an envelope. If accepted into the university, you'll need to send in a final transcript that shows how well you did in classes taken at the end of your senior year. SIU – Carbondale also requires an official score from the SAT or ACT.
Tuition and Financial Aid
The amount that you pay to attend Southern Illinois University – Carbondale depends on whether you are from Illinois or from another state. In-state tuition is available for all Illinois residents and comes in at around just under $10,000 a year. If you lived outside of Illinois before enrolling, your tuition will come to more than $22,000 a year. SIU – Carbondale also offers a legacy tuition rate for the children of alumni. This drops the price to around $7,300 a year for in-state residents and around $18,200 a year for residents of other states. The fees charged by the university add more than $4,000 to your final annual costs, and you'll pay more than $10,000 a year to live on campus.
SIU – Carbondale implemented a number of financial aid programs that drop tuition rates for certain types of students. Military personnel, veterans, those living in states that border Illinois and scholars from other states all qualify for tuition discounts. Students can fill out the FAFSA and list the college on that form to get financial aid too. As a state school, SIU – Carbondale offers lower tuition rates and can help students more easily afford their costs through the use of packages that combine loans, grants, work-study programs and scholarships.
Student Experience
Southern Illinois University – Carbondale created its sports administration program as a way to prepare undergrads for working in professional and amateur sports organizations and for operating sports complexes and facilities. As the program is part of its kinesiology department, it requires that students take courses on sports exercise and kinesiology. This gives you a good understanding of how the human body moves and functions and the impact that injuries can have on muscles and other body parts. You must take a minimum of 35 credits of courses from the kinesiology department, including motor behaviors and physical activities. Other courses you take from this department look at the sports industry as a whole and cover topics like ethical issues in sports, business management in sporting venues and event management. You will also take 24 credits of business courses, 19 credits of electives and 42 credits of general education courses.
The university also requires that sports administration students do an internship in sports management or administration. This internship is worth three to six of the credits that you need for graduation. Southern Illinois University – Carbondale can place students in sports agencies, with professional teams or with amateur organizations across the state.
Related Resource: