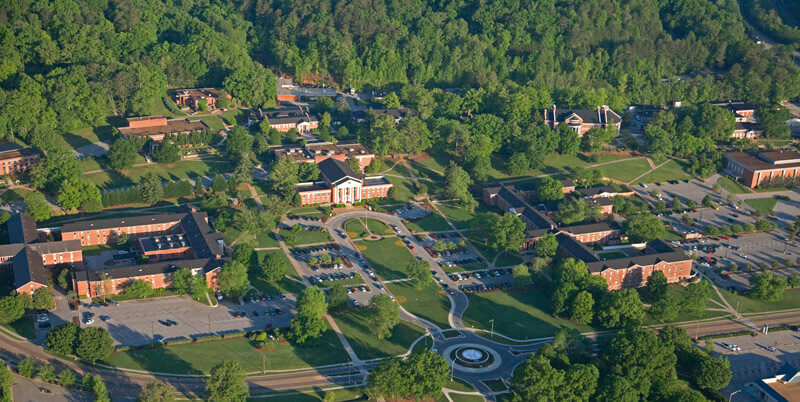 Southern Adventist University began as Graysville Academy in 1892 and was founded by a group of Seventh-Day Adventists. The group formed a church in 1888 and soon realized a need for a school in the area. It was just after the Civil War and the area was still suffering the effects of the Battle of Chickamauga and the Chattanooga Campaign. The area was also the staging ground for Sherman's Atlanta March.
Initially, the school began above the store of J.W. Clouse in Graysville but land was donated on what is now Route 303 in Tennessee for the purpose of creating a campus for the school. In 1893, the administration building was complete and students began attending. The school was privately funded, receiving no support from the Adventist Church until 1893 when the church took over, inspiring the founding of other schools throughout the country.
A crisis occurred in 1894 when 14 members were charged with violating Sunday laws, including the founder George W. Colcord. Those who were eventually found guilty refused to pay the fines and were sentenced to prison. This led to the closing of the school for the remainder of the year.
In 1897, the school became the Southern Industrial School in an effort to reflect a change in the emphasis at the school due to the growing industrial needs throughout the country. The school added a wagon and blacksmith shop, a broom shop, a printshop and a farm. In 1901, the Southern Union Conference of the Seventh-Day Adventists was organized with a headquarters in Graysville. Southern Union took over the operation of the school and it was renamed Southern Training School.
The school began to realize they had outgrown their campus and began looking for a new location. In 1915, the girl's dormitory burned and, although there was no loss of life in the fire, the school made the decision to move. The following year, they purchased land known as Thatcher Switch, renaming it Collegedale. The entire campus, including livestock and equipment was moved to the new site 50 miles from its original location, opening in 1916 as Southern Junior College. The name change occurred as many training schools had become synonymous with reform schools. Graysville Academy continued to operate as a boarding school on the original site until 1936.
Many students earned tuition by assisting in the construction of buildings on campus. In addition, the school organized "construction bees" with church members from across the south coming to help build the new college. The tuition work program grew enrollment quickly as students with little financial support were able to achieve higher education goals. Students were so motivated to learn, they lived in tents and shacks, putting up with significant inconvenience in order to attend school. Church members purchased land surrounding the college to keep people from building homes that would hinder young people from attending. Students of all income levels were encouraged to attend and the school offered assistance to any student who said cost was a factor.
In 1944, the school became known as Southern Missionary College, but the name was changed again in 1982 to Southern College of Seventh-Day Adventists when the term "missionary" gave a false impression of the school. The population reacted negatively to the term and many foreign countries resisted accepting church workers from a "missionary" college. In addition, the term gave the impression that the school was a Bible college rather than a liberal arts institution. Some graduates reported the word "missionary" made it difficult for them to find work.
Today, the school is known as Southern Adventist University, a name it was given in 1996. There are over 2,500 students attending the school which U.S. News & World Report has named a "Top Tier" institution for 15 years. The Princeton Review identifies Southern as one of the Best in the Southeast, a designation received by only 25 percent of institutions. The school nurtures Christ-likeness and traditional Seventh-Day values, academic excellence, helping students develop a sense of lifelong learning and a desire to serve others.
Southern Adventist University Accreditation Details
Southern Adventist University is accredited by the Southern Association of Colleges and Schools Commission on Colleges. It is also accredited by the Adventist Accrediting Association. Accreditation means that the school undergoes rigorous review on a periodic basis in order to confirm that students are receiving excellence in education and that they strive to improve any areas identified as needing improvement by the accrediting agencies. In addition, specific programs are accredited by the following organizations:
Accreditation Commission for Education in Nursing
Computing Accreditation Commission on ABET
Council for Accreditation of Counseling and Related Educational Programs
Council of Social Work Education
International Assembly for Collegiate Business Education
National Association of Boards of Examiners of Long-Term Care Administrators
National Council for Accreditation of Teacher Education
National Wellness Institute
Southern Adventist University Application Requirements
Potential undergraduate students should complete the application at the online portal. Students must provide official transcripts as well as official ACT or SAT scores. Transfer students must submit official transcripts from all colleges and universities attended. Transfer students must have a 2.0 GPA in major subjects as well as a composite ACT of 18 or SAT of 950. Students who transfer 12 credits or more or who have a GPA above 2.5 may be exempt from supplying SAT scores.
Graduate students must complete the online application and provide official transcripts from all colleges and universities attended. One transcript must display the conferring of a bachelor's degree or higher in order to apply to graduate school. Other documentation may be necessary depending on the program the student plans to enter. It is important to discuss any documentation needed with a graduate admissions counselor before applying.
Tuition and Financial Aid
Undergraduate tuition at Southern Adventist University is $20,700 per year for full-time study. Graduate tuition is $625 per credit hour for master's level courses and $840 per hour for doctorate courses.
Financial aid is available in the form of grants, loans, federal work-study programs and need-based Southern scholarships. Students must complete the Free Application for Federal Student Aid (FAFSA) in order to qualify for any financial assistance.
Student Experience
Southern Adventist University offers several Bachelor of Arts concentrations in the field of sports studies. Students can choose from:
Human Performance
Journalism
Management
Marketing
Psychology
Public Relations/Advertising
Recreation
The programs are offered through the School of Physical Education, Health and Wellness. The school offers students the opportunity to seek careers where they will focus on the well-being of others. In addition to their studies, students also have access to a new culinary arts kitchen dedicated for labs and classes related to health and well-being.
Outside of class there are many student organizations available to provide leadership opportunities as well as those designed to promote the health of the student. Gym-Masters is an anti-drug acrobatics team that promote a health, drug-free lifestyle. Students who are gifted in gymnastics are able to develop their skill and promote positive life choices. They travel to promote a healthy lifestyle at many educational institutions and also perform halftime shows at NBA games.
Special certifications are available in personal training, group aerobics, lifeguarding, water safety instruction and other sport-related subjects. Pro-Act classes focus on developing outstanding professional skills. Students focus on a single sport, such as volleyball or basketball, developing knowledge and skills specific to that sport. These classes are only open to sports studies and physical education majors. The Human Performance Lab employs students who measure many health-related body functions including resting metabolic rate and body composition using state-of-the-art technology.
Students may choose to participate in student clubs that include:
Cycling Club
Health Science Club
Kayak Club
Physical Education Club
Sports Studies Club
Southern Striders
Wellness Club
Southern Adventist University also has strong partnerships with the local community, providing those living in the surrounding area opportunities to pursue better health, balance and well-being. This is through internships and community service projects where student participation is encouraged.
For more than 125 years, Southern Adventist University has provided students with excellence in education, helping them to achieve their higher education goals in order to advance in a current career or move into a new career.
Related Resource: Do I Need a Degree in Sports Journalism to Become a Sports Journalist?