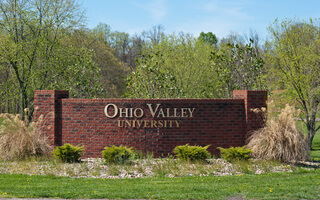 Ohio Valley University is a religious and private university in West Virginia. Several graduates from another college came together in the 1950s in the hopes of building a new school in the state that would emphasize the Christian faith. They raised enough money through donations to open that new college. The school was so small at that time that it decided to offer classes to students before building its own campus. Classes met in a local church. It wasn't until 1963 that the college finally opened a campus. This campus sat on more than 130 acres and featured several buildings for classes and administrative workers. Residence halls came a few years later. Though known as Ohio Valley College when founded in 1960, it became Ohio Valley University in 2005.
As OVU is a private Christian college, it requires that students follow some set rules and regulations. Students must agree to attend services each week, and they must take a Bible class every semester that they remain enrolled. Those who do not attend church services risk the university expelling them. The university also has its own curfew that requires students be in their rooms by 1 a.m. on weekends and midnight on weekdays. Students will need to follow the university's code of conduct too. OVU has separate teams for men and women, but has 16 different teams. Students can also sign up for other activities and join organizations on the campus.
Ohio Valley University Accreditation Details
Ohio Valley University has approval from the West Virginia State Board of Education to grant degrees to graduates. The main accreditation that OVU has comes from the Higher Learning Commission, which also accredits nonreligious colleges. Those enrolling in one of its management or business programs will find that their programs have accreditation from the International Assembly of Collegiate Business Education. Higher Learning Commission accreditation gives students the right to seek financial aid and use the FAFSA before enrolling.
Ohio Valley University Application Requirements
OVU does not charge an application and has a simple online application that is just one page in length. It starts with spaces where students will enter their full names, addresses, social security numbers and some other basic information. The next section asks for the name and contact information of a parent or guardian. Married students can use their spouses' information in this section. They will also need to list when they want to start classes and whether they will live in a residence hall or with family. The application asks whether the student had any felony convictions, where the student attended high school and whether that individual will tryout for one of the university's teams.
The very bottom of the page features an application policy that offers a quick look at some of the regulations that students must follow. This section explains the code of conduct and what happens to students who do not follow the rules. OVU notifies students within a few weeks of receiving their applications if they can start classes. The university highly recommends that students sign up for a campus tour and meet with a counselor before applying. This lets them see how comfortable they feel on that campus.
Tuition and Financial Aid
Though Ohio Valley University is a private university, it's a little more affordable than other similar colleges. Tuition for a full year is $21,100, which includes all fees. This rate lets students take 14 to 17 credits every semester. Those taking fewer credits pay a lower tuition rate of $9,700 a semester, which lets them take between 12 and 13 credits. Any student who takes more than 17 credits in a semester will pay $570 per credit hour for all credits above this amount. The university charges $825 per credit hour for students enrolling on a part-time basis. Students living on the university campus will pay around $7,700 a year for both a dorm room and a meal plan.
OVU takes part in the federal work study program, which allows students to work on the campus and make an amount above minimum wage. The program usually prohibits students from working more than 10 to 20 hours a week, though it can depend on the year the student is in school and how many credit hours he or she takes. Students must use the FAFSA to receive loans and grants.
Scholarships are available from the university too. The university will multiply the student's ACT score by his or her high school GPA to determine the student's academic number or factor. Those with a lower number may qualify for a $2,500 scholarship, but those with a higher figure qualify for a full scholarship. The university also offers scholarships for the children or clergy, those from certain counties in Ohio and West Virginia and the children of alumni.
Sports Management
To graduate with a degree in sports management from Ohio Valley University, you must complete all the general education requirements, take Bible classes and demonstrate writing competency. All students in a business program like this one must also earn a C grade or higher in a final seminar course and maintain a grade point average of 2.5 in all business classes. Students can only receive a D grade or a failing grade in six credits of classes. Those who fail a higher number of classes face expulsion from the sports management program as well as the university.
The five required courses in this program include promotional strategies, principles of marketing and human resources management. You'll need to first take business courses like personal finance, business ethics, principles of accounting, principles of management and business law. Once you finish taking some business courses, you can apply for a place in the sports management program.
Related Resource: 30 Most Influential Women in College Sports
Ohio Valley University offers a concentration or track in business or coaching and sports administration. The business track includes seven courses like interpersonal communications, organizational leadership and public speaking. You'll need to do a sports management internship too. Its coaching and sports administration track features nine courses that are worth 23 credits. This track features classes on principles of coaching, kinesiology, sports psychology and organization and administration of sports. Ohio Valley University offers a first aid class too that all sports management students must take, which teaches you how to use different techniques and methods to prevent injuries.
Related Articles: