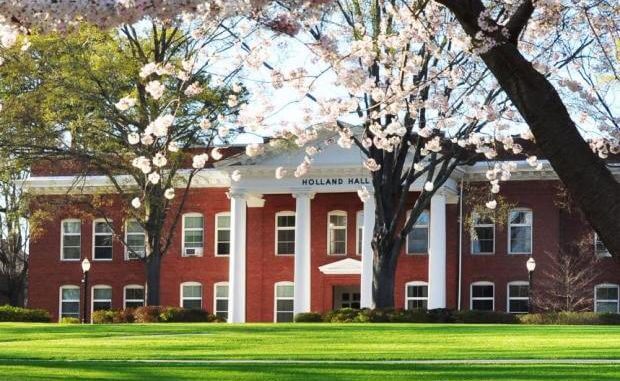 Newberry College is a small college in Newberry, South Carolina that dates back to the 19th century. Founded in 1856 as a small private campus, it continues operating as a private college today. Classes meet on its 90-acre campus, which features a number of historic structures as well as some more modern buildings. Those interested in its sport management program may want to join one of the school's athletic teams. Newberry College is home to eight teams for male students, including cross country, football, wrestling and basketball. The school also lacrosse, basketball, soccer, tennis and four other teams for female students. Those teams use the Wolves as their mascot.
The college is also home to a popular and highly active music program. Though its marching and jazz bands only date back to the 1950s, the college established its first music programs in the late 1800s and early 1900s. A large number of students still receive vocal and music scholarships every year. According to U.S. News & World Report, Newberry College ranks as one of the top southern colleges in the United States. It also has a good reputation because it keeps class sizes down and has a low ratio of students to teachers.
Newberry College Accreditation Details
Newberry College has accreditation for its nursing program from the Commission on Collegiate Nursing Education, and this program offers both classroom training and practical training through the use of clinical rotations that students must complete. Its music programs have accreditation from the National Association of Schools of Music, but it also has accreditation for its beginning education program, which provides training to future teachers, from the National Council for Accreditation of Teacher Education. The most important type of accreditation is regional accreditation because this is a requirement for obtaining federal financial aid. Newberry College has regional accreditation from the Southern Association of Colleges and Schools.
Newberry College Application Requirements
Newberry College recommends that prospective students sign up for a tour of the campus and attend one of its open house sessions. During an open house session, you'll have the chance to hear from currently enrolled students, talk with professors working in different departments and learn about financial aid opportunities. You do not need to attend an open house or tour the campus before applying though. The online application features a section on your education and will ask about your high school, past classes you took, your grades and whether you took any college classes. You will also complete sections on your hobbies and interests as well as your background.
Once you begin to work on your application, you may find that you need to take a break and come back to it later. Newberry College gives you the chance to save your work in progress. It will provide you with a code. When you come back to the application, you enter your code in the provided box to pick up the application where you left off.
In addition to the application, Newberry will ask you for some information to verify everything you listed in the application. You need an official high school transcript that shows the classes you took and grades received. The college may ask for a final transcript once you graduate from high school. It also asks for an official ACT or SAT score and a personal essay that lets you talk about why you chose Newberry and what you hope to get out of the college. The college will also ask for a letter of recommendation, which you can obtain from one of your high school teachers or your guidance counselor.
Tuition and Financial Aid
Newberry College ranks as one of the most affordable private colleges in South Carolina. Tuition for students is around $23,700 a year, but you'll also pay around $2,200 a year in miscellaneous fees. When you add in the cost of room and board, the total amount rises to a little over $36,000 a year. The average amount that students receive in grants and scholarships alone is more than $13,000 a year, and this figure does not include any loans or other financial aid that you might get.
To receive grants or loans, you must file the FAFSA. Though Newberry will accept this form up through the start of the coming semester, it recommends that you file this form as early as possible and by the spring before you want to enroll. Students can receive a South Carolina tuition grant worth more than $3,000 and government grants of more than $5,800 as well as federal loans of $5,500 a year. All students who receive federal loans from the government must agree to complete entrance and exit counseling before taking out their loans and before graduating.
Sports Management
Newberry College designed its sport management program to give students knowledge of promotions, marketing, operations, ethics and other subjects relating to sports management. Students who successfully complete this program will know how to run their own businesses as well as how to handle special events, and some students will use their skills to work as sports agents, coaches or trainers too. The college recommends that students take five classes each semester to graduate within five years. Students also have the option of enrolling on a part-time basis or taking classes in the summer to finish the degree program in less than five years. All students take general education courses that include English composition, foundations of liberal arts, introduction to psychology or sociology, statistics and college algebra.
The program also includes courses in sport management like principles of sport management, society and sports, administration of sport and sport law. A class on sport finance will teach you how to budget for your team or organization, while a class on sport law and ethics goes over the laws that you must follow as well as the ethical problems that you might face. You will also take a sport management seminar in your final year that focuses on one new or emerging topic in the field. The sport management program requires that students either do an internship or do a thesis in their final semesters. If you opt for the internship, Newberry College can help you find a place to work at through the college or off campus.
Related Resource: What Are the Best Classes for Sports Management Majors?