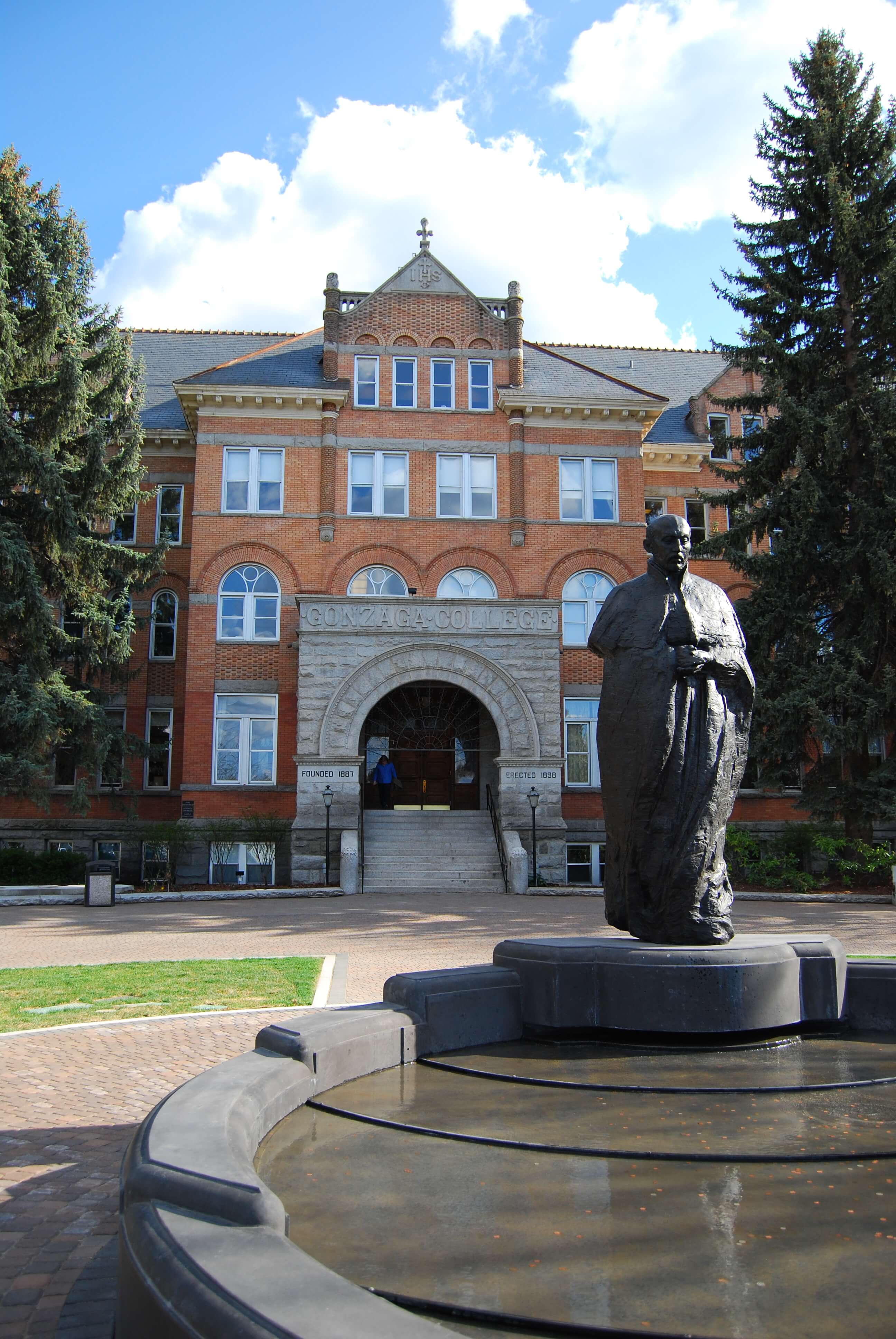 Gonzaga University was established by Father Joseph Cataldo, S.J., in 1881 following the motto "Ad Majorem Dei Gloriam" for young Scholastics to enter the priesthood. Now co-educational, the private, nonprofit Catholic school upholds its Jesuit traditions with the Carnegie Master's I classification. Operating on a $246.7 million budget, Gonzaga educates 7,572 Zags and employs 424 full-time faculty within the West Coast Conference. Led by President Thayne McCulloh, Gonzaga University maintains a 152-acre urban campus in Spokane, Washington, Forbes' 67th best city for careers, with seven academic divisions. Gonzaga is connected to noteworthy athletic alums like John Stockton, Courtney Vandersloot, Tony Canadeo, and Chad Little.
According to the U.S. News, Gonzaga is the West's fourth best university, fourth most veteran-friendly campus, and 13th top value. On Niche, Gonzaga University stands as America's 14th best Catholic university and 108th best college for business administration. Forbes ranked Gonzaga as the 117th best private university with the 243rd most grateful grads. Featured in the Fiske Guide to Colleges, Gonzaga University was named the United States' 17th best master's institution by Washington Monthly. Given the Opus Prize Foundation Award, Gonzaga was #1 for Peace Corps service four years straight. Gonzaga also placed 241st for most value-added education in Time's MONEY magazine.
Gonzaga University Accreditation Details
Continuously since 1927, Gonzaga University has reaffirmed its 10-year accreditation from the Northwest Commission on Colleges and Universities (NWCCU). This regional body is recognized by the Council on Higher Education Accreditation (CHEA) to review colleges in seven states, including Washington. The School of Education has been approved by the Council on Accreditation for Educator Preparation (CAEP) for programs like the B.Ed. in Sport Management. Graduate sports administration courses also meet the elite standards of the Association to Advance Collegiate Schools of Business (AACSB) International.
Gonzaga University Application Requirements
Developing your sports career at Gonzaga University will require passing the "more selective" admission rate of 73 percent. Freshmen pursuing the B.Ed. in Sport Management must have finished a high school diploma after a 16-unit, college-prep curriculum that features four units each of English and math. Added rigor from AP and IB courses is weighed. Gonzaga strongly prefers first-year applicants with an unweighted GPA of 3.2 or better, but the average is 3.76. Scoring at least 1150 on the new SAT, 1070 on the Old SAT, or 23 on the ACT is also expected.
Becoming a Zag after attending another regionally accredited college will involve transferring 12 to 64 semester credits. Associate of Arts or Science transfer degrees are recognized from Washington community colleges, North Idaho College, or Marymount College. Incoming transfers must complete courses graded "C" or better for a minimum cumulative GPA of 2.5. Gonzaga welcomes international students from 45 countries, but each must score at least 550 on the written TOEFL or 3 on the APIEL tests. Entering the M.A. Sport & Athletic Administration program mandates a regionally accredited bachelor's with a GPA above 3.0.
For undergrads, Gonzaga has established an Early Action deadline of November 15th and Regular Decision of February 1st. The Graduate School accepts applicants on a rolling basis from November 1st until the final deadline of May 31st. Students could submit the Gonzaga or Common Application online and send additional materials to 502 E. Boone Avenue in Spokane, WA 99258. Most sports management majors need the following:
• Certified high school and college transcripts
• Official entrance exams (SAT, ACT, GRE, or MAT)
• Payment for the $50 non-refundable fee
• One teacher evaluation and one school report
• Verification of English fluency if foreign
• Three to five-minute YouTube video interview
• Resume or CV of professional experience
Tuition and Financial Aid
Full-time undergraduates at Gonzaga University are billed $40,540 for tuition and $790 for mandatory fees each year. Living on-campus in Spokane costs $5,900 for room and $5,650 for board annually. Budgets should leave $1,104 for textbooks, $1,880 for personal expenses, and $1,486 for transportation. Total annual cost of attendance for undergrads is $57,436. For graduate programs like the Online M.A. Sport & Athletic Administration, full-time tuition charges $12,469. On-campus graduates spend $31,247 annually if room and board is added.
The NCES reports that 96 percent of full-time Zags share $83.6 million in financial assistance for an average yearly package worth $17,294. Sport management majors could obtain institutional awards like the Dauna Leigh Bauer Scholarship, Joseph M. Cataldo S.J. Scholarship, Global Diversity Scholarship, Charlotte Y. Martin Scholarship, and Act Six Scholarship. Family discounts of 10 percent are available for siblings. Federal Pell Grants could award up to $5,815 yearly. Evergreen State natives flock to the Washington State Need Grant and Passport for Foster Youth Promise Program. Federal Work-Study is available for $11/hour, including in the Kermit M. Rudolf Fitness Center. Carefully borrowing Perkins, Stafford, and Grad PLUS loans is also possible.
Student Experience
Gonzaga University is a top NCAA Division I school that injects Jesuit values into liberal arts education that leads to 43 bachelor's and 26 master's degrees. The School of Education confers a 39-credit B.Ed. in Sport Management major with optional minors for Promotions, Public Relations, Business, and Sports Journalism. Some pursue the B.Ed. in Physical Education, which meets NASPE standards for K-12 teaching and coaching credentials. Gonzaga admits post-grad cohorts every Fall into the 31-credit, two-year Online M.A. in Sport & Athletic Administration with eight-week courses on Blackboard. One-hundred percent of courses are taught by professors instead of TAs at an engaging 12:1 ratio. Students could also supplement their academics with the three-year Hogans Entrepreneurial Leadership Track, the Honors Program, and trips abroad to the Gonzaga Florence campus.
Athletic administration students intern at sports organizations like the Seattle Mariners, Spokane Chiefs, U.S. Women's Volleyball, Washington Redskins, Tacoma Rainiers, and Spokane Storm. Sport management majors benefit from gaining hands-on experience in the Zags' Athletic Department, which oversees 16 varsity teams. Gonzaga's basketball team led by Coach Mark Few is particularly successful with 16 WCC championships and six Sweet Sixteens. Seventy-two percent of students engage on intramurals ranging from pickleball to dodgeball and ultimate Frisbee. Gonzaga has state-of-the-art sports facilities like the Mccarthey Athletic Center, Patterson Baseball Complex, Luger Field, and Stevens Center. Sports management can also get involved at Gonzaga University with 150+ clubs, including College DECA, Circle K International, Formula Zag, Fellowship of Christian Athletes, and Beta Alpha Psi.
Related Resource:
Do I Need a Degree in Sports Journalism to Become a Sports Journalist?