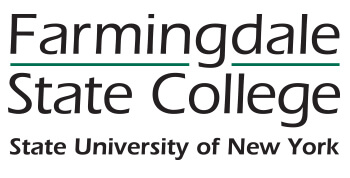 Launched in Fall 2011, the Bachelor of Science (BS) in Sport Management at Farmingdale State College utilizes School of Business resources to train undergrads for leading profitable team franchises in North America's $60.5 billion sports industry. Chaired by Dr. Sarbjit Singh, the 121-123 credit curriculum develops fundamental managerial skills with an interactive 20:1 student-professor ratio. The liberal arts and science core leads to courses like Athletic Administration, Facility Management, Sport Marketing, and Sport Information Media. During the junior or senior year, BS majors add optional internships at NYC Metro organizations like the Brooklyn Nets, New York Giants, Long Island Ducks, Westchester Knicks, Jersey Express, Bridgeport Sound Tigers, and New York Yankees.
SUNY Farmingdale State College gives Sport Management BS students access to recently renovated facilities, including George E. Nold Hall, Walter A. Lynch Center, and Rams Gymnasium, and a 20-station golf driving range. Undergrads get involved with 17 varsity teams competing in the NCAA Division III. In February 2017, the men's basketball team cut down the nets for a Skyline Conference title. Eight months later, Farmingdale scored its 10th golf championship with the Player of the Year. Outside intercollegiate play, there are 60+ student-run organizations at Farmingdale, such as RAM Motor Sports, Roller Hockey Club, Sport Management Club, Women in Business, and Cheerleading Club. Each year, students enter the NYS Business Plan Competition and take Kick Start Workshops too.
Related Resource: 50 Most Affordable Selective Colleges for Sports Management
About Farmingdale State College
Farmingdale State College was originally proposed by Assemblyman John Lupton in 1909 as Long Island's first public, polytechnic school for agricultural excellence. After World War II, Farmingdale expanded its technology offerings and joined the State University of New York (SUNY) system in 1953. Endowed for $5.8 million, Farmingdale State is currently training 9,287 undergrad Rams from 18 countries with six-month job placement at 90 percent. On the Nassau-Suffolk border, Farmingdale State College occupies a 380-acre, Georgian Colonial-style campus within Babylon. Employing 736 faculty, Farmingdale follows the Students First Initiative to deliver 45+ programs, including a BS in Sport Management. Linked to 23,900 LinkedIn alumni, Farmingdale State College has produced athletic alumni like Ryan LaFlare and Matt Seelinger.
The U.S. News & World Report ranked SUNY Farmingdale State the North's 15th best university, seventh top public school, and ninth most vet-friendly campus with the eighth lowest debt in 2018. PayScale applauded Farmingdale for the 88th best salary potential among public colleges. On Niche, Farmingdale State College stands as America's 239th top public university, 349th best Common Application school, and 268th best student life college. Forbes placed Farmingdale 155th for liberal arts education nationwide. In Washington Monthly, Farmingdale State was honored for the 46th highest baccalaureate graduation rate. The Institute on International Education also recognized Farmingdale State College for the 25th most globally diverse bachelor's classes.
Farmingdale State College Accreditation Details
In 2016, Farmingdale State College had its Level III regional accreditation reaffirmed by the Middle States Commission on Higher Education (MSCHE) under president John S. Nader. This institutional approval covers all seven associate, 31 bachelor's, one master's, and 11 certificate programs for Federal Title-IV eligibility from the U.S. Department of Education. Farmingdale State's curriculum is also registered by the New York State Department of Education.
Farmingdale State College Application Requirements
Classified as "selective," Farmingdale State College had a Fall 2016 acceptance rate of 58 percent due to strict SUNY admission criteria. Entering the BS in Sport Management Major will necessitate completing a high school diploma or GED with at least two units of math and one unit of laboratory science. Freshmen need to have scored 70 percent or higher on the Algebra II Regent exam. Admitted Rams will have a minimum "B" average, 1080 SAT composite score, and 21 ACT score. Transfers from other regionally accredited colleges can carry over up to 90 credits with a cumulative GPA above 2.7. Having finished core courses like Statistics, English Composition, and Western Civilization History is preferred. International students with I-20 forms need to prove language proficiency with a minimum TOEFL iBT score of 74 or SAT Reading score of 400.
Farmingdale State College has established freshman deadlines of May 1st for Fall and January 3rd for Spring. Transfers are considered until July 1st for Fall and January 3rd for Spring. Non-U.S. applications must arrive by June 30th for Fall or November 1st for Spring though. Hopeful Bachelor of Science in Sport Management students should send the SUNY Application or Common Application online via OASIS. If necessary, extra paper materials could be mailed to 2350 Broadhollow Road in Farmingdale, NY 11735. Slam dunking the admission process requires attaching the following:
$50 application fee by check or credit card
Official high school/college transcripts or GED
Entrance exams (SAT code 2526 or ACT code 2918)
One to three letters of professional recommendation
Typed, 500-word personal goals statement
Current résumé or work/volunteer history
English fluency test and financial support affidavit (if foreign)
Farmingdale State College Tuition and Financial Aid
Attending SUNY Farmingdale State for the Bachelor of Science in Management will cost New Yorkers $3,335 per semester full-time. Non-residents taking 12+ credits are charged $8,160 every term. Registering part-time costs $278 in-state and $680 out-of-state per credit. Save budget room for the $213 technology, $100 student activity, $135 health service, and $205 intercollegiate athletic fees. Living in dorms like Sinclair Hall costs $3,926 for housing and $2,520 for meal plans each semester. Total annual undergrad attendance costs are roughly $24,168 for Empire State natives and $33,818 for non-residents.
According to the NCES, 83 percent of starting, full-time Farmingdale Rams share $24.38 million in annual financial assistance for $6,244 apiece on average. Sport Management BS students may receive institutional awards, such as the Alice Pan Ting Scholarship, Dr. Loretta Chiarenza Scholarship, Ken Watnick Scholarship, Provost Scholarship, Stephanie Belli Memorial Scholarship, and Alumni Association Legacy Scholarship. Filing the FAFSA form via code 002858 by March 1st unlocks Federal Pell Grant and Supplemental Educational Opportunity Grant funding. New York State provides the Tuition Assistance Program (TAP), State University Tuition Award, and $5,500 Excelsior Scholarship. Undergrads cautiously borrow Direct Stafford, PLUS, and private loans. Federal Work-Study also pays at least $10.50/hour for employment like the Arthur Morrison Mentors Program and Liberty Partnership Program at Farmingdale State College.
Learn more about Farmingdale State College's Sport Management Major at the School of Business website.
Related Resource: What Can I Do with a Golf Course Management Degree?