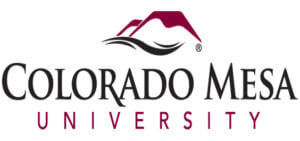 Colorado Mesa University is located in Grand Junction, Colorado, an area known for its outdoor recreation opportunities, including rock- climbing, rafting, hiking, and biking among others. As a student here, you will have easy and affordable access to all of this, as well as to traditional indoor sports and fitness activities. There is even indoor rock-climbing. Grand Junction is beautiful, with its impressive buttes and mountain desert terrain. Mesa University is impressive as well. It is not a new school; it was founded in 1925 as Grand Junction Junior College, with only 39 students enrolled. The school achieved university status in 2011 and now serves over 10,000 students. Grand Junction is an urban area, but it is surrounded by rural communities so the school doesn't have a closed-in feel. The student-to-faculty ratio is 23:1, and classes are fairly evenly divided between those with less than 20 students and those with less than 50. Colorado Mesa University awards certificates as well as Associate, Bachelor's and Master's degrees.
Colorado Mesa University Accreditation Details
The university is accredited by the Higher Learning Commission. The Sports Management department is accredited by CAATE. Other accrediting organizations include CCNE, ACNE, ABET and other program-specific accreditations.
Colorado Mesa University Application Requirements
If you are applying as a first-time freshman, you should complete the application form found at the school website. Although you can fill out the form and return it by traditional mail, applications submitted through the online portal are processed faster. You will also need to have your high school send your official transcripts to the university. The testing agency for ACT or SAT must send those scores to CMU as well. There is a non-refundable application fee of $30. You can also submit letters of recommendation and a personal essay, although these are optional.
If you are a graduate student seeking admission to the graduate school, you should complete the online graduate form. You will also need to check with the requirements for admission to the department of your choice because departmental guidelines often exceed university admission requirements. You will need to submit transcripts for all previous college work as well. There is a $50 application fee for graduate applications.
Transfer students should follow the steps for freshman admission but submit transcripts from all colleges or universities attended. If a transfer student has completed less than 24 credit hours, he will also need to have his high school transcript sent to Colorado Mesa.
Veterans should apply for their educational benefits first, and then apply to the university. They should check the GI Bill Comparison form to see which of their military credits and experiences transfer to university credits.
Tuition and Financial Aid
Residential tuition for a year at Mesa University is $8,008. With the range of room and meal plans, plus and other fees and charges, the estimated in-state cost of a year at CMU is $18,266 to $19,363. Out-of-state students pay $19,363 tuition and with the other static charges, the estimated total for a year is $29,621 to $32,903.
Colorado Mesa University participates in the WUE program which offers tuition breaks to students from participating states. Even so, the cost of a university degree is high. Most students need financial aid to meet that cost. If you need help paying for your degree program at CMU, you should start by completing a FAFSA form. That is a free federal program that uses financial information you share to determine how much you and your family can be expected to contribute to the cost of your education. The program awards grants, loans and work-study opportunities to qualifying students. Most will qualify for the Pell Grant, in varying amounts, but the government also has a Student Educational Opportunity Grant for those with higher financial need. There are also direct and subsidized loans available through the federal government. The university uses the FAFSA awards letter to help in determining which CMU funds you qualify for as well. Colorado students are eligible for the College Opportunity Fund which awards money up to the cost of 145 credit hours. In 2014, the university awarded more than $74 million in scholarships and grants to 75 percent of the student body. Another $500,000 was awarded to 300 students in academic achievement and merit scholarships. These ranged from cash stipends to full-tuition and fees. There are other state opportunities and college scholarships that are offered through individual departments. In addition, the military offers assistance to veterans and active-duty personnel and corporations, civic groups and private individuals fund scholarships and grants which can be researched online. Student loans, which are low-interest loans with deferred repayment options and work-study programs also are resources for financial aid.
Student Experience
Colorado Mesa University is a member of the NCAA Division II. There are more than 24 different sports teams at the school. CMU is a participant in the Rocky Mountain Athletic Conference. The school has two outdoor sports arenas at the main campus. If you want to play sports, or if you just enjoy attending games, you will have many to choose from. In addition, the school has a program which discounts fees to students who want to go on rafting trips, even to nearby Utah. The school also has a host of clubs and other activities on campus. Student reviews stress the approachability and positive attitude of professors as well.
CMU features many sports degree programs, among which are kinesiology and the Sports Management degrees. The kinesiology degree programs prepare students to work as athletic trainers, personal trainers and in K-12 physical education. The curriculum is rigorous. Graduates in this field are sought-after professionals; the American Medical Association classifies athletic trainers as "allied healthcare professionals." The Sports Management degree at CMU takes a different tack. It is a business degree focusing on sports. Career options with a degree in Sports Management are community recreation, sports facility management, public relations and marketing and management of sports clubs and facilities. This 120 hour program contains courses in business and accounting as well as in marketing and statistics. It includes a capstone project and an internship. The program offers the unique advantage of being based in a school, and in a community that is sports minded. There are several active child and adult sports community leagues in Grand Junction as well as school programs. In addition, the Grand Junction population is fitness-aware, so the area is ideal for a Sports Management major internship.
If you are looking for a mid-sized university with urban technology in a community that values outdoor activity and community spirit, Colorado Mesa University may be a school worth exploring further.
Related Articles: