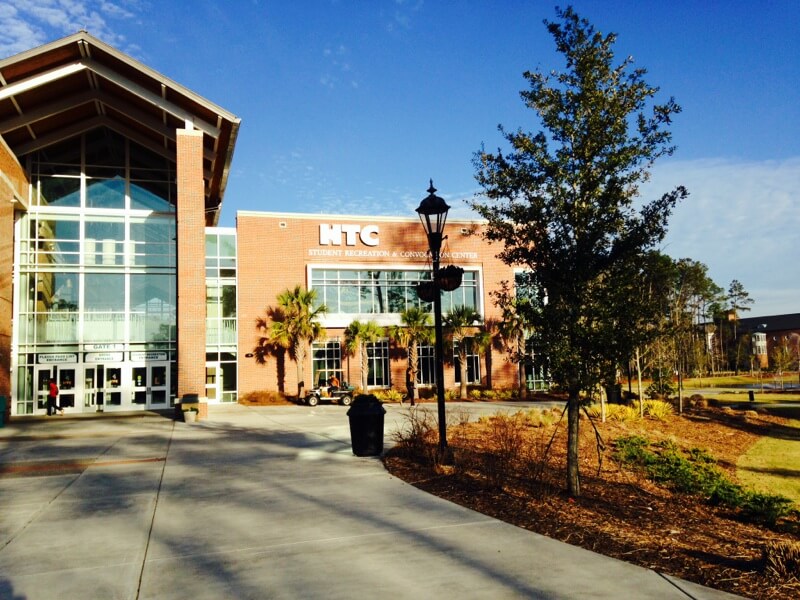 Coastal Carolina University started as a small junior college. When it opened in 1954, it was the Coastal Carolina Junior College and was an extension branch campus of the College of Charleston. It was the result of a group of locals banding together and bringing attention to the fact that the region desperately needed its own campus. CCJC was so small that its students attended classes in a local high school. When the College of Charleston decided to stop operating extension campuses, CCJC remained open as a separate institution. Though it continued operating as a junior classes, it later offered some four year programs and eventually became a full fledged university that now goes by the names of CCU and Coastal.
Several of its graduates now play professional sports for organizations like the Baltimore Ravens, Carolina Panthers and San Diego Chargers. Other graduates work in the film industry, politics and education. Located just a short drive from Myrtle Beach, its campus offers a number of opportunities for students outside of sports. They can join a fraternity or sorority, take part in an honors program, join the campus media stations or sign up for other clubs. Its Conway campus now has an enrollment of around 10,000 students.
Coastal Carolina University Accreditation Details
While CCU is a small university, it has both regional and specialty accreditation. Its regional accreditation, which comes from the Southern Association of Colleges and Schools, ensures that all enrolled students can apply for financial aid in the form of loans and grants. As with other regional accreditation organizations, the SACS requires that Coastal apply for a renewal every decade. CCU created its own board to ensure that it maintains its accreditation. Specialty accreditation, which some may call program accreditation, means that select programs offered by the university have accreditation as well. The Accreditation Board for Engineering & Technology, Inc. (ABET), for example, gave CCU accreditation for its computer science theoretical option program. It also has accreditation from:
Accreditation Commission for Education in Nursing, Inc.
National Association of Schools of Music
National Council for Accreditation of Teacher Education
National Association of Schools of Art and Design
National Association of Schools of Theatre
Association to Advance Collegiate Schools of Business
Coastal Carolina University Application Requirements
Before applying to Coastal Carolina University, you should make sure that you know the deadline for applications and what you need to submit. The deadline for priority or early admissions students is December 1, but you can apply later in the year, too. As CCU has a rolling admissions policy, it will continue accepting students until there are no longer any spaces available. It's generally best to apply early to ensure there is space available in the program you prefer. All incoming freshmen must submit a transcript that shows they took the core 19 courses required for admission. Those courses include four English classes, three laboratory and social science classes, two foreign language classes and one each of fine arts, physical education and some types of elective. You must also take four math classes that cover algebra, geometry and higher level math subjects.
Though the application itself is available online, you will need to make arrangements to send other documents to the university. In addition to your transcript, you need to submit your score from one of the standardized tests and pay a fee of $45. If you took college classes, you'll need to submit a transcript from that college, even if you do not want to transfer the credits you earned. CCU typically sends out notification letters within three weeks of receiving the application and all supporting documents.
Tuition and Financial Aid
Though CCU is no longer a junior college, it still works hard to keep its prices low and competitive with other schools in the state. In-state tuition applies to all students who can show they had residency in South Carolina for the year prior to enrolling. Those students pay around $5,200 for tuition and all miscellaneous fees. Those from outside of South Carolina pay around $12,100 a semester. Students who want to live on campus will also need to pay for a room in a residence hall and a meal plan. Students who take fewer than 12 credits a semester are part time students. The university charges $442 a credit for part time in-state students and $1,010 per credit for students who do not live in South Carolina. Room rates start at around $2,400 a semester, and meal plans start at around $1,400 a semester.
CCU offers both financial aid packages and payment plans for students. With one of its payment plans, you can hold your spot in the university with a deposit that you put down at the beginning of the semester. The university lets you make smaller payments regularly to pay off the balance. Before signing up for a payment plan, submit the FAFSA to see if you qualify for any aid. CCU has a work-study program and may award you grants, loans or scholarships as well.
Recreation and Sport Management
The Bachelor of Science in Recreation and Sport Management program offered by CCU requires that students spend time in the classroom before gaining some practical experience. The general program consists of 123 to 130 hours of courses that students must take, including 44 credit hours of core curriculum classes like sociology, psychology, English and politics. At least 40 of the remaining credits that you take will come from core recreation and sport management classes like legal issues, marketing, oral communications and facility management. After taking a one credit hour courses that introduces you to the world of management internships, you can get up to 12 credit hours for doing an internship. While you have the option of finding an internship on your own, CCU advisers can also help you secure one. Students also take courses on outdoor recreation, program planning, recreation administration and business or environmental ethics.
CCU created a program that complies with the regulations imposed by both the North American Society of Sport Management and the National Recreation and Park Association. Graduates of the program work for sports teams across South Carolina, for sports agency and for major organizations around the world. Coastal Carolina University offers students help writing their resumes and preparing for job interviews before they graduate.
Related Resource: